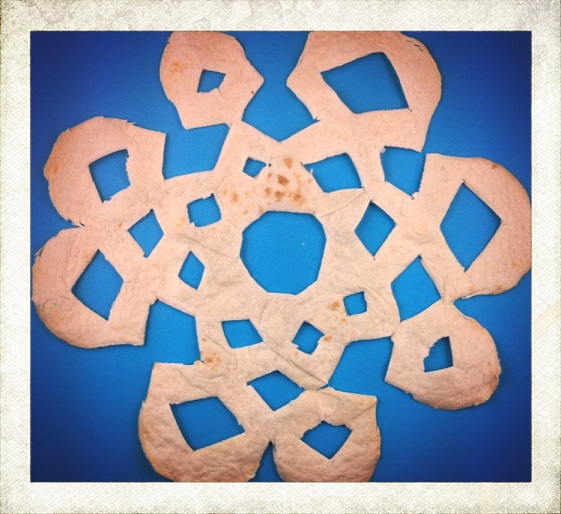 See that snowflake? It's really a tortilla. I saw those and knew I had to make them, for while it is cold enough to get snow right now, we don't have the moisture to go with it. So I had to make my own. The originals had melted butter and sugar on them, which were very cute. But I chose to go savory so that I could dip them in hummus.
The key is definitely to heat the tortilla in the microwave for about 15 seconds so it's pliable and then just cut it like you would a snowflake. Yes, it is harder to do than say cutting paper, but who cares if it's not gorgeous, you are going to eat it and it's way fun. Buy the biggest tortillas you can to make it easier to cut. You can go smaller but your shapes will be limited. Mine was limited as I was cutting left handed. Which was amusing unto itself.
Tortilla Snowflakes
flour tortillas
melted butter
sea salt
Preheat oven to 400 degrees. Warm tortillas in microwave until soft and pliable. Fold into quarters or eighths.
Use scissors to cut out shapes and then unfold. Place tortillas on foil-lined baking sheet and brush with melted butter and sprinkle with salt.
Bake for 10-15 minutes (mine took WAY less time…like 5 minutes..so watch them), until golden brown around the edges. Cool until easy to handle and eat up. Eat plain or dip in yogurt, hummus, or any yummy dip.
To see a more step by step approach go on over to Our Best Bites.com