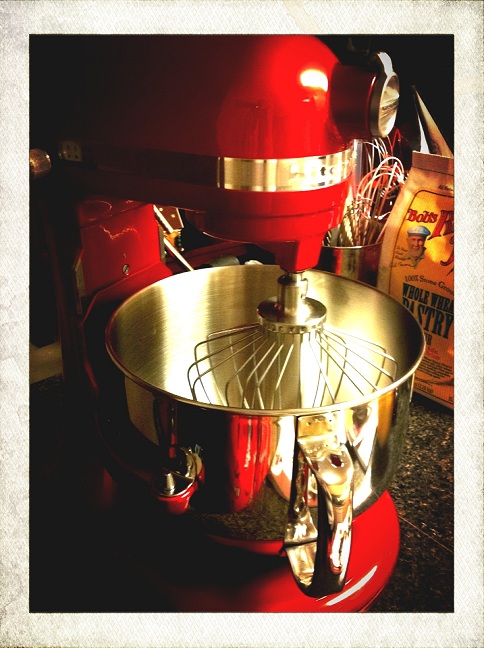 Dear Santa,
A few weeks ago my porn arrived in the mail. Most people know it as the Williams Sonoma catalog, but for those of us in the foodie world it is our version of porn. I turned the page and there it was in all its glory…the new Kitchen Aid 7-quart Mixer. Now I of course already own a Kitchen Aid Mixer, two in fact (one Artisan that was my first and is 15 years old and a Professional 600). 🙂 But this, this mixer has a 1.3 horsepower motor, makes 14 dozen cookies and 8 pounds of dough!!! It truly was lust at first sight.
I thought nothing of it as the price tag was mighty steep and of course only Kitchen Aid and Williams Sonoma are carrying it. Le sigh.
But then while shopping for others; I decided just to see if they had one, to see it in person. Sure enough they did. I caressed the metal and got a little inappropriate with it. It was hard not to. I again looked at the price tag and sighed…heavily. But then I looked. And there in the corner was a little tag saying that it was 25% off. I quickly did the math and realized that was a good deal. And while I was pondering the sales lady could tell I was getting weak. So she threw in the "oh and there is a $50 rebate as well right now".
I struggled and struggled, as most of people know, I don't usually spend, I save. Save for the rainy day. But one thing only about 4 people know is that I never let my savings account have less than the cost of a replacement professional mixer (tax included). Plus I still had most of my prize money left from my Better Homes and Gardens. And with that, like an outer body experience, I heard myself telling the sales lady I would take one in red.
So Santa I know you weren't bringing me one in the first place. You tell me I drop the F-bomb a little too much to be a good girl. But if you could throw a little unsalted butter in my stocking know that it will get used. 😉
P.S. If your wondering the other one is still on the counter. I can easily use both…it's a sickness, I know!
Love you Santa,
Peabody