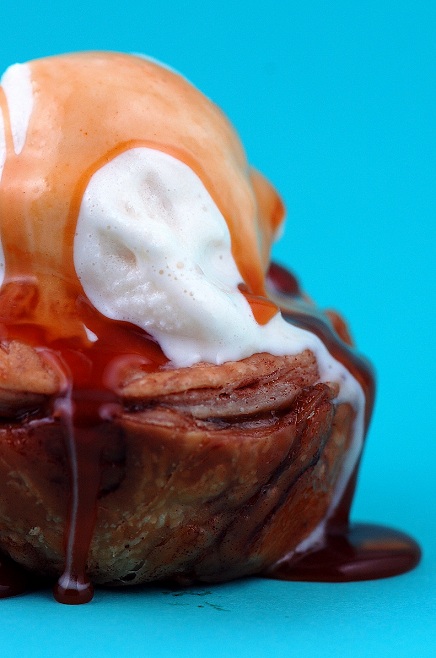 It's the day after Thanksgiving and while most people will tell you that it's the day to shop, I say it officially starts that which is the baking frenzy. It's when I get the most traffic all year to my site (not to be confuse with January where everyone is on a diet and no one stops by). 😛
I will admit that in the world of pastry I don't really do pie. I hate making crust. And while I will happily eat a pie that someone made (especially apple) or hell even a Hostess hand pie, I just don't get whipped into a frenzy over pie making. But then I saw a cinnamon roll crust using premade pie crust (feel free to make your own pie crust…I'm just in a time crunch) I knew pie had to be made. It's really quite interesting. You cut the pie dough like cinnamon rolls and then re-roll it out.
I also prefer everything to be in mini form, I just feel less guilty. Which is ironic because I tend to eat twice as much. I read a study once about the mini candy bars that the found people who eat the minis were likely to eat three times the amount than if they just ate the real size candy bars. I could see that. 🙂
The apples I am using come from the Harry and David Fruit of the Month club. When I was growing up my aunt would give us the Fruit of the Month club as a gift every year. I looked forward to it and was super sad when it stopped coming. It truly is the gift that keeps on giving and it's a great way to get someone to think of you every month. We used to call my aunt every month and thank her and tell her what we were sent. And it was something the whole family got to enjoy. When I was at Harry and David in October I told them my story of how much I loved to get the fruit each month and told them that I would love to challenge myself to make something every month with the fruit that comes. They liked that idea apparently as they sent me beautiful Honey Crisp Apples (my favorite in the apple world) as my first fruit for Fruit of the Month.
These are easy to make and you need no real special equipment other than just a muffin tin. You have to love that! You need to be careful when rolling out the dough (you could press it down really flat I guess) as some of the rolls like to come with the rolling pin. But just stick them back in their place and move on.
Get baking everybody!!!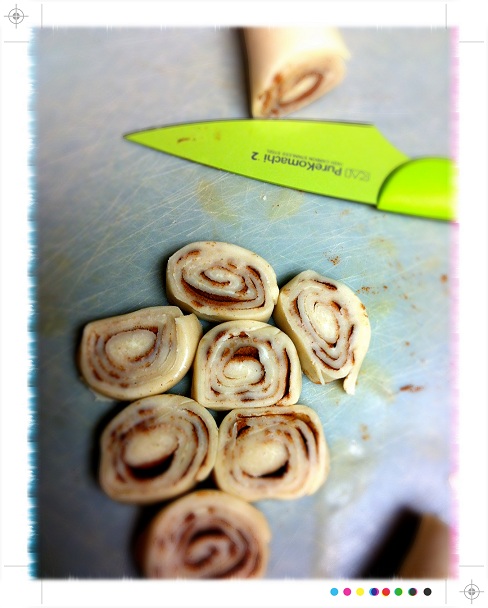 Mini Baked Apple Pies with Cinnamon Roll Crust
Cinnamon Roll Crust (see recipe below)
3 – 4 Honey Crisp Apples (mine are from Harry and David), medium
1/4 cup granulated sugar
¼ tsp. fresh nutmeg
¼ tsp. ground cinnamon
2 TBSP butter, melted
Ice Cream and Caramel Sauce if desired (but why wouldn't you?)
Peel, core and dice apples in to tiny pieces.
Toss apples with sugar and spices in a small bowl.
Cut pie crusts with a large circle cookie cutter or glass (12 circles total). Use something larger than the muffin up size.
Press pie crust dough into 6 of the muffin pan cups.
Fill each crust with equal parts of the sliced apple mixture.
Use the extra pie dough circles to cover each pie. Press around edges to seal.
Use a knife to cut slits in the top of each pie crust.
Brush the top of each pie crust with melted butter.
Bake at 425 for 25 – 30 minutes.
Adapted from 3 kids and Us.com
*Harry and David were kind enough to send me my apples as a gift.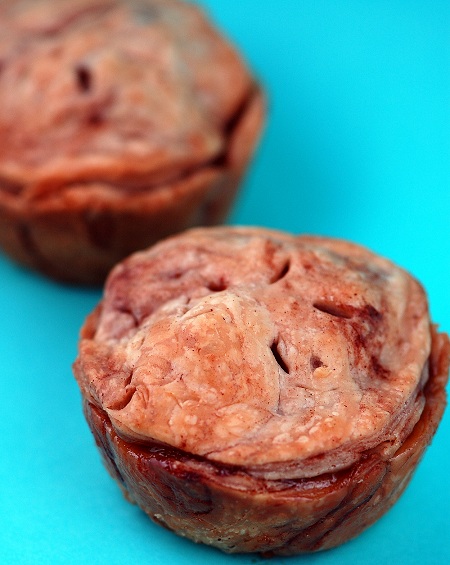 Cinnamon Roll Pie Crust
2 Pillsbury refrigerated pie crust (or the whole box)
4 tsp. cinnamon
2 TBSP unsalted butter, melted
Roll out pie crust on a lightly floured surface. Brush with butter and sprinkle evenly with cinnamon. Roll up tightly and slice into 1/2-inch rounds, like miniature cinnamon rolls. See recipe above to see what to do with pie crust.
Recipe from Tablespoon.com