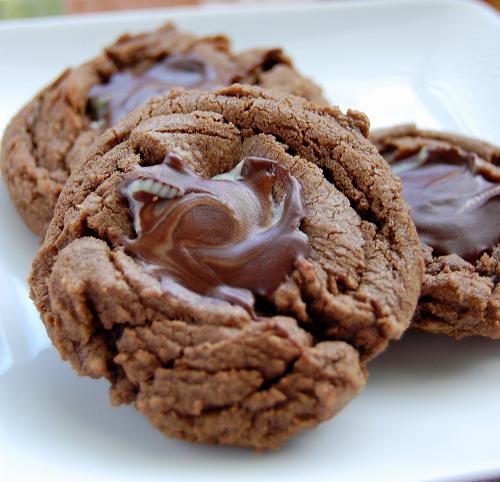 While most of you are running around in a frenzy trying to get your meal ready for tomorrow I thought I would quickly highlight one of my favorite holiday (and non-holiday) cookies from the past for Way Back Wednesday. They are kind of like brownies in cookie form with Andes mints swirled into them at the top. Sooo good.
While you are focused on Thanksgiving, many of you probably have a Cookie Exchange on the horizon… I have two! I highly recommend these. I would make them but I've already done them time and again…but then again they are always a hit. Why change what isn't broken? 🙂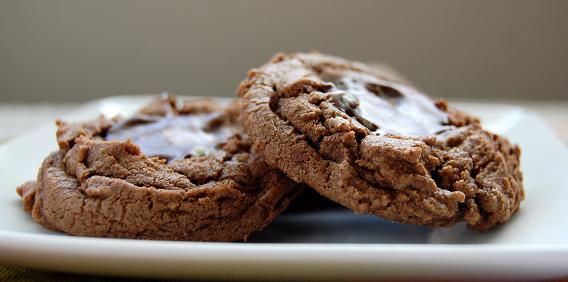 Andes Chocolate Mint Cookies
3/4 cup butter
1 1/2 cups packed brown sugar
2 tablespoons water
12 ounces semi-sweet chocolate chips
2 large eggs
2 1/2 cups flour
1/2 teaspoon salt
1 1/4 teaspoons baking soda
Andes mints candies, broken in half
Heat oven to 350°F.
Over low heat, combine butter, sugar and water.
Heat until melted and add chocolate chips until partly melted.
Remove from heat and stir.
Pour into large mixing bowl.
Let stand 10 minutes to cool slightly.
Beat in eggs one at a time on high speed.
Reduce mixer to low speed and add flour, salt and baking soda.
Beat until well-blended.
Chill one hour (dough is almost liquid before chilling but hardens and is easy to shape after chilling).
Roll into balls, place two inches apart on parchment paper-lined baking sheets.
Bake for 10 minutes.
Place an Andes Mint half on top.
Allow to melt slightly and spread with a spoon.
Source:  Recipezar