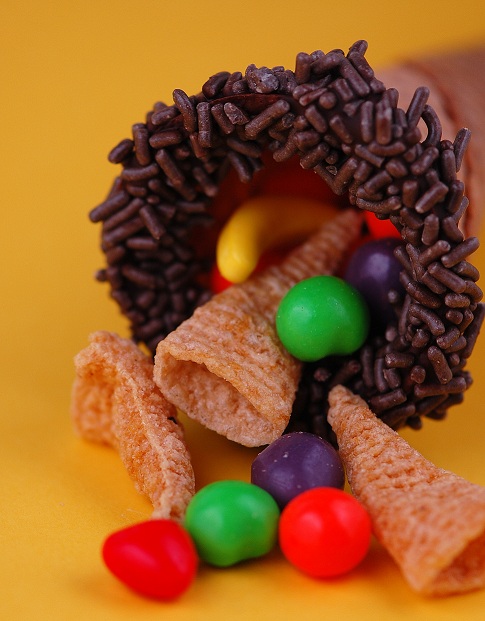 Most kids want to sit at the adult table at holidays…I do not. Not that I love the card table and folding chairs but often the conversation is far more fun at the kids table. No offense to the adults, but your conversation usually isn't interesting until the wine kicks in. 😛
I saw over on Cookies and Cups adorable little Thanksgiving baggies filled with Bugles and Runts to make Bugle Cornucopias trail mix of sorts and thought it was the cutest thing ever. Too cute not to make and share.If you want to go the baggie route, she has some cute little printable tags to go with it so head on over there.
I on the other hand thought it would be fun to make Cornucopias using sugar cones and fill them with the mix. They would be a great addition to the kids table at your dinner on Thursday…or even for the adults for that matter. 🙂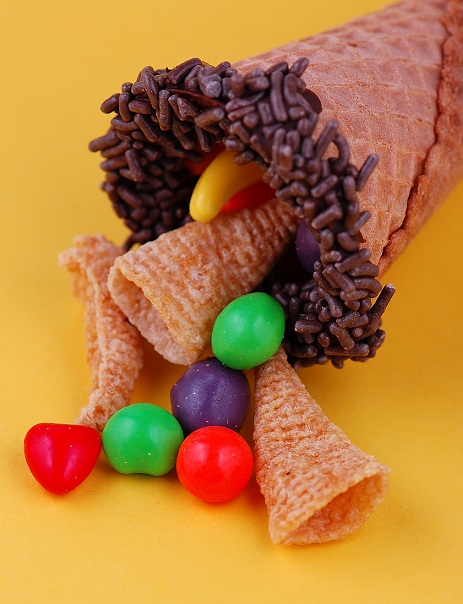 Bugle Cornucopia Mix in Sugar Cone Cornucopias
Sugar Cones
1 cup Chocolate chips
Chocolate sprinkles
Runts candies
Bugles Original Flavor
To make the cones:
Place sprinkles into a shallow dish, or I used a soufflé cup.
Melt chocolate in microwave in a microwave safe dish, 30 seconds at a time, until melted.
Roll the top of the cones into the chocolate and dip into sprinkles.
Put in freezer for a few minutes to set.
Remove and fill with some Runts and Bugles. Put left over candy and Bugles out in a large bowl for all to enjoy.
Idea from Cookies and Cups.com