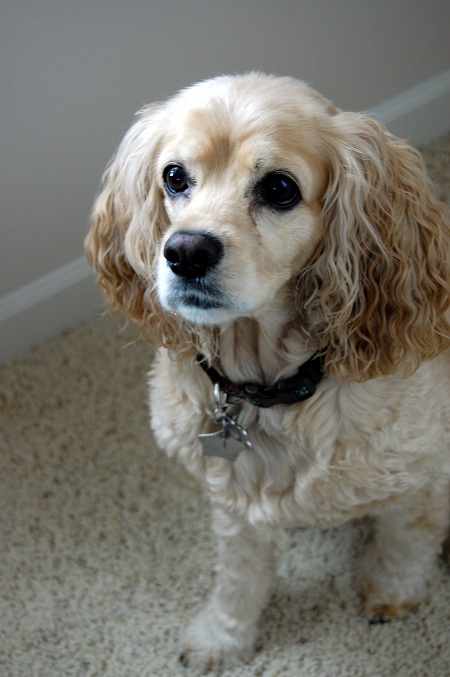 So don't panic it's not Friday…but that is my furbaby. I just wanted to remind dog owners that while we love our pets and want to give them treats as thanks this Thanksgiving there are many, many foods that are bad for dogs. Here is a link to things your pooch shouldn't be joining in on with you…beer is on the list. And while you may laugh, Crazy Cocker Spaniel loves her some beer and if you leave it on a coffee table unwatched she is all over it, especially dark beer. But it is a no-no!
So I thought I would make some treats that your pup can eat. You might want to keep them handy at the Thanksgiving table to hand off to them so they think they are getting some of the dinner as well. 🙂
These look dreadful…like little turds, but just remember they end up as turds anyway. These are not cute and cut out in shapes, but don't worry at no time has CCS ever looked up and said, "not the duck again, I was hoping for a chicken shape". She ate them all the same. 🙂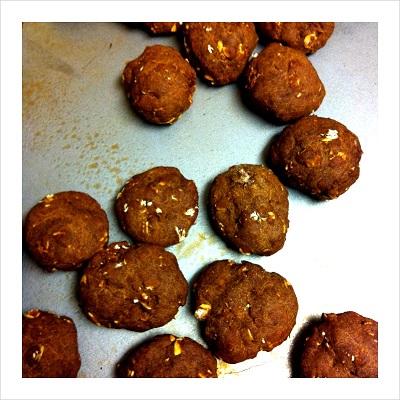 Pumpkin Puppy Treats
1/2 c. canned pumpkin
3 TBSP molasses
4 TBSP water
2 TBSP vegetable oil
1 3/4 cups whole wheat flour
2/3 cup oatmeal
½ tsp. baking soda
Preheat your oven to 350F.
Blend all of the wet ingredients (pumpkin, molasses, vegetable oil, water) together.
Add the dry ingredients (wheat flour, oatmeal, and baking soda) and stir until a soft dough forms.
Grab the dough by teaspoonfuls and roll it into balls with your hands (hint: wet hands work best). Drop the balls onto a cookie sheet/pizza pan and flatten them with a fork.
Bake until hard (approximately 25 min.). If you want them a bit crispier, you can just turn off your oven and let them cool in there overnight.
Sadly I don't remember where I found these at so if you know where I adapted this from let me know please.