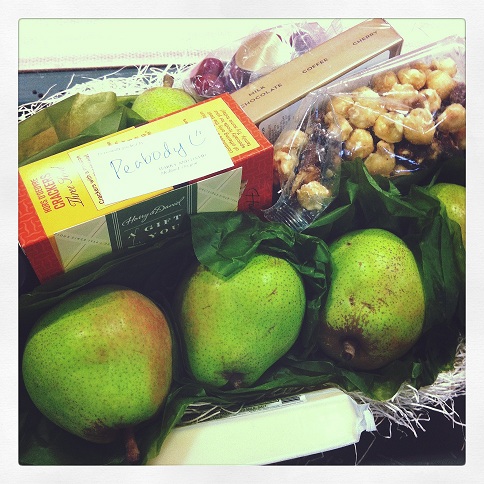 When I was engaged I got a Tiffany diamond. I'm not saying that to brag or anything like that. We looked other places before going to Tiffany's and right away we knew this was where we were going to get my ring. Not only for the diamond but for the above and beyond service we received. That I still get to this day from them.
When I was younger each year for Christmas my aunt would send us a Harry and David Fruit of the Month basket. Throughout the year we would get sent a different fruit each month, and I would always look forward to it. One time when our oranges came and one of them got a little smashed in the shipping. My mom called to let them know. Not to ask for new ones, but to let them know that was happening. Within a few days, there were new oranges on our doorstep. If you have ever done business with Harry and David you know this is how they are. They are also about service.
So when I got an email asking me if I wanted to come down to Medford, Oregon and see the Harry and David facility and headquarters I looked at my calendar and said why not. I knew that I would have a nice time but I had no idea how amazingly informative and enjoyable the trip would be.
I mean when you walk into your hotel room and immediately see this…you know it's going to be good.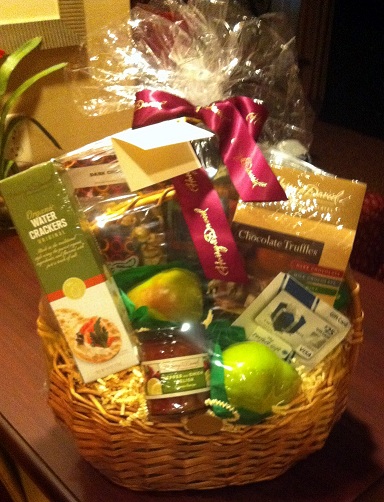 Throughout my time at Harry and David I learned very clearly that not only are they about the quality of their product, but the people who make that product. We met everyone from the CEO interim to the people putting shipping boxes together. VP's of product development to the people who hand tie ribbons for each basket (a skill I do not possess….they tried to teach us). And what was amazing is how long most of them have worked for the company. I think the longest (at least that I met) was 33 years! That is unheard of.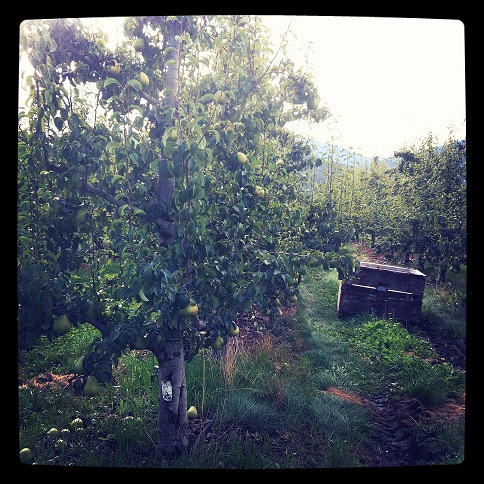 Each person was warm and inviting and genuinely excited to have us there. They ran us through everything you could possible imagine. We toured the orchards with Matt the most enthusiastic about pears person you will ever meet, which is good since he is the head horticulturist and it's kind of his job. I learned much about the Royal Riviera Pear. Charlie who is literally in charge of the chocolate factory…and Moose Munch and many other items. He is one of the guys that has worked there 30 plus years.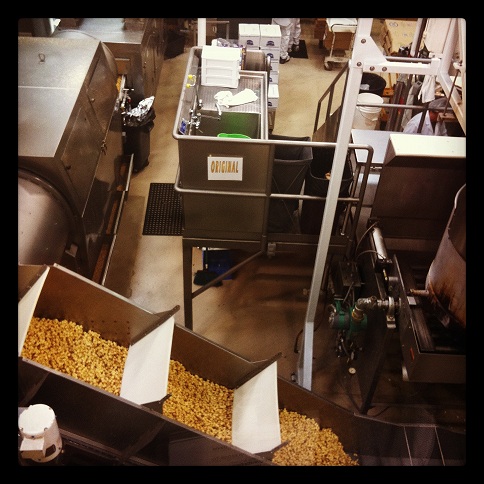 We were treated to an amazing dinner at the Roxy Ann Winery as well as treated to their lovely wines. I got to make my own basket and send it to myself…yes, clearly I should keep my day job as packing was not my strong point. 🙂 We got to try our hand at chocolate dipped pears…which are indeed all hand dipped. If you order some it will look much better than my attempt. Promise.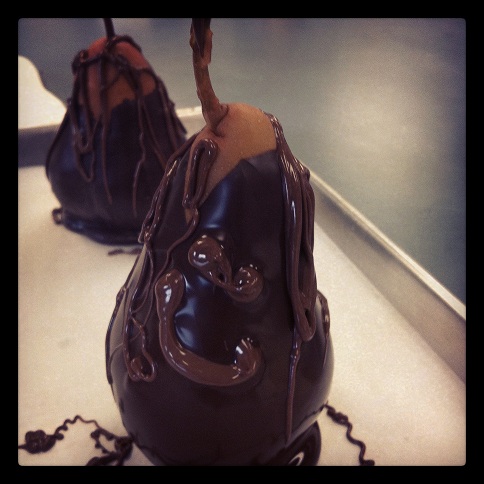 We sampled all their holiday line up where I pretty much want to just fill a bathtub of the Peppermint Pretzels and live in it. And we got to preview the upcoming Martha Stewart Basket (which is actually called the Harvest to Holidays Gift Basket) which we all had an Oprah moment when they let us know they would be sending us one. We all go very excited. I got more excited when it was at my door step. 🙂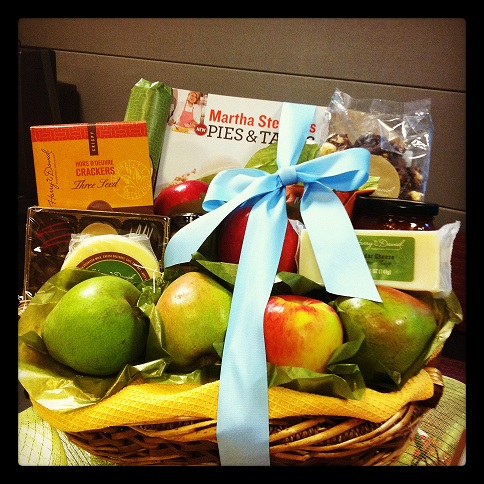 So if you are looking to send someone something special this year that gives a nice wow factor, take a serious look at Harry and David.
*Harry and David paid for my trip to Oregon and provided me with a Martha Stewart gift basket as well as the gift basket I got in my room and the one I sent. I was in no way asked to write about my experience. I had such an amazing time I just felt the need to do so.
Most of my pears went into salads or just my mouth with some cheese, but I figured this is a baking blog so I might as well bake something with them. I made the pears into pearsauce (think applesauce) and then into a muffin. If you aren't into making your own applesauce (or in this case with pears) let me assure you that the recipe I use can't be any easier as you make it in a microwave!!!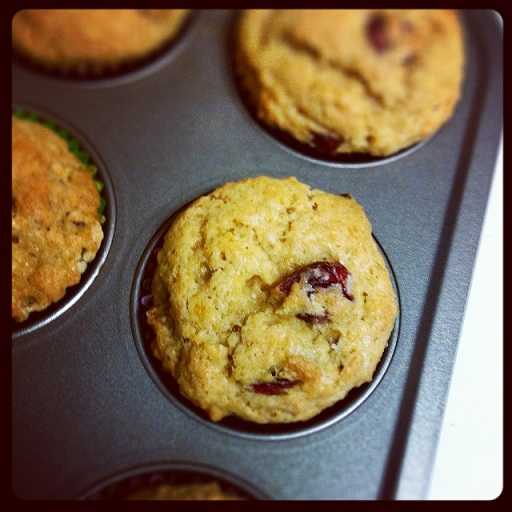 Pearsauce Cranberry-Walnut Muffins
½ cup butter, at room temperature
1 cup granulated sugar
1 egg
½ tsp. vanilla extract
1 cup pearsauce
2 cups all-purpose flour
½ tsp. baking soda
½ tsp. ground fresh nutmeg
1 cup dried cranberries, soaked in hot water, and patted dry
1 cup chopped walnuts
Using a stand mixer, cream butter and sugar together on medium high speed.
Add eggs and vanilla; mix well.
Stir in pearsauce.
Combine the flour, baking soda and nutmeg; stir into creamed mixture. Fold in nuts and cranberries.
Fill greased or paper-lined muffin cups three-fourths full.
Bake at 350° for 20-25 minutes or until a toothpick comes out clean.
Makes 12
Pearsauce
6 Royal Riviera Pears peeled, cored, and quartered (you can use any pear if you don't have the Royal Riviera)
1 cup unfiltered apple juice
2 TBSP. cognac or brandy
2 TBSP unsalted butter
3 TBSP. honey
1/2 tsp. ground cinnamon
In a sealable microwave-safe container, combine pears with all other ingredients. Close lid, leaving one corner of lid open to allow steam to escape. Microwave on high for 10 minutes.
Using a hand blender or potato masher, blend to desired consistency. Serve hot immediately or chill for later use.
Adapted from Alton Brown Food Network.com