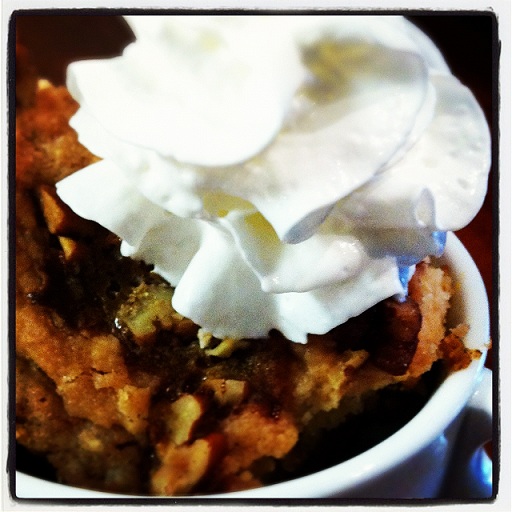 I will start the month of thanks off by saying that I am super thankful for easy desserts. See I have a ganglion cyst in my right hand. 99% of the time it's just there and doesn't bother me. But every now and then it decides to move and sit on a nerve. That makes my whole hand up to my elbow go completely numb. Sometimes it last only hours sometimes for up to a week. I'm a few days in sadly. Very little baking and cooking…and no photography. Oh well.
Luckily there are easy desserts, so easy I can make them left handed. 😀 This is an adaptation on a cake I LOVE. Dump Cake. You have to love a cake that you just dump stuff in. Though this version does require more work than the original. It's soo yummy though. Think pumpkin pie meets cake. Don't turn your nose up just because it uses cake mix. I have tried to recreate dump cake without using cake mix and is simply doesn't work.
Here's to hoping my hand gets working soon so that I can get baking and get writing!!!!
Pumpkin Dump Cake
1 15 oz. can Pumpkin Puree
1 10 oz. can Evaporated Milk
1 cup light brown sugar
3 eggs
3 tsp. pumpkin pie spice
1 box yellow cake mix
1 cup (2 sticks) butter melted
1 cup chopped pecans
Preheat oven to 350F.
Spray a 9×13 baking pan lightly with cooking/baking spray.
In a large bowl combine the pumpkin, evaporated milk, sugar, eggs and pumpkin pie spice. Stir to combine.
Pour into your prepared pan.
Sprinkle your entire box of cake mix on top, followed by your nuts.
Pour your melted butter evenly on top.
Bake for 45-50 minutes until center is set and edges are lightly browned.
Serve with ice cream or whipped cream.
From Cookies and Cups.com