This Brown Sugar Almond Pound Cake with Sauteed Spiced Apples is a moist pound cake topped with spiced apples and caramel sauce.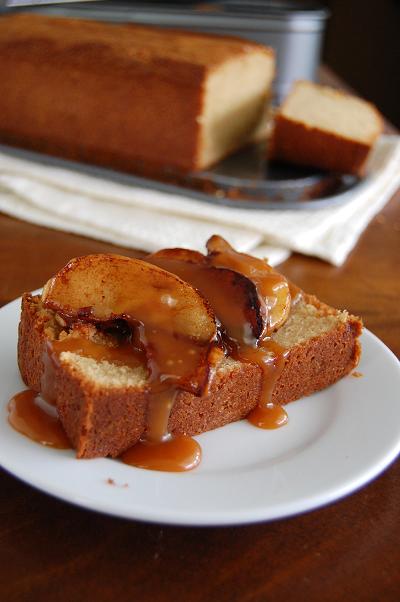 This was not only a good cake but a good post so we will revisit both.
Sixteen Candles is one of the best movies ever.
Oh the movie that gave every teenage girl hope.
Hope that the hottest guy in school would leave his well endowed, hot girlfriend for geeky, nobody you.
Did I mention he is not only hot, but rich and drives a Porsche?
Oh yes, this was the modern day Cinderella story that every female teeny bop was waiting to happen.
Unless of course, you were the well endowed, hot chick at school…then it was already happening to you (bitch).
That being said, I would never give my undies to a geek.
Or anyone for that matter.
Now perhaps back then, when my undies were bought by my mother and were ugly (probably the 20 pack from Costco) I might not have cared as much.
But gosh darn it, now a days, good looking undies just cost too much to be giving away.
Or ripped off for that matter.
Granted this did not happen in Sixteen Candles, but it happens in a lot of movies.
Sure it isn't sexy to have to stop to take off your undies, but really, it probably hurts to have them ripped off.
And hurts even more if they are La Perla and you paid $45 for them.
Now, that hurts.
So girls, keep your undies.
Or if you do give them to a geek, work out a payment plan with them, and charge interest.
Boobs.
Now I am a reasonable person.
But for whatever reason, I thought for sure I would wake up on my 13th birthday with boobs.
When that didn't happen, I knew for sure it would be my 16th.
For sure.
There is a part in the movie where the main character Sam is standing in front of the mirror checking out her lack of bod.
Oh how I related to this.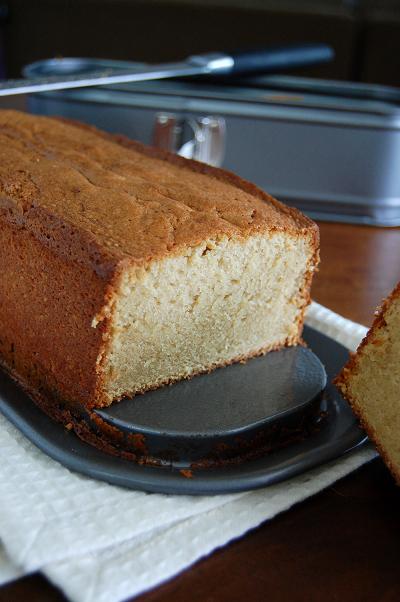 When I woke up on my 16th birthday rationally knowing boobs did not grow overnight, I still had to look.
And look I did, all day.
Thank goodness my birthday is in the summer, I would have hate to have been caught staring at my own chest in school.
That would have been cool.
Not.
Alas I am still waiting on my boobs.
Oh sure, from time to time if I gain enough weight I can get some bigger boobs, but then I just get bigger me and so they don't really look all that hot.
So in honor of the boobs I never got and only get when I gain pounds…I made pound cake. 😉
This Brown Sugar Almond Pound Cake is nice and simple…and loaded with calories…3 sticks of butter and 3 cups of sugar.
Surely you can pack on some boobs (and stomach, thigh and butt) with this yummy treat….after all "the Donger needs food".
P.S. It's a great day to buy my cookbook Holy Sweet!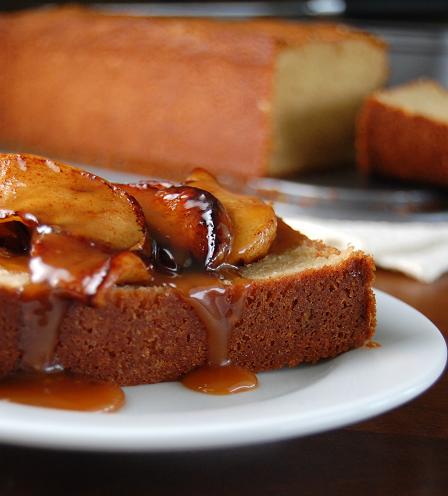 Want More Pound Cake Recipes?
Bourbon Brown Butter Chocolate Chip Cake
Strawberry Lemonade Bundt Cake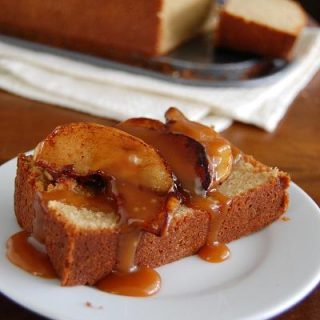 Brown Sugar Almond Pound Cake with Sauteed Spiced Apples
Ingredients
For the Pound Cake:
2 cups all-purpose flour
1 ¼ cup almond meal
1 tsp baking powder
½ tsp salt
1 ½ cups unsalted butter, at room temperature
8 ounce cream cheese, at room temperature
2 cups firmly packed light brown sugar
1 cup powdered sugar, sifted
1 TBSP pure vanilla extract
1 tsp pure almond extract
6 large eggs, at room temperature
For the Sauteed Spiced Apples:
½ cup granulated sugar
1 tsp ground cinnamon
½ tsp ground ginger
½ tsp ground nutmeg
3 large apples, I used Pink Ladies, peeled, cored, and sliced
1 TBSP unsalted butter
Instructions
For the Pound Cake:
Spray a Bundt pan, 10-inch tube pan, or two 8 ½ by 4 ½ inch loaf pans with non stick cooking spray (I used a loaf pan spring form and two mini loaf pans).Preheat oven to 325F.
In a bowl, sift together the flour, almond meal, baking powder, and salt. Set aside.
In a large bowl, using an electric mixer set on medium speed, cream together the butter and cream cheese, about 3 minutes. Gradually beat in the brown sugar and powdered sugar and continue beating until pale and fluffy.
Beat in the vanilla and almond extract.
Add eggs, one at a time, scraping down the bowl after each addition.
Switch over to using your hand and a spatula. Add the flour mixture and fold into the batter. Do this until no flour can be seen and batter is smooth.
Spoon batter into prepared pans. Bake until a skewer inserted into the center of the cake comes out clean, 75-90 minutes. For my mini loaves, it took 55 minutes. For the springform loaf pan it took 70 minutes.
Remove from oven and let cool on a wire rack.
For the Sauteed Spiced Apples:
Place the sugar and spices into a medium sized bowl and mix till completely combined.
Dredge the apples in the sugar mixture, turning to make sure they are coated well.
Heat butter in a large saute pan over medium heat. Place apples in saute pan and cook until apples become soft.
To prepare:Slice piece of pound cake. Top with spiced apples. Spoon homemade or store bought caramel sauce.