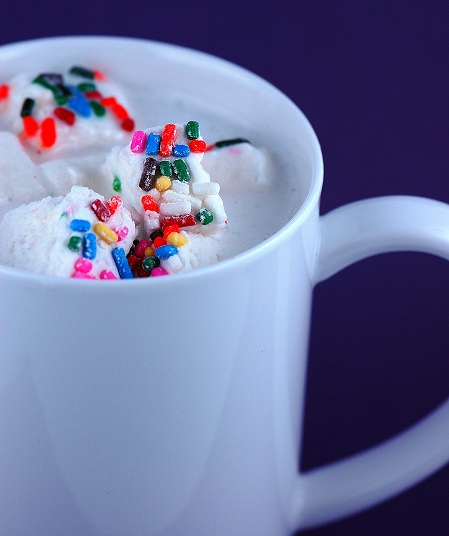 When you write a blog for over 6 years you start to run out of ideas. Especially when you have the added pressure of people telling you not only do they come for the recipes but also to see what I wrote. It's very hard when one leads such an exciting life as mine how to cram all those stories in. I could do a picture tutorial of how I put the laundry in, and then take it out. Then run it through the dryer, not once, not twice, but usually three times because we have the worst apartment dryer ever. This is all riveting stuff I tell you. 😛
Most often the stories come from my childhood and I embarrass my parents. 😛 Or they come from what happens in my every day. And believe it or not there is a lot going on that I don't talk about. As far as people's concern about my writing things that involve my friends…as I have said before, I ask them if I can put it up if I think in any way it will embarrass them. Then as usual I have friends who forget this and email and ask, was that me. I got two emails asking me if I was talking about them since they were SAHM's and had personal trainers. I said, "did we go to the Portage Bay Café together two weeks ago? And did you ask me remember when I was in shape?" If you answered no to these questions I wasn't writing about you.
Writing is often like a horoscope, if you try hard enough you can make it be about you. Your horoscope reads "you will find a buried treasure" and you find lint in your belly button that same day…it was right your horoscope came true! I write about my friend who is a SAHM and suddenly I am attacking the world of SAHM's. I tell people don't spend money they don't have and every friend I have that feels guilty about a recent purchase rushes to ask if I was writing about them. Point is, you can always find lint in your belly button. 😛 And you can always make a blog post about you.
Because it's cooler now and I still have Funfetti cake mix left over I thought it would be fun to make Funfetti marshmallows. I was right, it was fun. They are super yummy. My bff thinks they are dessert unto themselves but I really wanted them for cocoa. I found some white cocoa mix and used it for the photos, though I think I like plain ol' hot chocolate better and will use that from now on instead. By the way, if you drink hot chocolate, this blog post was about you. 😀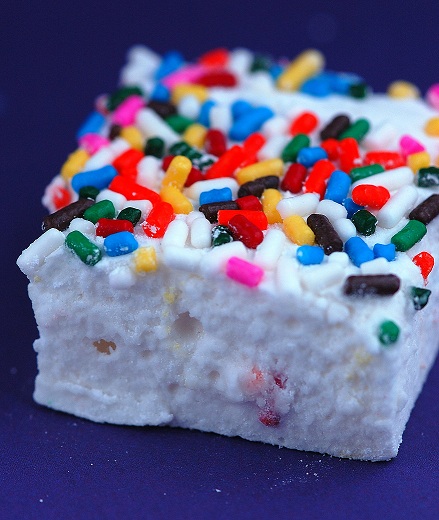 Funfetti Marshmallows
3 packages unflavored gelatin
1 cup ice cold water, divided
12 ounces granulated sugar, approximately 1 1/2 cups
1 cup light corn syrup
1/4 teaspoon kosher salt
1 teaspoon vanilla extract
¾ cup Funfetti cake mix
Sprinkles
1/4 cup confectioners' sugar
1/4 cup cornstarch
Nonstick spray
Place the gelatin into the bowl of a stand mixer along with 1/2 cup of the water. Have the whisk attachment standing by.
In a small saucepan combine the remaining 1/2 cup water, granulated sugar, corn syrup and salt. Place over medium high heat, cover and allow to cook for 3 to 4 minutes. Uncover, clip a candy thermometer onto the side of the pan and continue to cook until the mixture reaches 240 degrees F, approximately 7 to 8 minutes. Once the mixture reaches this temperature, immediately remove from the heat.
Turn the mixer on low speed and, while running, slowly pour the sugar syrup down the side of the bowl into the gelatin mixture. Once you have added all of the syrup, increase the speed to high. Continue to whip until the mixture becomes very thick and is lukewarm, approximately 12 to 15 minutes. Add the vanilla and cake mix during the last minute of whipping. While the mixture is whipping prepare the pans as follows.
Combine the confectioners' sugar and cornstarch in a small bowl. Lightly spray a 13 by 9-inch metal baking pan with nonstick cooking spray. Add the sugar and cornstarch mixture and move around to completely coat the bottom and sides of the pan. Return the remaining mixture to the bowl for later use.
When ready, pour the mixture into the prepared pan, using a lightly oiled spatula for spreading evenly into the pan. Sprinkle with sprinkles, yes I just wrote that, and press down to help them stick into marshmallow. Dust the top with enough of the remaining sugar and cornstarch mixture to lightly cover. Reserve the rest for later. Allow the marshmallows to sit uncovered for at least 4 hours and up to overnight.
Turn the marshmallows out onto a cutting board and cut into 1-inch squares using a pizza wheel dusted with the confectioners' sugar mixture. Once cut, lightly dust all sides of each marshmallow with the remaining mixture, using additional if necessary. Store in an airtight container for up to 3 weeks.
Adapted from Alton Brown FoodNetwork.com