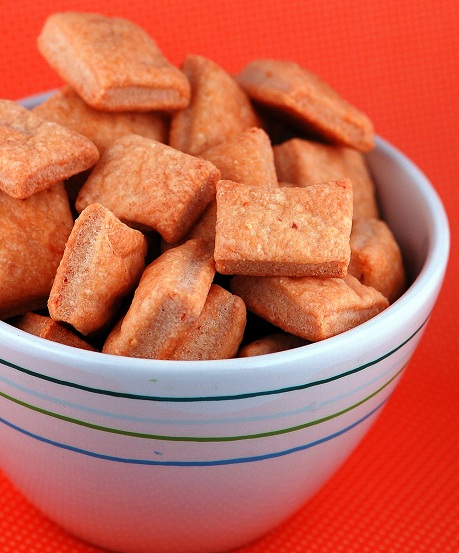 "Did you make bacon?" This was said not really as a question but more of an accusation by my bff. As in did you make bacon and I didn't get any how dare you. How. Dare. You. But no bacon was in sight (and not because it was in my belly). I stood there rolling out crackers as he kind of sniffed around like a basset hound (apparently a hound with a cold since his smell was off). He finally did break down and ask what I was making, and I said crackers. I got the no that's not what I smell look from him but I followed up smoked cheese crackers…and the little light bulb went off.
Trader Joe's makes a blend of shredded smoked cheese that has a blend of smoked cheddar, Gouda, provolone, and mozzarella. It's good stuff. Had seen on my time suck aka Pinterest people had made their own Gold Fish crackers and decided to give it a go with the cheese I had.
These would have turned out much better if I wasn't in such a rush. 🙂 We had great baking weather on Monday but I had stupid errands that got in the way. But I felt such pressure to try and squeeze baking in. So I rushed. And because of that…they are a little on the thick side. The ones that I bothered to roll out properly…i.e. the ones right in the beginning before I got bored of rolling stuff out are more like crackers. The ones where I got lazy, i.e. most of them turned out more like puffs. Which both were tasty, don't get me wrong. I even made some in the shape of farm animals for the kiddos…but the adults ate most of the farm animals. I mean who doesn't love a smoked cheese cow?
These are a fun thing to do with kiddos as you could have them help cut out the shapes or at least pick out the shapes if your kids are lazy like me. 😛 Anyway, you could make these with any cheese as long as say you weren't going the Velveta way…and well that isn't really cheese. 😀
BTW- only a few more days (until August 31st) to VOTE for me! You can vote every day….please do.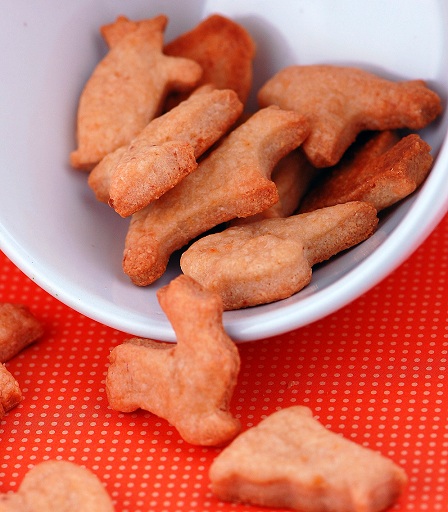 Smoked Cheese Crackers
1 cup all-purpose flour
3/4 tsp. salt
Pinch of cayenne pepper if so desired
4 TBSP cold unsalted butter, cut into small pieces
8 ounces grated smoked cheese blend (or whatever cheese you want)
3-4 TBSP water
Pulse the flour, salt and pepper, then add butter and pulse until the mixture resembles coarse meal. Add grated cheese a little at a time until the mixture again resembles coarse meal.
Pulse in 3 to 4 tablespoons of water, one tablespoon at a time, and only enough so that the dough forms a ball and rides the blade.
Remove, wrap in plastic, and chill for 20 minutes or up to 24 hours.
Roll the dough out to 1/8th-inch thickness. You won't need to flour the surface…or at least I didn't. So try before you flour up. As discussed my version of 1/8th thick was not quite up to par. 🙂
Bake at 350° F for 15-20 minutes or until crackers are golden brown. If the outer edges your pan are done but the crackers in the center still need a few more minutes- remove crackers on the edges and bake the center crackers for a few more minutes.
Remove from oven and recut any squares that may be stuck together. Store in an airtight container for up to one week or freeze.
Adapted from Savory Seasonings who got it from Country Living