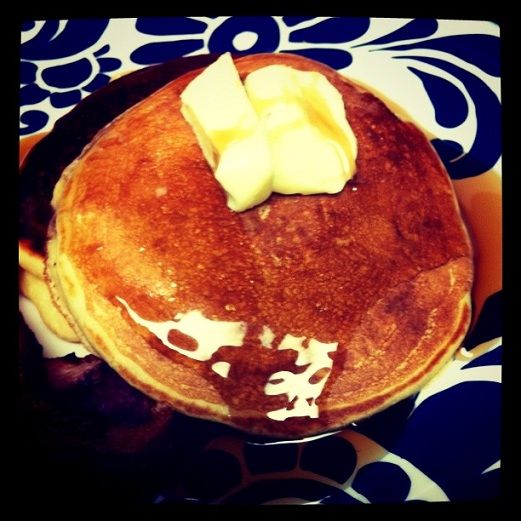 Some things are most definitely harder to make from scratch than from a box. But one thing that is not and more people should do at home is pancakes! In about the same time it takes to mix up your Bisquick you can make them from scratch…and sorry Bisquick, but they come out much, much better.
These are light and fluffy and go so fast that I couldn't actually get a real photo of them. 🙂 If you are feeding more than two people like I was this weekend, you might want to double the batch…they will freeze if you have extra. If you have never made them from scratch I challenge you to do so. How about breakfast for dinner sometime this week? Or save it for next weekend. Either way, go make some, come back and let me know.
And of course before you eat breakfast every day, surely you are voting for me and my Home Farm right? You can do it every day. And time is running out. Help keep CCbP up and running!
Buttermilk Pancakes
2 cups all-purpose flour
2 TBSP granulated sugar
2 tsp. baking powder
1 tsp. baking soda
1/2 tsp. salt
Pinch of freshly ground nutmeg
1/2 tsp. vanilla extract
2 ¼ cups well shaken buttermilk
2 extra-large eggs
1/4 cup vegetable oil
Mix dry ingredients (flour, sugar, powder, soda, salt, and nutmeg) together in medium bowl.
Add all wet ingredients (eggs, buttermilk, vanilla, and oil) to a separate bowl and stir just until blended.
Add the wet ingredient to the dry ingredients just until combined. Do not over mix; batter will be slightly lumpy …kind of how you do to muffins or quick breads.
Lightly coat skillet with oil. Heat to medium low (I do one notch below medium).
Drop 1/4 cup of batter onto heated skillet. Use the back side of a spoon to help even out the batter.
Cook on first side until bubbles begin to form on surface and underside is golden, about 2 minutes.
Flip over and cook another 2 minutes until golden brown and center springs back when lightly touched.
Serve warm with maple syrup and butter. Makes 10-12 pancakes.
These were adapted from somewhere and now I can't find it to save the life of me so if this was you let me know.