Well, I am 3 months into my Home Farm project and even with some recent setbacks I can say that I am still overjoyed with what my Home Farm has taught me (and produced) this summer. Setbacks you say? Yep.
My first setback was one I didn't account for as I always assumed that sun and warmth would be a good thing. And while they are to some degree, we had one really warm day which produced me a TON of snap peas (peas for Peabody!!!) but also caused my broccoli to form flowers. 🙁 Once the broccoli grows flowers you can't eat it. As you can see from the picture I got flowers. Luckily for me though I still had quite a few other stalks, though I panicked at the idea of not getting to use them. So I probably prematurely chopped some of them to make soup. But I wasn't missing my chance to make Broccoli Cheddar Soup with broccoli from my very own patio! So even though many of my plants when planted said that they needed 5-6 hours of sun, they seem to like the rainy overcast weather better.
Setback number two I definitely did NOT account for was that my Home Farm is doing SO well that I am running out of space. Things are growing much faster than I can eat them or the plant is getting so large and mingling over with other plants. While I love the growth I only have so much space to work with, especially now that I own a grill that is out there as well.
Setback number three is that the majority of my plants that were planted in small pots have reached their demise (moment of silence please). The only survivors were the mint, because mint I believe is the cockroach of the herb world, you have to work hard to kill it off. 😛 So I bought another big pot (this was before I got a BBQ) and plan on planting something new. Suggestions? What do you all think ? What would you like to see me try and grow?
Despite my few setbacks I am not giving up. This is after all an experiment of sorts and you are going to have the good with the bad and you learn from all of it! How about you? How is your Home Farm coming along? If you don't have one, summer is only half way done, if you did plants and not seeds, you could still join the Triscuit Home Farm movement!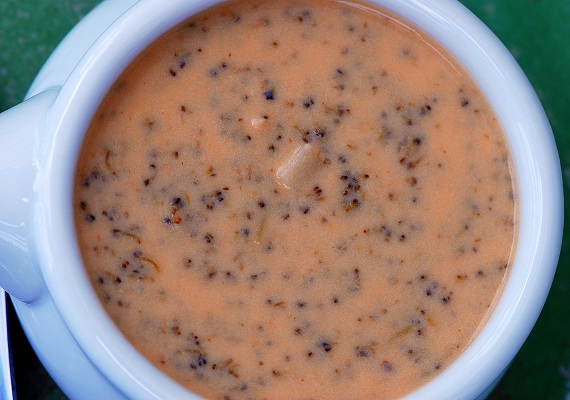 Broccoli Cheese Soup
1 TBSP unsalted butter, melted
1/2 medium onion, chopped
1/4 cup unsalted butter, melted
1/4 cup flour
2 cups half-and-half cream
2 cups vegetable stock
1/2 lb. fresh broccoli
1 cup carrots, julienned
1/4 tsp. nutmeg
8 ounces grated sharp cheddar cheese (use GOOD quality cheese)
salt and pepper
Sauté onion in 1 TBSP butter. Set aside.
Cook 1/4 cup melted butter and flour using a whisk over medium heat for 3-5 minutes. Stir constantly and add the half & half.
Add the vegetable stock. Simmer for 20 minutes.
Add the broccoli, carrots and onions. Cook over low heat 20-25 minutes.
Add salt and pepper. Can be puréed in a blender but I don't. Return to heat and add cheese. Stir in nutmeg.
Recipe adapted from Panera Bread Company
If you are interested in seeing other ideas, please visit the other bloggers who are participating in the Home Farming Movement which you can find at the Better Homes and Gardens Home Farming Challenge Page.
As always, Triscuit compensated me for this post, but the ideas, words, bad grammar, and opinions are all mine.