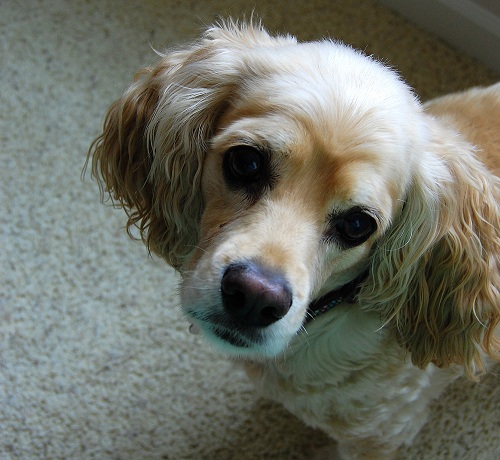 I have as most of you know a soft spot for animals; I like them more than people that is for sure. I especially have a soft spot for dogs and rabbits, which is of course why I have them for pets. A little rare known fact about me (other than my close friends) is that my ultimate goal, as if in I ever won the lottery and could spend money however I want, is to own a large farm where dogs and rabbits that no one wanted could have a place to go. A dog and rabbit refuge so to speak. I picture a farm where dogs could run and play and big rooms full of couches for them to rest on if they so desire. I also see a little roadside stand that sells baked goods with the proceeds going to pay for dog food. 🙂
There is a place here in Washington called Old Dog Haven, it's the organization that I like to donate money (when I have it) to. Taking on a senior pet is hard. Crazy Cocker Spaniel turned 11 this year and already she has gone to the vet more times that I like to think for just random little things she never had before. She likes to grown fatty tumors. She likes to have skin conditions. She likes to limp and go have her joints checked out (yes, she's been on pills for that). She takes puppy Prozac because the move was stressful to her (she does very well on it). She takes allergy pills because like her mom she is a big mess when the pollen count goes up. All of that cost money and sadly it is why a lot of people abandon their pets as they get older. 🙁 So I appreciate all that they do there.
So there you have it, what I would do if I ever won the lottery….what would you do?
Beefy Dog Treats
1 ¾ cups whole wheat flour
1 cup oatmeal (quick)
½ cup milk
¼ cup hot water
1 beef bouillon cube
¼ cup beef drippings
Dissolve bouillon cubes in hot water.
Add milk and drippings and beat.
In a separate bowl, mix flour and oatmeal.
Pour liquid ingredients into dry ingredients and mix well.
Press onto an ungreased cookie sheet and cut into shapes desired.
Bake at 300 for 1 hour. Turn off heat and leave in the oven to harden. Refrigerate after baking.