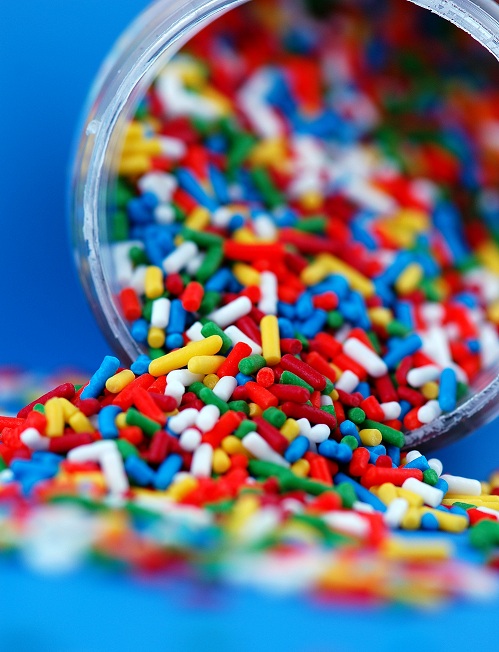 Sorry to those of you who thought I had an actual heart attack on Thursday. I can assure you if I really did have one, at no point would I be posting a post about cookies on the blog. I mean I am dedicated to this blog and all, but that's a bit much. So unless you see something from my webmaster saying I am down and out and had a heart attack, I am as usual, being sarcastic. Let us all remember that sarcasm is my second language…and with my bad grammar, it might just be my first language over English. 😛
In awesome news, I got lots of dislike mail (I'm trying not to say hate anymore) about the donate button. Since they clearly want to make it on to the blog here we go:
"Peabody-
You are running a food blog not curing cancer. A donate button? Come on."
"Dear Peabody,
You really expect people to donate to you for baking food? People are hopefully smart enough to donate to Livestrong or the Red Cross than they are to a cookie."
"Peabody-
Get over yourself. A donate button?"
"Peabody-
You are not curing disease you are causing them, no need for people to donate to you. That's just stupid."
"Peabody-
I like the take on the snicker dooles with the use of lemon I love citrus. But begging for money is tacky and I thought you were above that."
"Peabody-
You have to be quite the ego maniac to assume people think your blog is worthy of donations especially for beer."
Yep, I am an ego maniac, for real. I really do think if you run a blog and you talk about your life that in some ways you have to be. To believe people want to read about what is going on in your life is a little on the ego side. Now granted I am still in awe that people do. I don't think they actually like reading about my life, I think they like relating to the things I do in my life. There is some comfort in knowing you are not the only one when wearing ugly green sweatpants with a Clorox stain in the crotch (for cleaning the toilet) that is when a neighbor stops by for a visit. 🙂 And I guess I am an ego maniac because of the fact that I like who I am. That often makes people uncomfortable. That is not to say that I wouldn't like to be smaller or have changes in my life. It just means I accept what is going on at this time in it. I accept that this is where my body is right now. Hiding from a camera or a mirror doesn't make me not know what I weigh. So if embracing that makes me self-centered so be it.
Bloggers are also ego maniacs because we like comments. Who doesn't like hearing something nice about something they did. When you do something wonderful at work, and you put your heart and soul into it, you liked to be praised for it. You get all spiffed up, you hope someone not only notices but tell you that you look nice. It's only human nature. I like being told that the recipe turned out great or that the picture made them drool. 😀
As far as the Donate button goes, I'm not begging for money. I have people ask for it quite often. So I put it there. Many people use my recipes for their own businesses and want to compensate me in some way. Some just hope I keep blogging. If you run a food blog you know, it's not exactly cheap. I run ads at this point to cover the cost of what I spend. And most months I make way less than what I spend. It's just the way it goes. But I enjoy blogging, the people the most, and so I want to keep at it. Plus I've been through a divorce, clearly I need beer. 😛
And lastly I fully realize this is a food blog. I am not curing cancer (though wouldn't that be nice). And I assume the person who wrote that I was not curing disease I was causing them was referring to obesity. Everything in moderation folks.
Well enough about that. I figure I have done a fantastic job of annoying people as of late why not make something with Funfetti . I have seen Funfetti cookies that are more like cake cookies but really wanted them to be more cookie like. If that makes any sense. These were a poor choice to make as everything in moderation didn't really come into play. In fact I don't even really know how many cookies this really makes as I ate a good ¼ of the batter. 😛 So my guess is 30ish? I originally thought of glazing them, but I decided not to (read got lazy). If I were to glaze them, just a simple vanilla glaze with a plethora of extra sprinkles might be fun.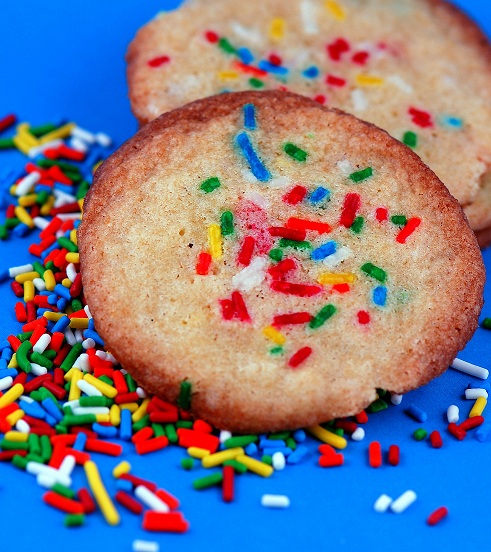 Funfetti Butter Thins
¾ cup unsalted butter, at room temperature
1 cup granulated sugar
2 tsp. vanilla extract
2 egg yolks
Pinch of salt
1 ¼  cup all-purpose flour
1 heaping cup Funfetti cake mix
Festive sprinkles
Using a stand mixer with the paddle attachment, on medium-high speed, cream together the butter and sugar until light and fluffy, about 3 minutes.
Add yolks one at a time, scraping down the mixer after each addition.
Add vanilla extract and beat for another 30 seconds on medium-high speed.
Add salt, Funfetti, and flour and mix on low speed until ingredients are fully incorporated.
Divide dough into four logs. Rolling so that they are the size of a quarter if you were to slice them. Wrap them in plastic or wax paper and place into fridge for 1 hour. You can go as long as overnight if you have stuff to do.
Preheat oven to 350F.
Remove cookies from fridge. Slice cookies to about ½ inch thick. Place on a parchment lined (or you can use baking spray) cookie sheet and space about 2-inches apart (these suckers like to spread). It is easiest to use a knife that has been dipped in hot water each time. These can be sticky cookies and doing this makes the cutting part go a lot easier. Place a few (or a ton, your choice) or sprinkles on top of cookie and press down. Bake for 8-10 minutes depending on the size of your cookies. Let the cool on a rack and enjoy. Sprinkles make everything better.