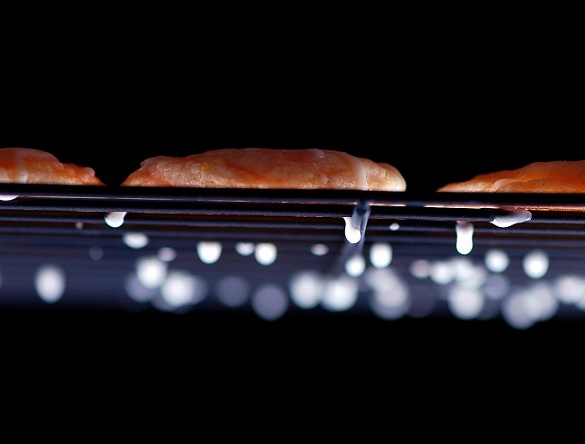 Because I like most of you (well, not all of you, but I won't say your name 😛 ) I have taken many of your suggestions to heart…if we don't count the numerous request for baked goods being sent to your homes. And of course the strangest request I ever got is also not being granted. 😉
I get a lot of email asking me where my RSS Feed Button is…exit stage right (or look over to your right). For reference, if any of the websites you read don't have this option, it is because like me they know you can add an RSS Feed from your tool bar in both IE and Safari. Of course I didn't know this until my beloved ex-husband computer programmer extaordinare pointed it out to me. Just know that it's there in your upper right hand corner and you can add what websites you like to your list. But I have a button now to save you the trouble of having to email me.
The other oddly requested item is a donate button for Pay Pal. So there it is. Feel free to buy me a bag of flour or a beer. 🙂 The beer won't help me buy ingredients to keep the blog running, but it will put me in a good mood. Or nothing at all. It's only over there because it was asked for. Have at it.
You should notice that your feed is partial now. Or at least it should be. And as requested we figured out how to have a picture up top. So I hope this is satisfying to the vast majority of you. If it isn't I'm sure you will send me an email letting me know. Just be warned that any and all emails are subject to a little raking you over the coals and letting the CCbP population have at you.
And last I added my Twitter account, which to be honest I don't Twitter that much, but might if more people interacted is over there. As well as the much pushed Facebook page.
And sorry about the last post, when things were getting up graded it went bye-bye. It's being put back if you want to make that recipe. I am sorry if any celebrations were crushed by that recipe going down. I'm sure Larry's Graduation from Rodeo Clown School just wasn't the same without that pound cake. Though be warned that somethings are still being ironed out. If you find something not working, please let me know.
Enough with the boring talk, let's talk cookies. My favorite cookie of all time. Most of you are all too familiar with my love of the snickerdoodle. It appears in many forms on this blog. Though interestingly enough never just the cookie. The reason why that is because I'm not allowed to give out my family's snickerdoodle recipe, or the sweet pickle recipe for that matter until they all pass on. So I guess you best support this blog so you can get that eventually. 😛 These are not them. These aren't even probably a snickerdoodle to a purist. But to them I say suck it (in the nicest way possible of course). Instead of being rolled in cinnamon sugar, the cinnamon and a little nutmeg are added inside the cookie, along with a little lemon zest. Then topped with a tart lemon glaze. They are a fantastic cookie to drink with your tea or shots of vodka for that matter (I kid…sort of).
It's been an interesting week. If you follow me on Facebook you can hear all about the heart attack (not a real heart attack people…stop emailing) I got on Thursday that struck panic in the World of Pea.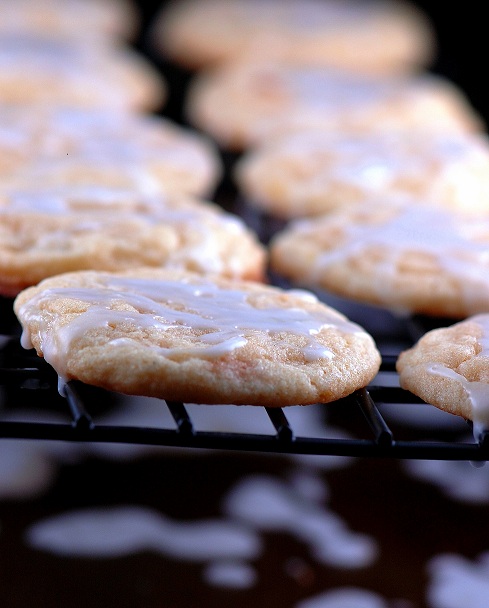 Lemon Snickerdoodle Cookies
1 ½ cups granulated sugar
1 cup unsalted butter, at room temperature
Zest of one large lemon (the kind that look like they are on steroids)
2 eggs
2 ¾ cups all-purpose flour
2 tsp. cream of tartar
1 tsp. baking soda
¼ tsp. salt
1 ½ tsp. ground cinnamon
½ tsp. freshly ground nutmeg (it taste so much better that way)
Lemon Glaze:
1/3 cup fresh squeezed lemon juice
2 cups powdered sugar, sifted (lumps are lame)
Heat oven to 375F.
In a large bowl place the sugar and zest together. Using your hands, rub the sugar and zest together to get the lemon oil released into the sugar. Set aside.
Using a stand mixer with a paddle attachment, cream the butter and lemon scented sugar until light and fluffy, about 3 minutes.
Add eggs, one at a time, scraping down the bowl after each addition.
Add the flour, baking soda, cream of tartar, salt, and spices with the mixer on slow until all ingredients are fully incorporated.
Shape dough into 1 1/4-inch balls. Place 2 inches apart on greased cookie sheet.
Bake 8 to 10 minutes or until set. Remove from cookie sheet to wire rack let cool before glazing.
For the glaze:
Whisk together the powdered sugar and lemon juice. Drizzle over cookies.