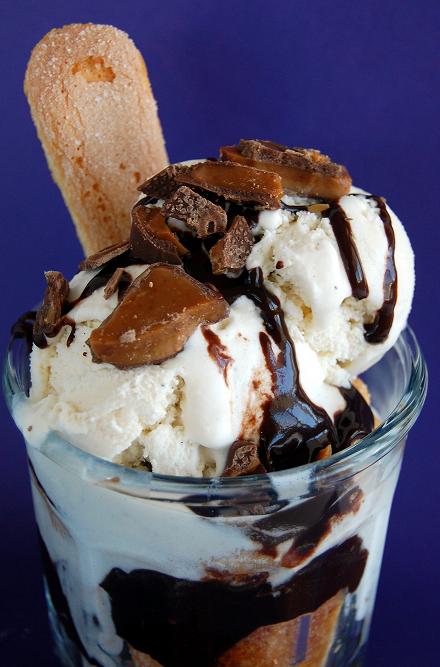 As with most government, my city has done an outstanding job of doing road construction at every possible way out of my subdivision. Now, I'm all for better roads and people having jobs, but is it really necessary to do it all at the same time? Spread the love…or pavement as it may be in this case.
It's provided some headaches of course but it has definitely added some amusement. While sitting there the other day with my window down I got to hear a daughter shout to her mom (she was the worker holding the stop sign) from across the street that she was pregnant. Lots of key words were exchanged and it ended with, "be glad there are people around or else I'd come hit you with this sign". Sadly I don't know if she ever did as I the sign moved from STOP to SLOW and I had to move on.
The other guy that works there just always looks bored to tears. About a week ago I brought him cookies. I asked if that was against the rules. He told me he didn't care it if was, those cookies looked good. From that point on, I may or may not have brought him more baked goods in hope of getting preferential traffic treatment. Which I may or may not be getting. Though I think at this point anyone with a bright blue car is getting that treatment, but hey, it's working for me. I'm getting to go around the special cones. I feel privileged all the same. 🙂
Sadly I think my privileges will be going away. The temperatures are warming up around here and the thought of the oven on is a big NO. So I went with what we do in the baking world, I turned to frozen treats. This is Tiramisu that I turned into a sundae. Most of the elements are the same with the exception of the mascarpone layer, which was turned into ice cream form. I also added some crushed toffee bars because I can't seem to say no to the buy 3 candy bars for a $1 display at the check out.
And a big hello to anyone who came over from CNN.com today. They have a little write up about the blog, you can see it here.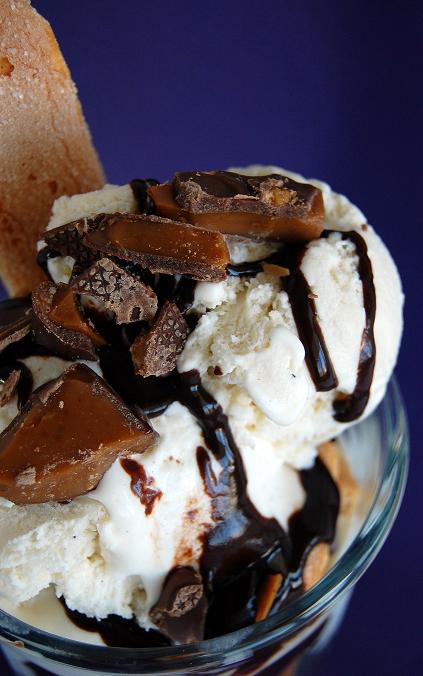 Tira- Me So Hot to Bake Sundaes
Vanilla Bean Mascarpone Ice Cream (recipe follows)
Mocha Ganache (recipe follows)
Purchased Iced Mocha (I used the kind from the store by the famous Seattle area maker)
1 package Ladyfingers
Toffee Bars (such as Heath or Skor), crushed up real good
To build your sundae first place your iced mocha in a bowl (if there is actual ice, remove that). Get a bowl however large you like. Dunk lady fingers into ice mocha and layer on bottom. Top with some ganache and then some toffee. Place a scoop of ice cream on top. Then repeat with the ladyfingers, then ganache, then toffee. Then one more scoop of ice cream. Add more ganache and toffee and place a full size ladyfinger for garnish.
Makes two Peabody sized sundaes…or more like 6 normal people sundaes
Vanilla Bean Mascarpone Ice Cream
1 cup whole milk
A pinch of salt
¾  cup granulated sugar
1 vanilla bean, split lengthwise
2 cups heavy cream
5 large egg yolks
8 ounces mascarpone cheese, at room temperature
1 tsp vanilla extract
Heat the milk, salt, and sugar in a saucepan. Scrape the seeds from the vanilla bean into the milk with a paring knife, then add the bean pod to the milk. Cover, remove from heat, and infuse for one hour.
To make the ice cream, set up an ice bath by placing a 2-quart (2l) bowl in a larger bowl partially filled with ice and water. Set a strainer over the top of the smaller bowl and pour the cream into the bowl.
In a separate bowl, stir together the egg yolks. Rewarm the milk then gradually pour some of the milk into the yolks, whisking constantly as you pour. Scrape the warmed yolks and milk back into the saucepan.
Cook over low heat, stirring constantly and scraping the bottom with a heat-resistant spatula, until the custard thickens enough to coat the spatula.
Strain the custard into the heavy cream. Stir over the ice until cool, add the vanilla extract, then refrigerate to chill thoroughly. Preferably overnight.
Remove the vanilla bean. Add mascarpone cheese and freeze the custard in your ice cream maker according to the manufacturer's instructions.
Adapted from the Perfect Scoop by David Lebovitz
Mocha Ganache
½  cup heavy cream
8 ounces semisweet chocolate chips
1 teaspoon instant coffee granules
Cook the heavy cream, chocolate chips, and instant coffee in the top of a double boiler over simmering water until smooth and warm, stirring occasionally.