Last year at this time I couldn't find a Girl Scout to save my life. It was like they were all trying to earn the Ninja badge or something. The one girl I did finally found made a killing as I panicked that I would not find another girl and cleaned her out. Seriously, I bought so many, I still have some from last year.
But this year. The year I am choosing not to buy them, these girls are everywhere. Swarming at the grocery store and changing shifts every hour or so, there are that many troupes. Which is awesome that Girl Scouts is so popular but darn it all, I'm trying to be good.
Now I'm not a total stick in the mud. I do donate straight cash to every troupe I run into. That way I avoid the cookies and the troupe gets my direct donation. See, they only make $0.70 for every box they sell. But if I straight up hand them $5, they get to keep the whole thing. They are happy and my jeans are happy they don't have to stretch.
Of course, when you run a baking blog avoiding Girl Scout cookies is kind of stupid. I mean, I'm still going to be eating bad stuff. 🙂 Oh well, in my mind it makes sense.
All these Girl Scouts everywhere reminds me that Girl Scout uniforms are about as ugly color green as one can get. And of camping.
Ah, camping. Oh how I loved it as a kid. Tromping through creeks. Picking up rocks, sticks, bugs, etc… Getting excited to see a chipmunk.
Then I grew up and realized, the ground is hard. It hurts to sleep on the ground. My back gets out of whack and I limp after I wake up. And of course, where the fuck am I suppose to pee?
But the one thing I still enjoy of course is S'mores. This little ice box pie is a product of me being seduced by the mini graham cracker crust at the store. I liked the idea of not having to make my own (just call me Sandra Lee). The only time consuming part was making the marshmallow ice cream. I had planned on using mini marshmallows on the top, only to discover when making these that I only had the large ones. Oh well, some much for the Be Prepared part of Girl Scouts. I think they should change their motto to Make Due With What You Have. I think this would be far more appropriate in real life.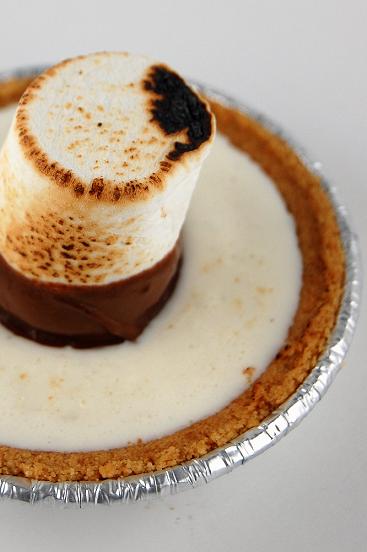 Mini S'mores Ice Box Pies (or yet another excuse to light stuff on fire)
2 packages of mini graham cracker crust (6 come to a pack) or 1 regular sized graham cracker crust
½ batch Marshmallow Vanilla Bean Ice Cream (recipe follows)
Chocolate Glaze (recipe follows)
Marshmallows (about 15-18…you'll want some just to eat)
Marshmallow Vanilla Bean Ice Cream
1 cup whole milk
A pinch of salt
½ cup granulated sugar
2 vanilla bean, split lengthwise
2 cups  heavy cream
6 large egg yolks
1 tsp vanilla extract
10 ounces Marshmallow Fluff
Heat the milk, salt, and sugar in a saucepan. Scrape the seeds from the vanilla beans into the milk with a paring knife, then add the bean pod to the milk. Cover, remove from heat, and infuse for one hour.
To make the ice cream, set up an ice bath by placing a 2-quart (2l) bowl in a larger bowl partially filled with ice and water. Set a strainer over the top of the smaller bowl and pour the cream into the bowl.
In a separate bowl, stir together the egg yolks. Rewarm the milk then gradually pour some of the milk into the yolks, whisking constantly as you pour. Scrape the warmed yolks and milk back into the saucepan.
Cook over low heat, stirring constantly and scraping the bottom with a heat-resistant spatula, until the custard thickens enough to coat the spatula.
Strain the custard into the heavy cream. Stir over the ice until cool, add the vanilla extract, then refrigerate to chill thoroughly. Preferably overnight.
Remove the vanilla bean and freeze the custard in your ice cream maker according to the manufacturer's instructions.
Place the soft ice cream into the bowl of an electric stand mixer(or use a large bowl and beaters). Beat in on medium-high speed the 10 ounces of marshmallow. Beat until fully incorporated, about 3 minutes. Place into a freezer friendly container and freeze for at least 3 hours.
Adapted from The Perfect Scoop by David Lebovitz
Chocolate Glaze
6 ounces milk chocolate
4 TBSP unsalted butter
Break chocolate into small pieces and place in a small stainless steel bowl over a pot of hot(not boiling)water. Melt the 4 TBSP butter in a small saucepan, and skim off the white foam that rises to the top. When chocolate is just melted, stir in the clarified butter(discard the white solids left behind). Set aside until chocolate is 86F.
To assemble:
Evenly distribute chocolate glaze to bottom of each pie crust. Dip marshmallows into the remaining chocolate if desired. Let set up in fridge for 10 minutes.
Set ice cream out so that it gets soft. Soft enough that it can be piped through a pastry bag. Pipe ice cream into the prepared crusts. Cover lightly with foil and place in freezer to re-freeze. Leave at least an hour.
Using a culinary torch, toast marshmallows. Place on on top of each pie.