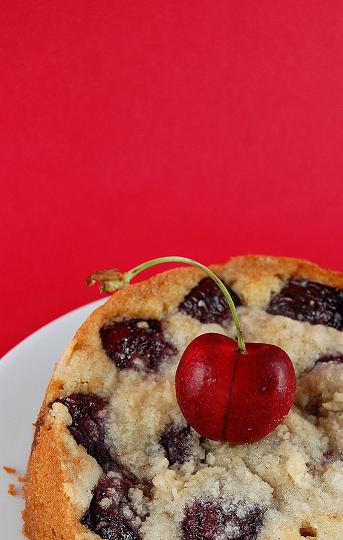 Today I answered the door my hands stained in red and my apron the same, the UPS guy just says "making jam?"  I said "no, just cake"….in which he replied, "well, it is cherry season".
I told Crazy Cocker Spaniel to take note that the next time we feel the need to murder someone in cold blood, let's do it during cherry season. That way the UPS man will be none the wiser. Oh sure the body might come up as an issue, but I would cross that bridge when it came. 😉
It's that time of year in Washington state. Rainier cherry time. Purist would scoff at me for even putting them into something (they like to eat them raw, as is). I think that they aren't purist, just lazy. Too lazy to sit around and pit all the cherries needed to go into pies, cakes, or whatever concoction you are making.
And though it is well established that I am lazy (I did stay in my pj's all day and did the laundry today without separating). Yet, I stood there for quite some time pitting cherries. I ended up doing the majority of the ones I had. And I had a lot. Eventually you just get into a rhythm. Which leaves your hands stained and your tummy full (I made a milkshake out of them for a breakfast of champions).
Awhile back I blogged about how Melinda had sent me a HUGE care package from her homeland, UK. Part of that package was a baking cookbook to show me the kind of options they have out that way. The recipes are indeed simple, but I like them and you can build on them nicely. There was a simple cherry crumb cake that I sounded lovely. A little plain so I decided to add a few butterscotch chips to give it just a little something more.
So I word of advice. If you piss me off, best not to drop by my house during cherry season. 🙂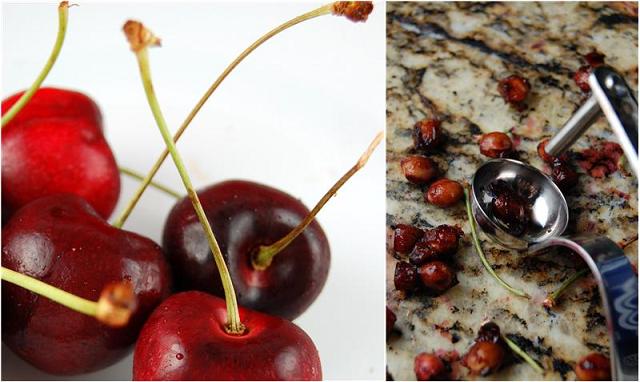 Rainier Cherry-Butterscotch Chip Crumb Cake
12 ounce juicy, ripe, fresh Rainier Cherries (or others if you must)
5 ounces (about 1 1/8 cup) self rising flour
pinch of ground cinnamon
2 ounces (about ¼ cup) granulated sugar
1 egg
1 tsp vanilla extract
1 fl oz milk
3 ½ ounces (about 7 TBSP) unsalted butter, melted
½ cup butterscotch chips (optional)
For the topping:
1 ounce (about 1/8 cup) all purpose flour
¼ tsp ground cinnamon
1 ounce (about 1/8 cup) granulated sugar
1 ounce (about 2 TBSP) unsalted butter, cubed
Preheat the oven to 350F. Prepare a 8-inch diameter (or four, 4 ½ -inch) spring form pan with butter and parchment paper.
Remove the stalks and stones (pits) from the cherries using a cherry pitter if you have one, to keep the fruit whole, otherwise, cut them in half.
Sift the flour, cinnamon and sugar together in a large bowl. Set aside.
Using a stand mixer with the whisk attachment, whisk the egg, milk, vanilla, and melted butter together. On low speed add the dry ingredients and combine.
Beat well until thick and smooth. Remove bowl and scrap down whisk attachment to get all the batter.
Fold in the butterscotch chips.
Spoon into prepared pan (or evenly through out the 4 mini ones) and spread evenly. This will seem like a small amount, but remember stuff is going on top.
Scatter cherries over the mixture and gently  press them with the back of a fork.
To make the topping, place all the ingredients into a medium bowl. Using your hands or a pastry cutter, make a crumb like mixture. Scatter the topping over the cherries.
Bake for 30-35 minutes (about 27 for the minis) or until the top is lightly golden and a skewer inserted into the middle comes out clean.
Leave in spring form for about 10 minutes until cool enough to handle. Then run a knife around the edge and remove the cake from the pan. Allow to cool on a wire rack.
Adapted from Bake by Rachel Allen