Since I have been getting some large amounts of email regarding this subject, here is my mass response back.
Dear CCBP readers who are Twilight fans,
Yes, I do live in Washington state. Yes, that is where the BOOK/MOVIE (read not real life) takes place. Until my readers started asking me about it, I didn't know it took place in Washington. I don't do vampires (even if they do sparkle like disco balls in the sunlight), so I have no need to read the books or see the movies.
No, I do not live anywhere near Forks, WA. It is about 4 ½ hours away from me, or longer depending on the ferry schedule. No, I will not go and get you souvenirs for you. No, I will not drive over and meet you while you go on a tour of the town and surrounding areas (though thanks to those who asked). It is a tiny little town that was nothing until the book came about. I am happy that their town is thriving now and that it is receiving an incredible amount of tourism. I am all for that!
Which leaves me with saying, if you are that into Twilight, that you are willing to write me and ask me to drive over and get you stuff (and take photos), just save up and get on a plane and go there yourself.
Sincerely,
Peabody (who lives nowhere near Forks, and does not enjoy Twilight related stuff)
Okay, so you are probably saying to yourself, um, you haven't posted in awhile and you come back with this crap…or stuff that looks like crap. I know, I know. Birthday month has been a busy month so far, and does not appear to be slowing down anytime soon. I leave in a couple days to go visit the parental unit. Nothing like traveling for 7 hours in a tiny Ford Focus with a dog and rabbit. 😉 Oh the joy (I know you are jealous).
I received the book Cookie Swap, which I will do a whole post about in the coming weeks, and saw a recipe that took me back. They were no bake cookies that we made in junior high home ec class. Having no desire to turn on the oven (and with the forecast that is predicted for the next 10 days…I so wont…ugh, the 90's!), these sounded like a great alternative to me.
Now, no bake is kind of fooling. As you do not bake, you still have to use the stove top for a little bit, but that is so much better than turning on the oven. The book has you using raisins, and my junior high home ec cookbook has you using dried apricots. I used cocoa nibs. Just sounded good at the time.
These are super easy. Fudgy. Good for you (oatmeal). Taste really yummy and are versatile (you could use basically anything in the dried fruit, chocolate chip, nut category). So what I am saying, is don't let their appearance scare you off.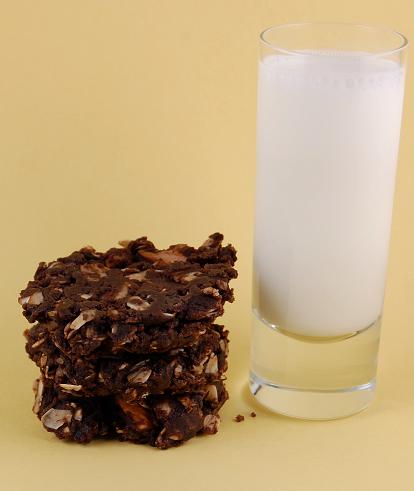 No Bake Chocolate Fudge-Oatmeal Peanut Butter Cookies
1 ½ cups granulated sugar
½ cup evaporated milk
½ cup unsalted butter (1 stick), cut into TBSP size pieces
pinch of salt
½ cup unsweetened cocoa powder (I like Green and Blacks)
1 tsp vanilla extract
2 ½ cups quick cook oats
¾ cup peanut butter (shocking, but I did not use Jif, I used Peanut Butter and Co's Dark Chocolate Dreams)
¼ cup cocoa nibs
1/3 cup pecans, roasted, chopped
Before you start make sure you have all the ingredients out and measured. This needs to be done because once taken off the heat, they start to firm up quickly.
Prepare two baking pans with parchment paper. Set aside.
In a medium saucepan combine sugar, evaporated milk, and unsalted butter. Bring to a rolling boil and stir to make sure butter gets incorporated. Let boil until it reaches 238-240F. Don't go over, in fact go under is better than over. When you reach desired temperature, remove from heat. Add cocoa powder and whisk until combined.
Add peanut butter, vanilla, salt, oats, pecans, and cocoa nibs. Mix until thoroughly combined. Using a small cookie scoop, scoop onto prepared cookie sheets. Press down with your hand or use a glass to help flatten them.
Place in freezer for 15-20 minutes. Store at room temperature for up to a week.
Adopted from Cookie Swap: Creative Treats to Share Throughout the Year by Julia M. Usher and my junior high Home Economics class.