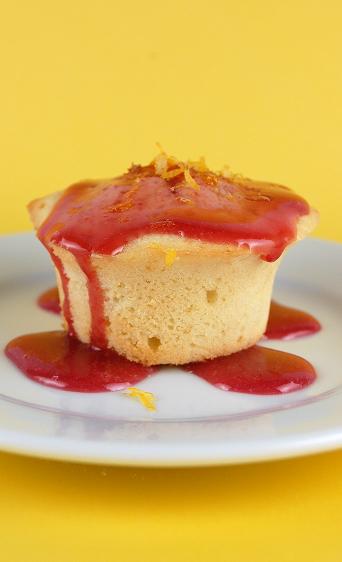 In sixth grade one year we went on a field trip to see some Indian ruins (I was living in Flagstaff, AZ which is surrounded by much native American culture). Now of course to a sixth grader staring at empty dirty caves with broken pieces of pottery is as about as exciting as sitting down and watching the paint dry. Sure it is educational, but really I only remember two things about the field trip.
One was that we stopped by the side of the road and picked nuts off Pinon Pine trees. They are pine nuts, though taste slightly different.
The second thing was staring at my friend eating a strange looking fruit. She was sitting at the back of the bus picking at this fruit. Her hands were stained red and I noticed she was only eating part of it. I asked what it was. A pomegranate. She gave me one of the seeds. I thought she was stingy but now knowing how hard they are to dig out the seeds, one was good. It was a tart burst in my mouth and I could not decide back then if I liked it or not.
I came home that day and insisted that my mother buy me one when she went back to the store. She did. I had to take it to school though as both my mother and I had no idea how to get it open. So the girl showed me and I sat there covered in red pomegranate juice. I had liked it but decided it was far too much effort just to get tiny seeds. It wasn't until years later that I got to taste pomegranates again.
Pomegranates have made a comeback in recent years, showing up just about everywhere. Why? Not only do they taste good but the health benefits…lots of them. Starting with your heart. It's been shown that drinking 100% pomegranate juice can improve blood flow and reduce plaque growth in your arteries. It helps with prostate health as well as…well, um…let's just say you wont need Viagra if you are drinking pomegranate juice. And of course it is an antioxidant…a super one at that.
Now, you should know by now that I don't do a lot of product review and what not on this site. Not that I don't get asked, but so many of them don't relate to my site at all. But when the people of POM Wonderful asked if they could send me a couple of bottles of POM Wonderful juice I jumped at the chance. I had heard that pomegranate juice is good for you but had no idea until I read all about it in the flier they sent me, but you can read about it on their website. I had the 100% pomegranate juice but they do offer blends that I have since tried, the Pomegranate Cherry and the Pomegranate Tangerine. I like the original the best and that is the one that does the most things for you.
Now they have recipes on their site but I wanted to make something of my own. I like how lemons and pomegranates taste together so I set on making a Meyer lemon pound cake with a pomegranate glaze. Since pomegranates tend to be on the tart side I decided to make a jelly out of my juice. Then turn that into a glaze. This cake is dense and bursting with flavor.
I must say that them sending me POM juice worked out in their favor as I am now a big fan and drink it each morning.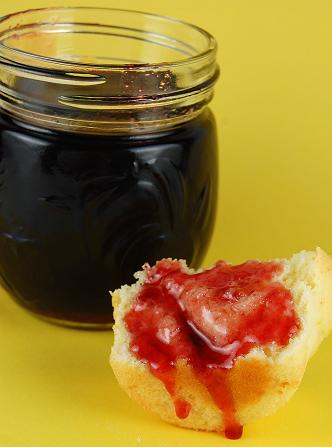 Meyer Lemon Pound Cake with Pomegranate Jelly Glaze
for the cake:
3 ½ cups sifted cake flour
½ tsp baking powder
¼ tsp salt
1 ½ cups unsalted butter, at room temperature
2 ¼ cups sugar, divided
6 large eggs
1 cup milk
¾  cup fresh Meyer lemon juice, divided
1 TBSP plus 1 tsp finely grated Meyer lemon zest
1 tsp vanilla extract
Pomegranate Jelly Glaze (recipe follows)
Preheat oven to 300F. Butter and flour a 10-inch Bundt cake (I used a smaller one and used mini ramekins).
Sift the flour, baking powder and salt together. Set aside.
Beat the butter with an electric mixer on medium speed in a large bowl until light and fluffy. Gradually beat in 1 ¾ cups of the sugar, about 3 TBSP at a time, and continue beating until light and fluffy.
Add the eggs, on e at a time, beating well after each additions.
Reduce the speed to low and add the flour mixture alternately with the milk in batches, beginning and ending with the flour.
Stir in the vanilla, 1 TBSP of zest, and ¼ cup lemon juice and blend until fully incorporated.
Transfer batter to the prepared ban and smooth the top with a rubber spatula. Bake for 1 ½ hours, or until a wooden pick inserted in the center comes out clean. Let cook in the pan on wire racks for 15 minutes. Smaller Bundt took me 1 hour and 5 minutes to bake in my oven. The small ramekin ones took about 45 minutes.
Meanwhile, bring the remaining ½ cup sugar, 2 tsp of zest, and the remaining ½ cup lemon juice to a boil over medium-high heat in a small saucepan, stirring until the sugar has dissolved.
Turn cake out onto the rack and immediately brush the hot syrup over the hot cake. Let cool to room temperature. Next pour over the Pomegranate Jelly Glaze. Serve the cake cut into wedges.
Adapted from Luscious Lemon Desserts by Lori Longbotham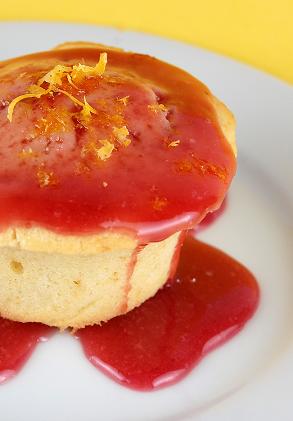 Pomegranate Jelly Glaze
1 cup Pomegranate Jelly
1 ½ cups sifted powdered sugar
for the jelly:
2 cups granulated sugar, divided
3 TBSP  powdered fruit pectin (like Sure Jell or Certo)
2 cups POM Wonderful Pomegranate juice
1 cup light corn syrup
Combine ½ cup sugar and fruit pectin in a small bowl and set aside.
Bring pomegranate juice, remaining sugar, and corn syrup to a simmer in a large saucepan (it will boil up so you need the room) over medium heat.
Whisk in the sugar/pectin mixture and whisk until dissolved.
Whisk constantly until the mixture reaches 220F (you will need a candy thermometer).
Put the lids into a pan of hot water for at least several minutes; to soften up the gummed surface and clean the lids.
Fill jars to within ¼-inch of the top, wipe any spilled jelly off the top, seat the lid and tighten the ring around them. Then put them into the boiling water canner.
Keep the jars covered with at least 2 inches of water. Keep the water boiling. In general, boil them for 5 minutes, which is what SureJell (the makers of the pectin) recommend.
Leave them in the boiling water for 5-7 minutes.
Remove with tongs. Press the center to see if it pops up and down. If it pops up and down it is not sealed and you will have to use it within the next couple of days (keep in fridge). *If you do a boiling water bath on the jars, let them sit on a towel, untouched for 12-24 hours before testing for seals. It is OK if the bands look like they loosened, the seal is not harmed by it-but under no circumstances should you touch the hot jars to check the seal.
 
*If you are going to use right away you do not have to go through the whole canning process. You can simply pour into a jar and use within a couple of weeks as long as you keep it tightly covered in the fridge.
To make the glaze:
Heat 1 cup jelly in a small saucepan. Whisk in powdered sugar. Whisk until dissolved. Pour over pound cake.