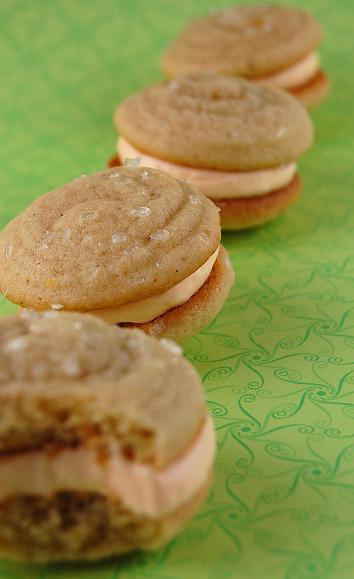 I have a new form of people watching now. I guess it will help the time go by. I got my first round of allergy shots today. Yep, they hurt. But at least the nurse didn't lie to me, she told me they would hurt. She was right.
After you get allergy shots you have to sit around and wait for 30 minutes to make sure you don't have a reaction to them. And even though I did bring a book to read I found myself people watching far more than reading.
See the waiting area is right next to the exit. We must be next to some section where there are a lot of elderly people. And well, they are the funniest of all. My favorite today was the woman that reminded me of my grandmother. My grandmother always had her hair covered up with a plastic bag almost everywhere she went if the weather was bad or looked bad. This was to prevent her hair from being ruined and looking bad. It never seemed to occur to her that wearing a grocery sack from the produce department on your head would look bad.
I got to hear the little old couple argue for a good 10 minutes as to what parking lot they parked the car in. Only to be picked up by their son. So they didn't even drive. Oye.
There was the head to toe leather couple. I really wanted to know what department they were going to. Yes, I was nosy. You don't get a man in all leather pant, leather coat, leather boots and fringe everywhere. His wife or girlfriend was the same as well, though she had on a leather hat with fringe and an all leather purse. I sure hope they ride motorcycles, because if I find out they drive like a Ford Taurus I will be deeply disappointed.
I sure do hope I continue to have some good people watching as it made the time go by quickly. If I am not people watching or reading I am trying to think of recipes to invent. I didn't think of this one today, I thought of this one while actually waiting at the allergist last week. I was so wanting a creamsicle but it was cold that day and I didn't want ice cream, but still wanted the flavor.
The filling for this is nice and light, which is perfect because you don't want it to be too heavy. If I had another vanilla bean I would have thrown another one it. I like to see my cookies speckled, but alas I was out. These are a little more on the cookie than cake side as well. If you are a orange and vanilla fan, I think you will enjoy these Creamsicle Whoopie Pies.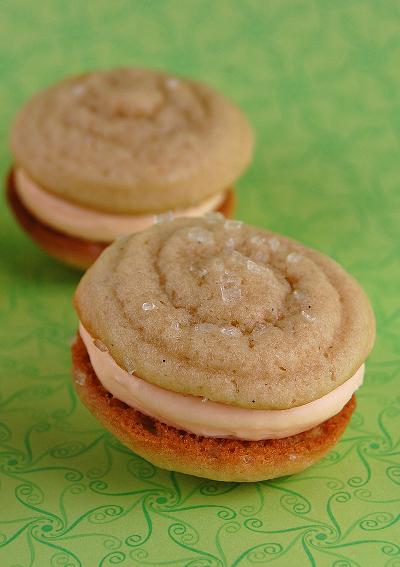 Creamsicle Whoopie Pies
Vanilla Bean Whoopie Pies
2/3 cup vegetable oil
½ cup full fat sour cream
1 ½ cups granulated sugar
½ cup firmly packed light brown sugar
2 large eggs
2 vanilla beans, cut and seeds scraped out
1 tsp vanilla extract
zest of ½ a medium orange
3 ½ cups all-purpose flour
1 ¼ tsp baking powder
1 ¼ tsp baking soda
½ tsp salt
Sift together the flour, baking soda, baking powder and salt in a medium bowl, set aside.
Using a stand mixer (or a bowl and beaters) using the paddle attachment, beat together the oil and sour cream for 1 minute until combined.
Add the sugars and beat for another 2 minutes.
Add eggs, one at a time, making sure to scrap down the bowl after each addition.
Add the vanilla bean seeds, extract, and zest and beat for another 30 seconds until completely combined.
With the mixer on low speed, add the flour mixture. Mix until just combined, you don't want to see any flour but you don't want to over mix it.
Cover bowl with plastic wrap and chill for 1 hour.
Using a piping bag, fill the bag with batter. Pipe the batter to about the size of a quarter (I made mini ones) onto a parchment lined cookie sheet.
Bake at 350F for 6-7 minutes. Remove from oven and let cool on sheet for 5 minutes. Remove and move to wire rack to cool completely.
When cooled, match up two cookies of the same size. Take one cookie, and with the flat side up, pipe or spoon on the orange vanilla filling. Top with another cookie.
Repeat until you run out of cookies.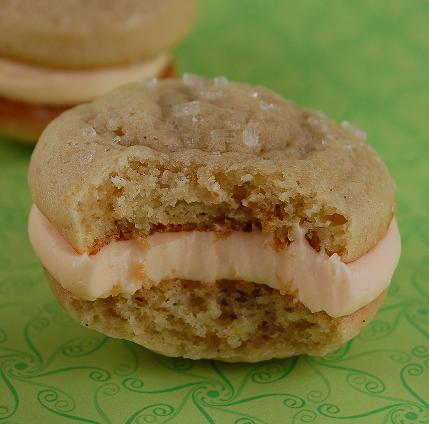 Creamsicle Filling
4 ounces cream cheese, at room temperature
1 ¼ cups powdered sugar
1 ¼ tsp orange extract
¾ tsp vanilla extract
2 TBSP unsalted butter, at room temperature
1/3 cup heavy whipping cream
1 TBSP powdered sugar
In the bowl of a stand mixer (or use bowl and beaters) using the paddle attachment, combine cream cheese, powdered sugar, extracts and butter. Beat on medium-high speed for about 2 minutes. Transfer to a small bowl, using a spatula to get all of the cream cheese mixture. Set aside.
Clean bowl and place back at mixer. Add whipping cream. Using the whisk attachment, whisk the cream on high. When soft peaks form add the 1 TBSP of powdered sugar. Keep whisking on high until the cream has formed stiff peaks.
Add cream cheese mixture to the bowl with whipped cream. Using the whisk attachment, whisk together until completely combined and light and fluffy. Add food coloring if desired.