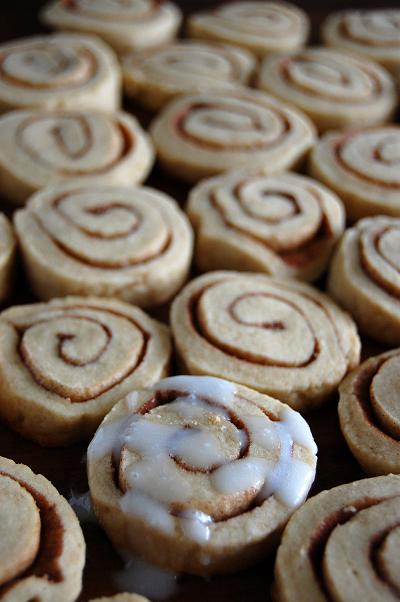 I bet you are thinking those are cinnamon rolls. Guess again. Those are cookies. Cinnamon Roll Cookies.
The holidays are fast approaching and that means the annual cookie and ornament exchange is coming up. Which means I have to find a cookie that I want to bring. So every year I audition new cookies to see if they will make the cut. This is my first cookie to try out.
I like it. I forgot to roll it in cinnamon-sugar and I think that makes a flavor difference as these were not that flavorful. I plan on making them again but with some orange and almonds in there as well, and make the icing be orange icing.
This is just a quick post. I have had a pretty emotional draining week and the wit and sarcasm you know and love just isn¢â¬â"¢t flowing right now.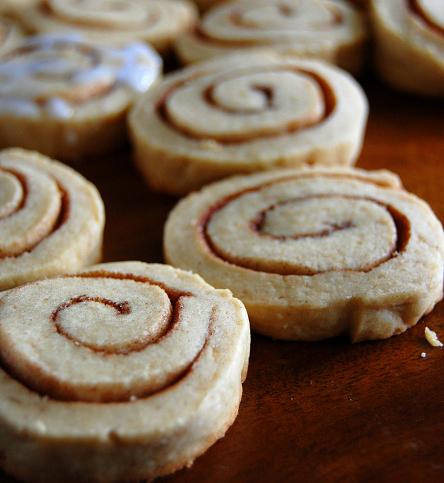 Cinnamon Roll Cookies
For the filling:
½ cup sugar
2 TBSP ground cinnamon
For the dough:
3 cups all-purpose flour
2 tsp baking powder
1 tsp ground cinnamon
½ tsp salt
1 cup unsalted butter, at room temperature
1 cup brown sugar
2 eggs
1 tsp vanilla extract
For the icing:
1 cup powdered sugar
¼ cup warm water
½ tsp powdered egg whites
For the filling combine sugar and 2 TBSP cinnamon in a small bowl, set aside.
Whisk flour, baking powder, 1 tsp cinnamon, and salt together for the dough in a bowl; set aside.
Cream butter and brown sugar in a bowl with a mixer until smooth. Add the eggs and vanilla; mix until incorporated. With the mixer on low speed, add the dry ingredients, blending just to incorporate; do not over mix.
Trace a 16-x-9-inch rectangle on a sheet of parchment or wax paper. Pat the dough into the rectangle using your hands, then sprinkle half the cinnamon mixture over the dough.
Beginning on a long side and using the paper to help you, roll the dough into a log. Dust the outside of the log with the remaining cinnamon mixture (I forgot to do this). Wrap log in plastic and chill for at least 3 hours.
Preheat oven to 350F; line tow baking sheets with parchment paper.
Slice chilled dough into 1/4-inch thick slices and arrange on prepared baking sheets, spacing 1 inch apart. Bake 10-12 minutes, or until golden brown. Let cookies cool on the pan for 5 minutes, then transfer to a rack.
Combine icing ingredients in a bowl. Drizzle icing over cooled cookies, let stand at room temperature.
Adpated from Holiday Cookie from Cuisine at Home Magazine