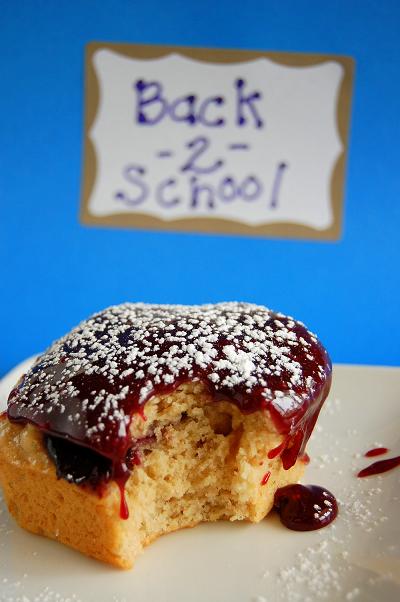 You are probably stopping by to see what I did for TWD this week, well sadly I didn't do it. I thought I had granola but apparently not. And since I put it off until Monday night(when it cooled down around these parts) it didn't get done. But if they are anything like the granola cookies I made awhile back I am sure they are great.
Back to school time is here. The aisles at Target are filled with back to school supplies that I must admit I still go through. It's been 4 years now since I stopped teaching yet the school supplies still keep sucking me in. I am quite sure I do not need the Sharpie markers, the crayons and the Hello Kitty folder that I bought the other day. But I could not resist. 🙂
Most of my teaching friends in Arizona are already back and soon to follow are my Washington teacher friends. It's the time of year that you love and hate all at the same time as a teacher. You are hopeful(especially if you had the class from hell the year before) that you will have a great year. You are excited to do all the things you said you were going to do last year and didn't. Excited to do the lesson plans you tagged and put in a folder but didn't find until the Summer when you were going through stuff. Excited to get your classroom in order. Excited to get back to the school cafeteria tater tots(that might have just been me).
But your oh too short Summer has passed. You have to figure out how in the heck am I going to get myself out of bed at 5:45am when I have been sleeping in every day till 11am? You start to panic slightly when you hear that you are getting "the" kid that gave last years teachers daily headaches and a few more gray hairs than the average 20 something should have.
When I was in Portland in April we went to Powell's Books. It takes up an entire block. We didn't drive there(a mistake) as the hotel was not too far and I didn't figure there was a cookbook there that I didn't have. LOL. Wrong. For though I had most of the current cookbooks that I wanted they had many a used cookbook that I felt I needed. 17 to be exact. Most of them major old school cookbooks, like Good Housekeeping and Fanny Farmer. I love those kind of books. Made for back in the day when people actually entertained and had dinner parties. My poor husband got stuck dragging those books about 12 blocks and grumbled the whole way. 🙂
The other day he asked if I had ever made anything from those books. I had. But it got me going through them again. I was looking at quick breads in the Fanny Farmer Cookbook. All the quick bread recipes didn't have butter which was interesting to me. In fear that my bread(which turned into muffins) would be too dry I did add some Mascarpone cheese to it. I also added more sugar as 1/3 cup was not cutting it for me! Even with the more sugar these were still on the less sweet side and would make a good back to school treat. If you want to add glaze like I did that is simply 1/3 cup seedless blackberry jelly melted in a saucepan and then add 1 cup powdered sugar. Pour over muffins.
For all you teachers(and principals, counselors, teacher aides, school nurses, etc) heading back into the trenches…hope you have a great school year!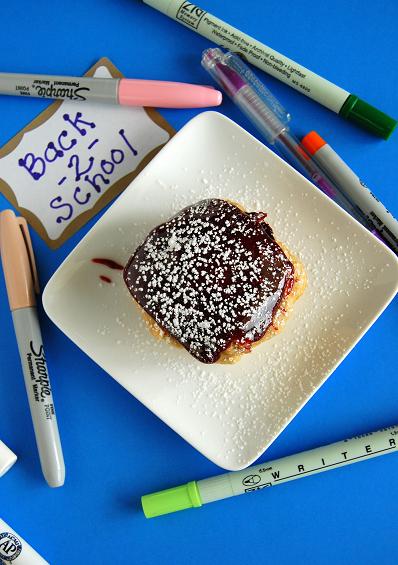 Peanut Butter and Jelly Muffins
2 cups all-purpose flour
¾ cup sugar
2 tsp baking powder
1 tsp salt
¾ cup peanut butter
1/3 cup plus 2 TBSP Mascarpone cheese
1 tsp vanilla
1 cup whole milk
1 egg, well beaten
1 small jar seedless blackberry jelly(or any jelly of your choice), you will have leftovers
Preheat oven to 350F.
Sift together the flour, sugar, baking powder and salt into a mixing bowl.
Add peanut butter and Mascarpone cheese. Mix until well incorporated.
Add the milk, egg and vanilla. Mix until well incorporated.
Grease and flour a standard muffin pan(I used square ones). Fill each muffin tin up 1/3 of the way full. Add a large TBSP of blackberry jelly. Spread it around with your fingers. Cover the jelly with peanut butter dough. They do not rise very much so you can fill the muffins to almost the top of the muffin hole(leave a little room).
Bake for 20-25 minutes. Test to see if done by using a wooden skewer and inserting it in the middle of the muffin. If it comes out clean(there will be jelly on it though) then you are good to go.
Dough recipe adapted from The Fanny Farmer Cookbook, 1951