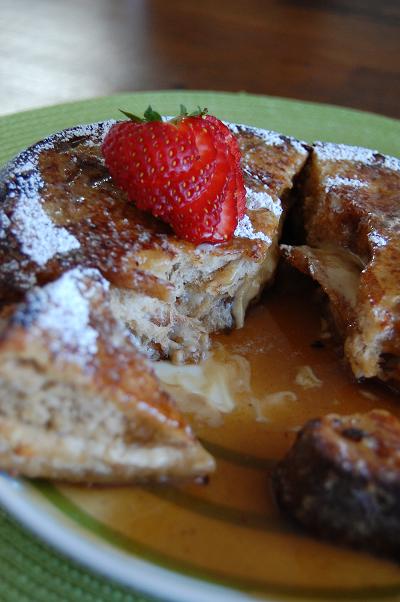 So people are making a big deal over how much Olympic phenomenon Michael Phelps eats in a day. All over the news they have been showing what he typically eats for breakfast everyday:
3 Fried-Egg Sandwiches (complete with cheese, lettuce, tomatoes, fried onions and mayo)
5-Egg Omelet
Coffee (2-3 cups)
Bowl of Grits
3 Slices French Toast topped with Powdered Sugar
3 Chocolate Chip Pancakes
I think with proper training, I could work up to that. Though I think I would have to have my eggs scrambled for the fried egg sandwiches and I would substitute the tomatoes and fried onions with bacon. How can he not eat bacon? Why I could be half way to being an Olympic athlete.
Apparently though he works that all off by working out 8 hours a day. Heres where my Olympic dreams might be dashed. Eight hours in a day? I can get that in a week…surely that counts, eh? After looking at all of the Summer athletes I am thinking I could still hold out for Discus, Archery or one of the Shooting events. No offense to some of the competitors but they don't seemed to be in quite tip top shape as some of the other athletes there at the games. And of course for the Winter Olympics I could always do curling. I'm not bad…unless you have me keep score. Somehow I can't do that. But I do throw me a good stone I tell ya.
So many people when watching the Olympics get inspired to get in shape. Me, I got inspired to make Michael a meal he could get his 4000 calories in without having to eat so much. I'm here to help you Michael, let me help you. Let me help you. My only request(husband don't read this part) is that you have your shirt off while while you eat my French toast in front of me. 😛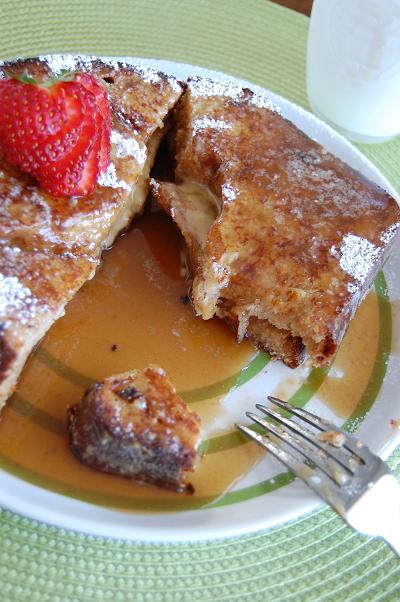 Mascarpone Maple Syrup Stuffed Brown Sugar Pecan Oatmeal Buttermilk Bread French Toast with Maple Syrup Cinnamon Honey Sauce
1 loaf Brown Sugar Pecan Oatmeal Buttermilk Bread(recipe follows)
1 batch custard(for dipping french toast in)(recipe follows)
1 batch Mascarpone Maple Syrup Filling(recipe follows)
1 batch Maple Syrup Cinnamon Honey Sauce)recipe follows)
Brown Sugar Pecan Oatmeal Buttermilk Bread
1 ½ cups rolled oats
1 cup boiling water
¼ cup water
2 tsp dried yeast
1 ½ cups buttermilk
½ cup canola oil
½ cup lightly packed brown sugar(I use dark)
1 cup whole wheat flour
3 ½ cups all-purpose flour
2 tsp salt
1 spray bottle of water
bread filling:
1 TBSP melted unsalted butter
1/3 cup chopped pecans
1 tsp cinnamon
1/3 cup brown sugar
 
Set aside ¼ cup rolled oats. Place the remaining oats into a medium bowl. Cover with boiling water. Mix with spoon to moisten all oats. Let bowl sit, uncovered, for 10 minutes, stirring frequently.
Place ¼ cup of warm water in the bowl of your stand mixer and sprinkle yeast on top. Mix with a whisk to dissolve yeast. Let rest for 5 minutes. Add soaked oats, buttermilk, canola oil, brown sugar, both flours, and salt. Using the hook attachment, mix on low speed for 1 or 2 minutes to combine ingredients. Increase speed to medium and mix for about 10 minutes. Dough will be wet at first, but will eventually from a ball. Ball will have a satiny finish and will bounce back quickly when poked with finger.
Place dough in an oiled, medium bowl and over with plastic wrap. Proof in a warm room, 70-75F, for about an hour. Dough will almost double in size.
Pull dough from bowl onto a floured surface and flatten it with your hands, releasing excess air bubbles. Form dough into a 12 x 6-inch rectangle and position it so that a long side is facing you. Spread melted butter evenly(as best you can) onto the rectangular dough. Sprinkle the brown sugar, followed by the cinnamon and then pecans. Fold the 2 short ends of the dough onto the top so they meet in the middle. Starting with the closest end, roll dough away from you into a log. Let loaf rest on its seam for a few minutes.
Transfer dough to an oiled 9 x 5 x 4-inch loaf pan, seam side down. Using your hands, push down on the dough to make sure it extends to all corners of the pan. Cover with plastic wrap and let proof in a warm room for 35-45 minutes. Loaf will rise to slightly above the top of the pan.
While loaf is proofing, preheat oven to 385F.
Remove plastic wrap and mist top of loaf with spray bottle of water. Sprinkle with remaining oats(I skipped this part this time around). Place pan on center rack of oven an bake for approximately 1 hour(I put a pan under the loaf pan since there was brown sugar and butter in the bread filling, good thing as I did get some dripping). Top and sides of finished loaf will be deep golden brown. Let cool in the pan on a wire rack for at least 30 minutes, then run a sharp knife around the sides of the loaf to release from the pan. Invert to remove loaf.
Source: Bread recipe is adapted from Macrina Bakery and Cafe Cookbook by Leslie Mackie with Andrew Cleary, 2003
Dipping Custard
4 eggs
½ cup heavy whipping cream
¼ cup maple syrup
½  tsp vanilla
½  tsp cinnamon
Combine all the ingredients with a whisk in a medium bowl until fully incorporated. Place mixture into a 9-x-13 inch pan to make dipping easy.
Mascarpone Maple Syrup Filling
½ cup Mascarpone cheese, at room temperature
½ cup cream cheese, at room temperature
1/3 cup brown sugar
¼ cup maple syrup
Combine all ingredients in a mixer with a paddle attachment. Beat until fully incorporated.
Making the French Toast
Spread about 1 ½  TBSP of  the mixture on a slice of bread. Top with a second piece of bread (like a sandwich). Repeat this process 10-12 times until the mixture is all used.
Dip the "sandwiches" into the custard mixture. Cook on a lightly greased(with butter) griddle until golden brown, turn to cook the other side. Keep the cooked "sandwiches" warm by placing them on a baking sheet in a warm oven(200F) Top with Maple Syrup Cinnamon Honey Sauce.
 
Maple Syrup Cinnamon Honey Sauce
¼  cup unsalted butter (½  stick)
¼  cup brown sugar
¼ cup creamed cinnamon honey(or just regular honey with 1 tsp cinnamon)
¼  cup maple syrup
¼ cup heavy whipping cream
Combine the butter, brown sugar, honey and maple syrup in a medium saucepan and bring to a boil. Add heavy whipping cream and whisk until fully incorporated. Remove from heat and pour over French toast.