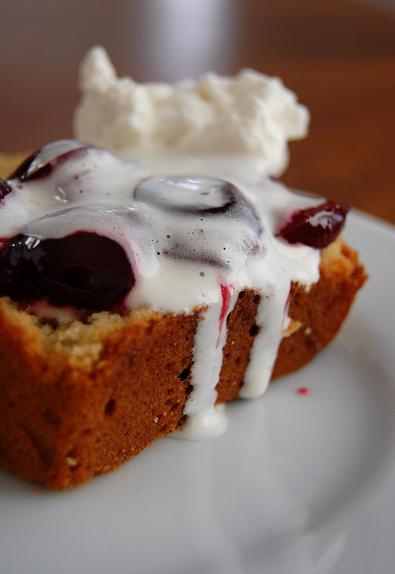 First off let's set the mood. My background theme music is "We are the Champions" ala Revenge of the Nerds(1984) when Louis is giving his speech about being a nerd, being a loser.
Lately I have been noticing a trend in posts  around the food blogging world. Rejects. Yes, many, many of us, myself included are being rejected by the new Tastespotting. I will be honest and say that I personally had only posted one photo on Tastespotting when it was ran by the previous hosts. I only had to do it once because some person named gingerbreadgirl always posted my photos for me. And though I sometimes didn't agree with the photo she went with(meaning I thought others from the post were better) I never had to worry about posting. It was a great situation for me. All the traffic but none of the work. ;P Well, let me tell you, I need the gingerbreadgirl back. For I do not have the magic touch to make it on to Tastespotting. Now, that is not entirely true. I do have 9 photos(including my original one from back in the day). I'm just not sure what I have to do to get on, especially my Northwest Noshing photos. Which is funny because one of the ones that didn't make the cut was actually purchased by someone last week. Yes, paid for photography is not making it. Sigh. I realize they say they are trying to only put up the best but I will be honest in saying that many of the rejected food bloggers I have chatted with have just as good of photos as the ones that are on there.
But there is hope! While Tastespotting was down, those of us addicted to food porn, had to look elsewhere to fill the hole. Many of us found Food Gawker. It is basically the same format with I find quicker turn around and a lot less rejection. Then I found Photograzing which was created by Serious Eats. Only been up for a little bit but looks promising. And lastly the newest one I have been checking out is Foodie Views. Only out for about a week. I am not quite sure how the submission process works since they only seem to select a few a day.
Now, all of this is not to say that I will quit submitting to Tastespotting. It's like a challenge to me. I feel like I am the nerd girl desperately trying to get to sit at the cool table in junior high. Tastespotting is my cool table. So what sites are my fellow rejects having success getting on? Or if you are just a food porn lover are there any sites you check out that I am missing(Flickr of course but that is a whole other place).
Speaking of the cool table, I will be trying to bring this here pound cake to it. We shall see if I wore the right brand of jeans that day and make it. 🙂 This brown beauty comes to us via the poncho wearing diva herself, Martha Stewart. Martha and I have a love/hate relationship that is leaning more towards love as of late. For awhile I felt that Martha was cranking out too many cookbooks and wasn't really getting quality. But her last few, the baking and the cookie one, have her back on my good side. This Brown Sugar Pound Cake is easy to make and although very tasty, a little on the boring side. So I made a little warm cherry compote and some brown sugar whipped cream to really make it sing. And sing it does.
P.S. Sarah from Tastespotting has responded to this post. Go and read the info in the comment section, she's #42.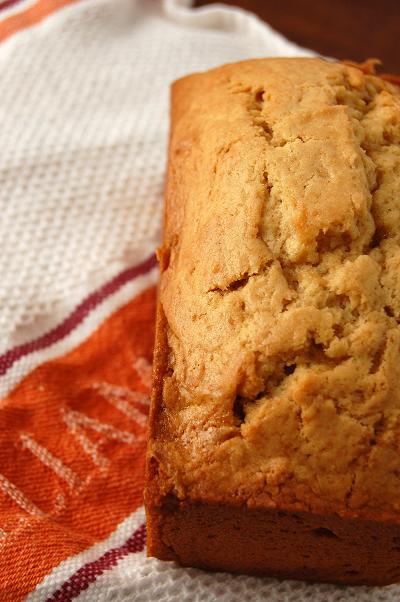 Brown Sugar Pound Cake with Warm Cherry Compote
1 cup unsalted butter, at room temperature
3 cups all-purpose flour
2 tsp baking powder
½ tsp salt
1 tsp vanilla extract
2 ¼ cups packed light-brown sugar
5 large eggs
¾ cup buttermilk
Preheat oven to 325F.
In a medium bowl sift together, flour, baking powder and salt. Set aside.
In the bowl of an electric mixer fitted with a paddle attachment, beat butter and sugar on medium speed until light and fluffy, about 3 minutes. Add vanilla and beat another 30 seconds. Scrape down the sides of the mixer. Add eggs, one at a time, beating until incorporated.
Add the flour mixture in three batches, alternating with the buttermilk and beginning and ending with the flour. Beat until combined. Divide the batter between the prepared pans(either two 8 ½ by 4 ½ inch or six mini loaves). Smooth with a spatula.
Bake, rotating pans halfway through, until cakes are golden brown and a cake tester comes out clean when inserted in the center, about 1 hour(if you are making mini they are 45 minutes). Transfer pans to a wire rack to cool 10 minutes. Turn out cakes onto rack to cool completely.
Adapted from Martha Stewart's Baking Handbook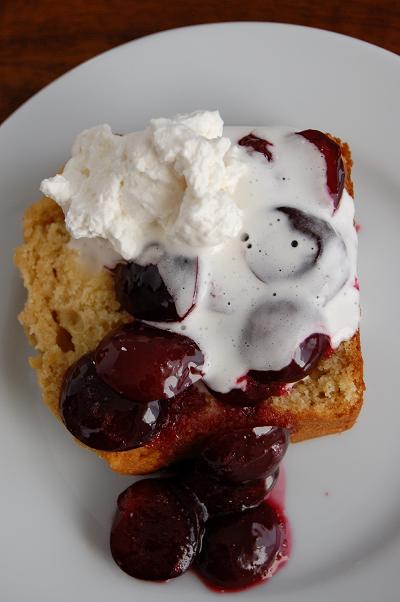 Warm Cherry Compote
1 ½  cups sliced, pitted fresh cherries
1/3 cup orange juice
2 TBSP honey
Put all ingredients into a small saucepan. Cook on high heat until brought to a boil. Reduce heat and simmer for about 5 minutes until fruit has thickened up.
Serve over pound cake while still warm.