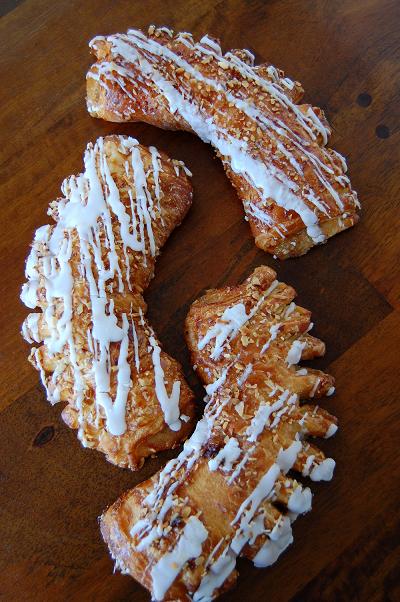 Life is often funny. Sometimes in the literal sense and sometimes in the ironic. Ironic is what I have going on. And more of the tragic irony.
You see when we got the Daring Baker challenge(which I actually finished early again) I knew that I would have to alter the shape in some way. For we were making braided breads. I have a thing(not really a rule but a thing) in which I only bake braided bread when I lose someone to death. Having not lost anyone to death in awhile I did not want to "jinx" it so to speak(I am superstitious) and so I made bear claws instead. Really big ones….I call them bears on steroids claws, because I gave then like twelve claws each. I guess I was in the go big or go home mood that day(or the if I make them smaller it will take less time mood. 😛 )
This last Wednesday morning my father received a phone call letting him know that his best friend and a man we called my uncle Red had passed the night before from a heart attack. Now my uncle Red was not in what you would call the best of shape and though it was not a total shock, what was is that he was to be visiting my parents in less than a week.
Almost all of my memories of uncle Red are from my youth, all of them good. So I am deeply saddened.
My first item is the danish. Having no desire to roll out all those layers again, I chose to go with a simple Challah bread to honour him, which you see pictured last. To see some of the lovely braided danishes using the same dough recipe, check out the Daring Bakers website. Thanks to Ben and Kelly for picking a great challenge(even though I couldn't do the braided part).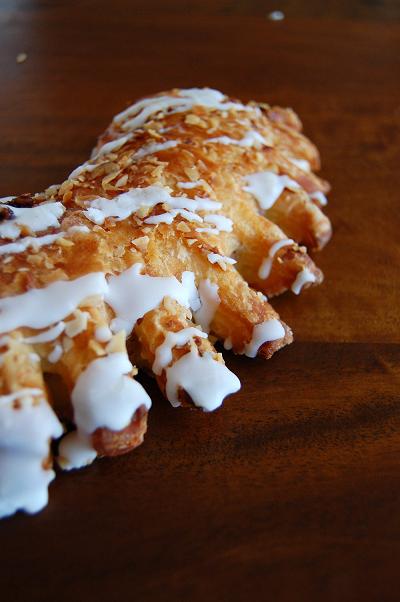 Bear Claws
Danish Dough(recipe follows)
Almond Paste Filling(recipe follows)
Fondant Glaze(recipe follows)
DANISH DOUGH
Makes 2-1/2 pounds dough
Ingredients
For the dough (Detrempe) 
1 ounce fresh yeast or 1 tablespoon active dry yeast
1/2 cup whole milk
1/3 cup sugar
Zest of 1 orange, finely grated
3/4 teaspoon ground cardamom
1-1/2 teaspoons vanilla extract
1/2 vanilla bean, split and scraped
2 large eggs, chilled
1/4 cup fresh orange juice
3-1/4 cups all-purpose flour
1 teaspoon salt
For the butter block (Beurrage)
1/2 pound (2 sticks) cold unsalted butter
1/4 cup all-purpose flour
DOUGH
Combine yeast and milk in the bowl of a mixer fitted with the paddle attachment and mix on low speed.  Slowly add sugar, orange zest, cardamom, vanilla extract, vanilla seeds, eggs, and orange juice.  Mix well.  Change to the dough hook and add the salt with the flour, 1 cup at a time, increasing speed to medium as the flour is incorporated.  Knead the dough for about 5 minutes, or until smooth.  You may need to add a little more flour if it is sticky.  Transfer dough to a lightly floured baking sheet and cover with plastic wrap. Refrigerate for 30 minutes.
Without a standing mixer:  Combine yeast and milk in a bowl with a hand mixer on low speed or a whisk.  Add sugar, orange zest, cardamom, vanilla extract, vanilla seeds, eggs, and orange juice and mix well.  Sift flour and salt on your working surface and make a fountain.  Make sure that the "walls" of your fountain are thick and even.  Pour the liquid in the middle of the fountain.  With your fingertips, mix the liquid and the flour starting from the middle of the fountain, slowly working towards the edges.  When the ingredients have been incorporated start kneading the dough with the heel of your hands until it becomes smooth and easy to work with, around 5 to 7 minutes.  You might need to add more flour if the dough is sticky.
BUTTER BLOCK
Combine butter and flour in the bowl of a mixer fitted with a paddle attachment and beat on medium speed for 1 minute.  Scrape down the sides of the bowl and the paddle and then beat for 1 minute more, or until smooth and lump free.  Set aside at room temperature.
After the detrempe has chilled 30 minutes, turn it out onto a lightly floured surface.  Roll the dough into a rectangle approximately 18 x 13 inches and ¼ inch thick.  The dough may be sticky, so keep dusting it lightly with flour.  Spread the butter evenly over the center and right thirds of the dough.  Fold the left edge of the detrempe to the right, covering half of the butter.  Fold the right third of the rectangle over the center third.  The first turn has now been completed.  Mark the dough by poking it with your finger to keep track of your turns, or use a sticky and keep a tally.  Place the dough on a baking sheet, wrap it in plastic wrap, and refrigerate for 30 minutes.
Place the dough lengthwise on a floured work surface.  The open ends should be to your right and left.  Roll the dough into another approximately 13 x 18 inch, ¼-inch-thick rectangle.  Again, fold the left third of the rectangle over the center third and the right third over the center third.  No additional butter will be added as it is already in the dough. The second turn has now been completed.  Refrigerate the dough for 30 minutes.
Roll out, turn, and refrigerate the dough two more times, for a total of four single turns.  Make sure you are keeping track of your turns.  Refrigerate the dough after the final turn for at least 5 hours or overnight.  The Danish dough is now ready to be used.  If you will not be using the dough within 24 hours, freeze it.  To do this, roll the dough out to about 1 inch in thickness, wrap tightly in plastic wrap, and freeze.  Defrost the dough slowly in the refrigerator for easiest handling.  Danish dough will keep in the freezer for up to 1 month.
Sherry Yard¢â¬â"¢s The Secrets of Baking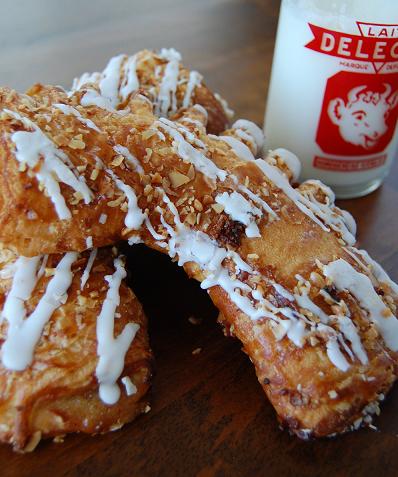 Almond Paste Filling
1/4 cup unsalted butter
1/3 cup firmly packed brown sugar
1/2 cup almond paste
1/2 teaspoon cinnamon
Melt and simmer for about 2 minutes the butter and brown sugar. Remove from heat and stir in the remaining ingredients. Cool slightly before using.
 
Divide dough in half. Roll out one half on a floured board into a 9-by-18-inch rectangle. Sprinkle half of the almond filling over the dough. Fold outside third of dough toward center. Fold dough once more to make three layers. Pinch ends of dough to seal. Cut into nine 2-inch sections. Make four 1/4-inch cuts through the open side of each section.
Place on greased baking sheets and shape into bear claw by separating the four cut sections. Repeat procedure with remaining dough and filling.
Let rise, uncovered, until doubled in size, about 1 hour. Bake at 400 degrees for 10 to 15 minutes or until golden.
Combine egg yolk with water and brush the tops of bear claws. If desired, sprinkle with some chopped slivered almonds. Drizzle on glaze.
White Fondant Glaze
Sift 4 cups of powdered sugar into a bowl. Add 1 teaspoon of orange extract and 6 TBSP to 1/2 cup of warm milk, briskly whisking until all the sugar is dissolved. Add the milk slowly and only as much as is needed to make a thick, smooth paste.