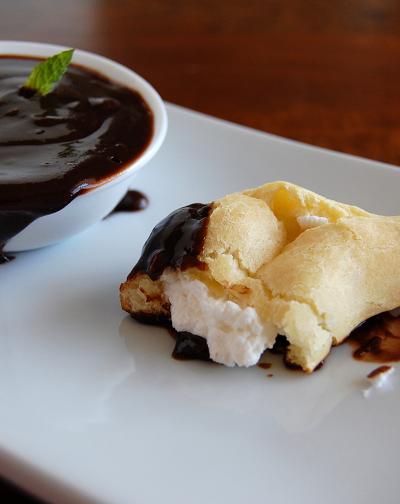 If you are old like me you probably remember the "Don't hate me because I am beautiful" campaign for some shampoo I can't remember the name of(great advertising, eh?). The actress/model Kelly LeBrock said those somewhat famous words. Someone's beauty doesn't make me hate them. It takes a lot for me to be a hater. Now, if they are beautiful, can eat what ever they want(without going and throwing up it) and are genuinely nice…then I am HATING that bitch. Lucky for me most of the "beautiful people" in this world don't fit into this category. Most of the beautiful people are living off of 6 almonds a day, 2 packs of cigarettes a day and a diet Red Bull every other hour to keep them going. That and working out with their trainer, who comes to their house(now that I wouldn't mind).
And Kelly LeBrock, can I be hating her? Nope, she was on Celebrity Fit Club a couple of seasons ago…that's right, she's a fatty now. Though, to be honest, she really wasn't that fat. I would just say she had meat on her bones. I guess that is what happens when people stop paying you to starve yourself…you realize it wasn't worth it. She lost weight and looked a little more like her former self, but I was still not hating.
Who you really should be hating is me. That's right, me. Why? Because on Saturday morning, or more like afternoon, I leisurely got out of bed and strolled downstairs. I whipped up some pate choux. Made them into spoons. Stuff the spoons with peppermint whipped cream. Then dunked them into peppermint fudge sauce. Yes, ladies and gents, after I slept in, I ate whipped cream filled pate choux dipped in chocolate for breakfast. See, I told you…you are hating me. 🙂 It's okay, I understand.
This recipe is a take on the Tuesday With Dorie recipe for Peppermint Cream Puff Ring, selected by Caroline of Consuming Passion. I must admit I am really liking having to figure out how to do the Dorie recipe(even though I don't use the actual Dorie recipe) in a different way. They were lots of fun and I think I will serve them at a dinner party with the Peppermint Fugde Sauce in a fondue pot.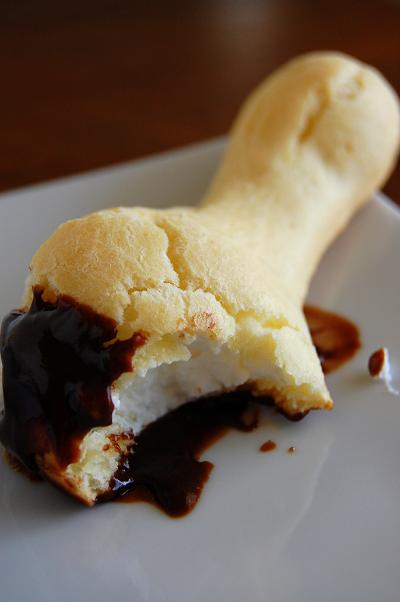 Peppermint Pate Choux "Spoons" with Peppermint Fudge Sauce
pate choux "spoons"
peppermint whipped cream
peppermint fudge sauce
Pate Choux "Spoons"
1 stick(4 ounces) unsalted butter
¼ tsp salt
1 tsp sugar
1 cup water
1 ¼ cups flour
4 eggs(and possibly one egg white if needed)
Bring butter, salt, sugar and water to a boil in a saucepan. When reached boiling point. Add flour, all at once, and start stirring. Stir until the sides pull away and a film will develop on the bottom of the pan, about 3 minutes. If you are using a nonstick pan you usually do not get the film on the bottom. In that case just set the timer for 3 minutes while you stir the flour/butter mixture.
Remove from heat and transfer to the mixing bowl of a stand mixer. Mix on low speed for two minutes using the paddle attachment. This allows the mixture to cool down a little. Switch to medium speed and add eggs one at a time. Sometimes the dough will still be a little dry so add the extra egg white if needed. This batch I needed the extra egg white. When dough is done it should be able to make soft peaks(think meringue or whipping cream soft peaks).
Spoon into a piping bag. (To make the spoon shapes, make a long, steady line then stop and continue to squeeze the bag. It will form a ball at the end…don't make the ball too big for we want them to bake up at the same time). Line baking sheets with parchment paper and pipe out the spoons.
Preheat oven to 375F. Place choux spoons in oven and bake for 10 minutes. Rotate pan and drop heat to 350F. Bake for another 10-15 mintues depending on your oven. Be sure to watch, you are going for golden brown. If you take them out too early they will deflate 🙁 and you don't want that.
Adapted from Martha Stewart Baking Handbook by Martha Stewart
Peppermint Whipped Cream
1 ¼ cups heavy whipping cream
¼ cup granulated sugar
1 tsp finely chopped fresh mint
In an electric mixer with the whisk attachment, whisk heavy whipping cream on high speed. When it starts to thicken, add sugar and mint. Continue to whip until cream forms stiff peaks(remember you have to fill the choux with it so it needs to be stiff).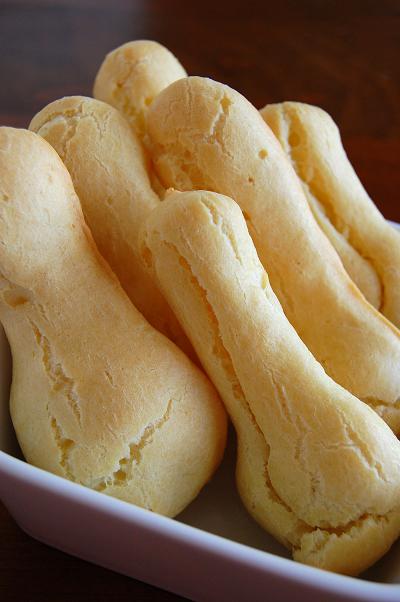 Peppermint Fudge Dipping Sauce
7 ounces semisweet chocolate
½ cup heavy whipping cream
3 TBSP unsalted butter
1 ½ TBSP corn syrup
1-2 TBSP(depending on your liking) Peppermint Schnapps
Put all ingredients in a saucepan except for Schnapps. On low heat let ingredients melt together, stirring occasionally. Should take about 4-5 minutes for it to fully melt. When everything is melted, take off of heat and whisk in Peppermint Schnapps. Serve warm.
Assemble:
Spoon whipped cream into a piping bag fitted with a tip(go small). Take cool pate choux spoon and poke a hole at either the bottom(if you don't want people to see the hole) or to the side. Squeeze bag and fill spoon with cream. Continue doing this for all the spoons.
Serve with warm Peppermint Fudge Sauce.