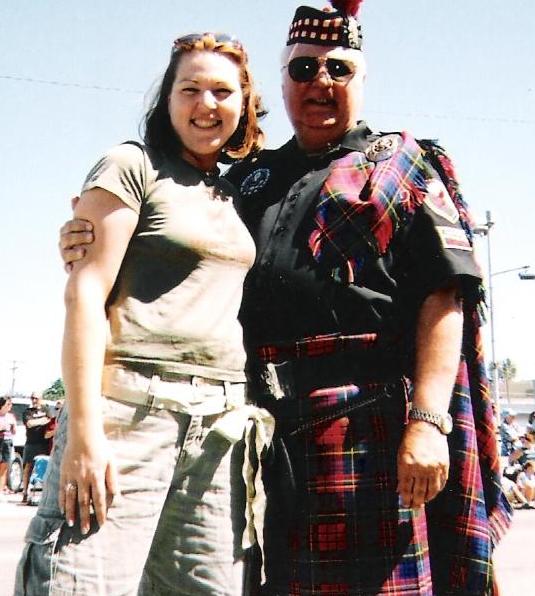 We had a rule in our house growing up. No one(meaning us kids) was allowed to sleep in past 10am. If we dare do this my father would have us greet the day by Scotland the Brave being blasted through the house. Being a teenager, I relished my sleep and so I heard that damn song over and over and over again throughout my teenage years. So much so that I grew to hate that song.
Now you are probably thinking, no problem, you don't hear that song all that much. Well, when your father is in a pipe band you sure do. A lot. You hear him practice it. You hear the band play it. You hear it in the car because your dad plays Scottish bag pipe music everywhere you go in the car(still does). There was a brief period when I was encouraged to play the bagpipes and went to practice with my dad(it didn't take), you heard it then of course. Every year we would go to the Scottish Highland Games, you would hear it there. A lot.
It became a joke in the family how much I grew to hate that song. Heck, my parents housewarming card to me had a little piper on it and when you opened the card up it played, you guessed it, Scotland the Brave. Bastards. 🙂
Though I must admit that I do have it on my Ipod and I don't really hate it all that much anymore(could be not hearing it at 10am every morning). See, it reminds me of my dad, and well, nothing that reminds me of my dad can be bad right? I'm definitely a Daddy's girl. My mom is my best friend, but I'm a Daddy's girl. When I was about to be born my father told the doctor, "if it's not a girl, send it back". My dad already had two boys at that point…plus he knew girls are just better. Lucky for him he ended up with a girl. And even more lucky for him he ended up with me. 😛
My dad is off of sugar right now(I know, the horror!). But I still made him a virtual dessert. One we had a lot growing up, pineapple upside down cake. Mine is different than what we had growing up, but the flavors are pretty much the same…that and mine is made with fresh pineapple.
Happy Father's Day to all that applies to and a special Happy Father's Day to my kilt wearing Pop(love you Dad!).
Or if you prefer something savory for Dad, how about a nice Smoked Salmon, Leek and Goat Cheese Quiche?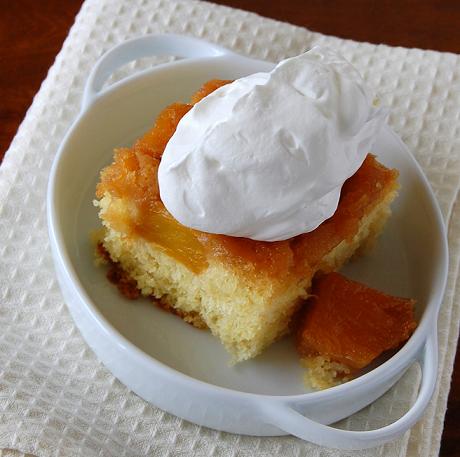 Coconut Pineapple Upside Down Cake
Coconut Yellow Cake
2 cups all-purpose flour, stirred before measuring
1 tablespoon baking powder
1 teaspoon salt
1/2 cup butter, softened
1 1/4 cups sugar
2 eggs
3/4 cup milk
1 teaspoon vanilla
1/2 tsp coconut extract
1/2 cup shredded sweetened coconut
Mix flour, baking powder, and salt; set aside. Cream sugar and butter in a large mixing bowl, beating until light and fluffy. Beat in eggs, one at a time, beating well after each addition. Add half of the flour mixture then half of the milk.
Add vanilla and coconut extract. Mix until blended; add remaining flour and milk and beat until smooth. Fold in the coconut.
For the Pineapple:
1 medium pineapple, chopped into chunks
1 cup of firmly packed dark brown sugar
1/2 cup unsalted butter
Take brown sugar and butter and combine and melt in a saucepan on medium heat until sugar dissolves and the mixture is bubbly, 2-3 minutes. Pour mixture into a 10 inch diameter cake pan(that has been greased and floured)with 2 inch high sides. Arrange pineapple chunks in a single layer on top of the brown sugar mixture.
Pour batter over the the brown sugar mixture and pineapple.
Place cake middle of the oven and bake for 45 to 55 minutes, or until a tester comes out clean. Let the cake cool in the pan on a rack for 15 minutes, run a thin knife around the edge, and invert the cake onto a plate.