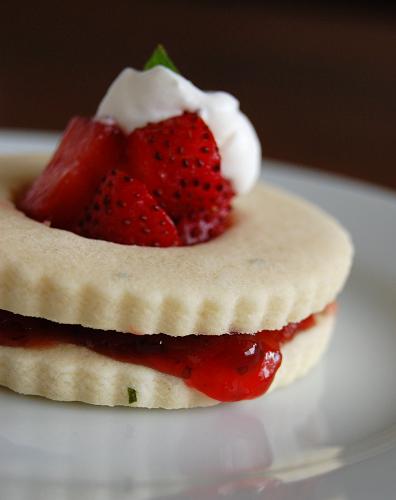 So we are going in a new direction with Tuesday's With Dorie. We are no longer giving the recipe. Which I understand and support, but my site is about giving people recipes. So in order for me to continue to do that, I will not actually be doing Dorie recipes. Just recipes inspired by Dorie. That way, you still get a recipe and I have to try a little harder to come up with something. 🙂
This weeks recipe, La Palette¢â¬â"¢s Strawberry Tart, selected by Marie(A Year at Oak Cottage), is a simple tart that is spread with strawberry jam, then fresh strawberries and topped off with crème fraiche or whipped cream.
I decided to make it into cookie form. My cookie dough is blended with fresh mint, rolled out and cut so that they are like linzer cookies(having a hole in the middle). Strawberry jam goes between the two layers of cookies and fresh strawberries are place in the cut out. With just a tiny dab of whipped cream.
If you want to see what the actual tart was suppose to look like, head on over to the TWD website.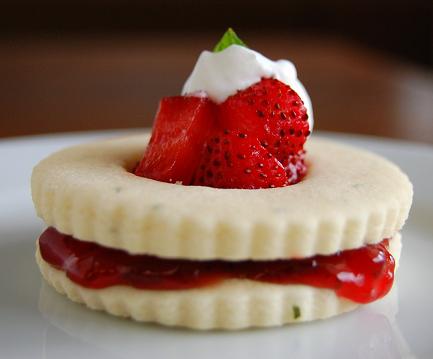 Minty Strawberry Coolers
Minty cookie dough
strawberry jam
strawberries
Minty Cookie Dough
12 oz unsalted butter, at room temperature
1 cup powdered sugar
¾ cup granulated sugar
1 TBSP minced fresh mint
1 egg
2 ½ cups flour
¾  cup cornstarch
¼ cup water(if needed)
 
Cream the butter with the sugars until light and fluffy. Add the mint and mix until well incorporated. Add in the egg and mix well.
Mix together the flour and cornstarch. Add this to the creamed mixture and blend. Mix in the nuts thoroughly. If dough is too dry, add ¼ cup water, 1 TBSP at a time until soft dough is formed.
Form the dough into a ball and wrap in plastic. Chill for about 4 hours.
Roll out the dough to 1/4 inch thickness. Cut with a cookie cutter(I went with fluted cutters). Keep half the batch whole and the other half take a smaller cutter and cut out the middle of the cookie. You want to create a window effect. Bake at 350F for 10 minutes.
Take cookie that is whole. Spread jam on top of it. Place cookie with hole cut out on top of that. Fill with diced strawberries and top with whipped cream.