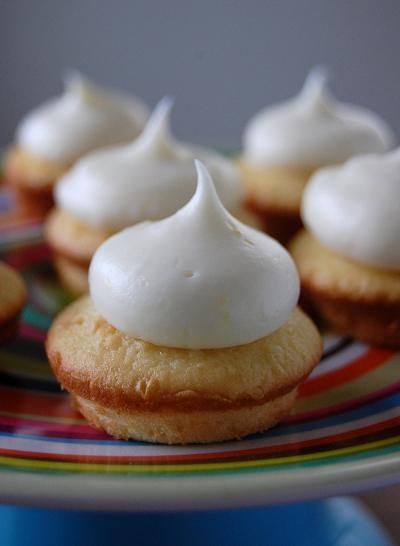 It started off as just a way to be creative, for(as most of you know) my husband is a tad of a picky eater. I grew tired of making the same old things for him. So when I stumbled across The Domestic Goddess website, I knew that could be my creative outlet.
I started with no camera and very little posts. I'll admit I did very little with this blog this first year. It was an exciting day around here when a post got more than two comments. I remember the first time one of my post got 10 comments on it and I called my husband at work all excited. He didn't seem to share my enthusiasm. Now I tend to get more than 10 comments. (Several people leave comments saying they doubt that I have time to read all the comments. Let me assure you, I read every last one of them.)
Then I got a camera and started taking incredibly bad photos with them. Now before you give the, "I'm sure they are not that bad" speech…head over here and see for yourself.
Then I was smart and started asking other food bloggers what type of camera they used and did they have any tips. As it turned out, the Cream Puff and I had almost the same Nikon camera and so she helped me find the macro setting…and the rest was history.
Once my hubby realized that I was in this for the long haul, he was a sweetheart and bought me a SLR. Then food photography became all sorts of fun. I never would have expected that photography of all things would be my favorite aspect of the blog. Don't get me wrong, I love the baking and the eating portion too. I just was never really into photography much. I'm still not…unless it is food! Heck, I even started another food blog just so I could take more pictures of different food(other than baking).
This blog has allowed me to "meet" some truly wonderful people out there in the blog world. I figure if I could meet my husband over the Internet, I could certainly make friends over it. 🙂 And I have.
It's led to professional opportunities that I would have never anticipated. Who knew someone would want to pay me for my pictures or for me to write about food???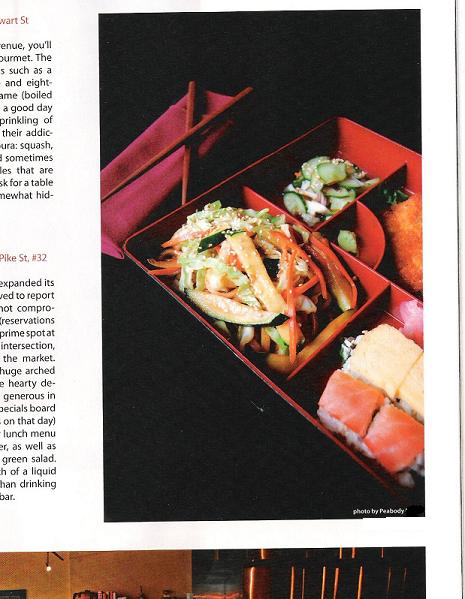 (This is one of several of my photos in Washington Travel and Life Magazine)
So here it is, three years after the fact. I am a better person for starting my blog. I thank all of you who have been there for the long haul and all of you who are just starting to become a reader. I'm hoping for at least another 3 years….
Cheers,
Peabody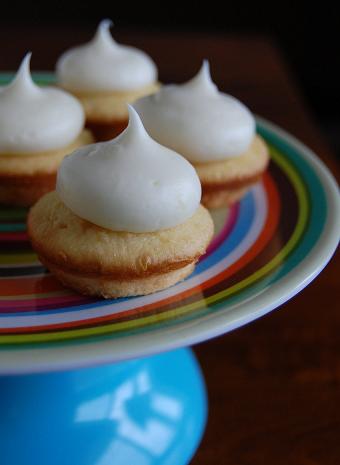 As luck would have it, I got to spend a whole day at one of my favorite restaurants, The Herbfarm. I have mentioned it several times on this blog. For an article I am writing I got to do their 24 hour experience, which involves you spending the morning on the actual farm picking veggies and herbs. Then you get to eat what you picked later on that night at dinner. It was pretty much heaven to me. One of the herbs I fell in love with was Lemon Verbena. I have seen it before but never used it before. My friend E's wife has it in her garden. So I went and took some(with permission of course 😛 ).
Like it's name implies, it gives off a lemon flavor. I used it to flavor the milk I used in the cupcakes just to give a nice subtle hint of lemon. I like it because it adds just enough lemon flavor without it becoming too overpowering.
And since this is MY blog birthday and all, I decided my cupcakes needed cream cheese frosting, since as everyone knows, everything taste better with cream cheese frosting on it.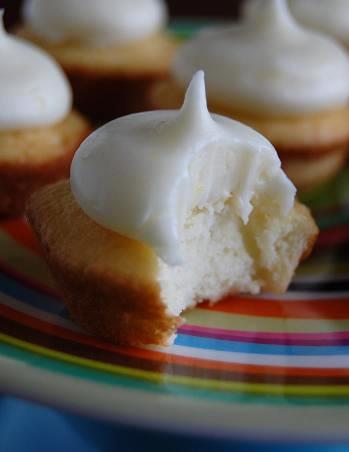 Lemon Verbena Cupcakes
1 1/2 cups self-rising flour
1 1/4 cups all-purpose flour
1 cup (2 sticks) unsalted butter, at room temperature
2 cups superfine sugar
4 large eggs, at room temperature
1 cup milk
¼ cup roughly chopped lemon verbena(if can't find use the zest of one large lemon)
1 teaspoon vanilla extract
Preheat oven to 350 degrees.
Place milk and lemon verbena in a small sauce pan. Bring milk to a boil and immediately take off of heat source. Place milk and lemon verbena into a bowl and place in fridge for one hour.
Remove milk from fridge and strain out the verbena.
Set milk aside.
In a small bowl, combine the flours. Set aside.
In a large bowl, on the medium speed of an electric mixer, cream the butter until smooth. Add the sugar gradually and beat until fluffy, about 3 minutes. Add the eggs, one at a time, beating well after each addition. Add the dry ingredients in three parts, alternating with the milk and vanilla. With each addition, beat until the ingredients are incorporated but do not over beat. Using a rubber spatula, scrape down the batter in the bowl to make sure the ingredients are well blended. Carefully spoon the batter into the cupcake liners, filling them about three-quarters full. Bake for 20¢â¬â€œ25 minutes, or until a cake tester inserted in the center of the cupcake comes out clean.
Let cool for15 minutes. Remove from the pans and cool completely on a wire rack before frosting. Frost with Lemon Cream Cheese Frosting(recipe follows).
Lemon Cream Cheese Frosting
2(8 ounce) packages cream cheese, at room temperature
zest of one lemon
6 ounces unsalted butter, at room temperature
approximately 5 cups powdered sugar
1 tsp vanilla
Cream together cream cheese, butter, vanilla and zest, about two minutes. Add powdered sugar 1 cup at a time until you reach desired consistency.
Source:  Adapted from More from Magnolia by Allysa Torey