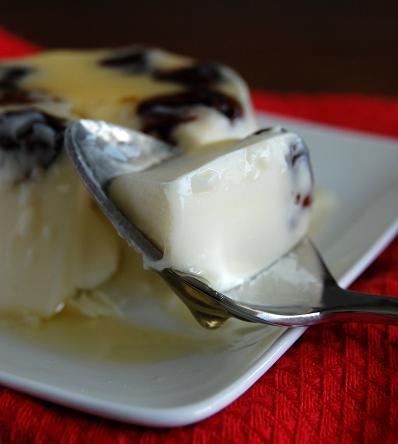 Sweetbreads sounds so much better than thymus glands. Escargot sounds better than snails. Rocky Mountain Oysters sounds better than testicles.
It's all in the marketing really. I mean, I am quite sure that panna cotta would not be as popular as it is, if it were called Cream Jello. Which is what it is essentially. Sugar, cream, gelatin…panna cotta. Sounds like Cream Jello to me. 🙂
But we don't call it that, and plenty of people eat it, including me. In my quest for finding Pacific Northwest foods for my other blog, I ran across a recipe for Buttermilk Panna Cotta. Needing to use up my soon to expire buttermilk I gave it a go. The original recipe does not use honey or dried cherries and throws in poppy seeds. They also use a fresh fruit compote as well. I'm sure it is nice but I didn't have any spare fruit lying around.
Been super busy, will write about that later. This dessert was enjoyed with these lovely chilled mussels. Together they made and excellent Pacific Northwest lunch.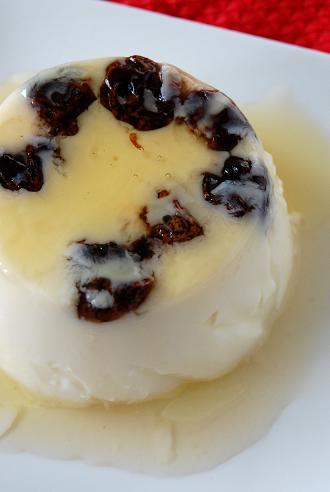 Buttermilk-Honey Panna Cotta with Dried Cherries
1 envelope(about 2 tsp) unflavored gelatin
2 TBSP warm water
1 cup heavy whipping cream
2 cups buttermilk
½ cup sugar
½  cup honey, divided
½ cup dried cherries
Sprinkle gelatin over the water in a large heatproof bowl. Let sit for 10 minutes.
Whisk in the cream, buttermilk, and sugar and set the bowl over a pan of simmering water. Whisk until smooth and the sugar is melted. Whisk in ¼ cup honey.
Evenly distribute dried cherries among 6 small custard dishes. Pour remaining ¼ cup of honey evenly among the 6 dishes. Pour the panna cotta mixture evenly into the 6 dishes. Wrap each one with plastic wrap(don't let it touch the panna cotta). Refrigerated overnight, or a minimum of 12 hours.
One at a time, place each ramekin of panna cotta in a shallow bowl of very hot water-to ½ inch from the top-for a count of about 10 seconds. Remove, run a knife around the outside, then unmold the panna cotta onto individual dessert plates.  Serve immediately.
Adapted from Kathy Casey's Northwest Table by Kathy Casey