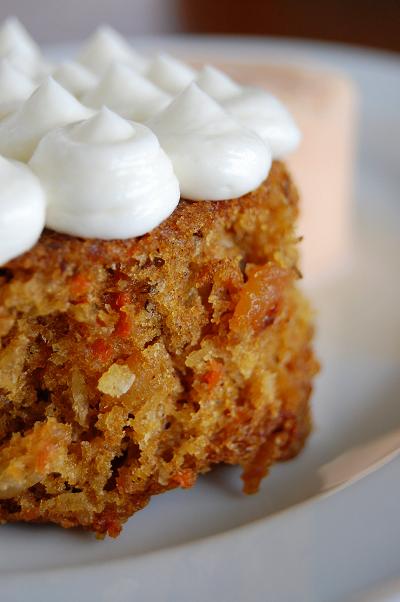 So one of my Un-Midas victims was this carrot cake that we were making for Tuesday's With Dorie. Now you are looking at it and saying, doesn't look that bad. Well let me tell you, I went through a lot of cake just to get a semi-decent looking cut out. Every time I went to level it out, I seemed to make it worse…until I just gave up. 🙂
I deviated quite a bit this time. I only used 1 ½ cups of all-purpose flour and used almond flour to give it a more dense, torte like texture. Taste wise I was loving the cake, even though aesthetic wise it didn't want to work with me. I changed the cream cheese frosting to a honey crème fraiche cream cheese frosting that goes very well with carrot cake. Oh and I made a peach-apricot sorbet. The last time I had carrot cake at restaurant it was served with an apricot sorbet and it went so very nicely with the cake that I wanted to make it at home. I only had a few frozen apricots so I had to go out and buy some peaches. You can make it with fresh if you can find them in your parts.
Speaking of the sorbet. Again, it turned out but that darn stuff would not stay still. Even though the plate had been frozen the sorbet thought it was suppose to ice skate all over the plate. Seriously, ran all over the place. It sucked big time to try and get photos of it.
A lot of people ditched the coconut in this recipe but I really liked it and I think it helped add to the moisture. I don't think it really gives it an coconut flavor so if you are on the fence about coconut, I would throw it in there. I also didn't add nuts since I used almond flour. I didn't want to conflict my nuts…I hate when that happens. 😛
So thanks to Amanda of Slow Like Honey for picking a tasty cake. To see most likely a more traditional take on the cake go to the Tuesday's With Dorie site for all the TWD participants.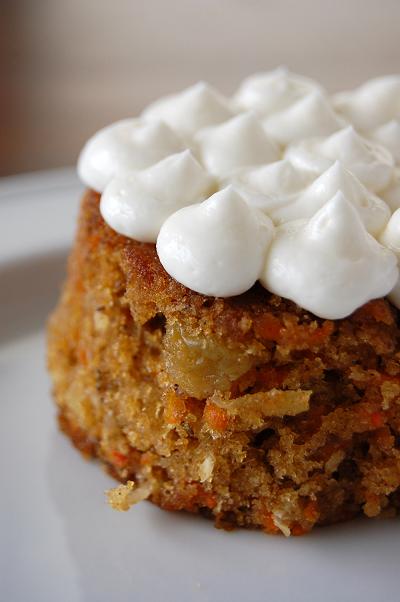 Bill's Big Carrot Cake
Baking: From My Home to Yours by Dorie Greenspan
 
Yields 10 servings
 
Ingredients:
 
For the cake:
1 1/2 cups all purpose flour
1/2 cup almond flour
2 teaspoons baking powder
2 teaspoons baking soda
2 teaspoons ground cinnamon
¾ teaspoon salt
3 cups grated carrots (about 9 carrots, you can grate them in food processor fitted w/ a shredding a blade or use a box grater)
1 cup shredded coconut (sweetened or unsweetened)
½ cup moist, plump golden raisins
2 cups sugar
1 cup canola oil
4 large eggs
Getting ready:
Position the racks to divide the oven into thirds and preheat the oven to 325 degrees Fahrenheit. Butter three 9-x-2-inch round cake pans, flour the insides, and tap out the excess. Put the two pans on one baking sheet and one on another.
 
To make the cake:
Whisk the flours, baking powder, baking soda, cinnamon and salt. In another bowl, stir together the carrots, chopped nuts, coconut, and raisins.
Working with a stand mixer, preferably fitted with a paddle attachment, or with a hand mixer in a large bowl, beat the sugar and oil together on a medium speed until smooth. Add the eggs one by one and continue to beat until the batter is even smoother. Reduce the speed to low and add the flour mixture, mixing only until the dry ingredients disappear. Gently mix the chunky ingredients. Divide the batter among the baking pans.
Bake for 40-50 minutes, rotating the pans from top to bottom and front to back at the midway point, until a thin knife inserted into the centers comes out clean. The cakes will have just started to come away from the sides of the pans. Transfer the cakes to cooling racks and cool for about 5 minutes, then run a knife around the sides of the cakes and unmold them. Invert and cool to room temperature right side up.
The cakes can be wrapped airtight and kept at room temperature overnight or frozen for up to 2 months.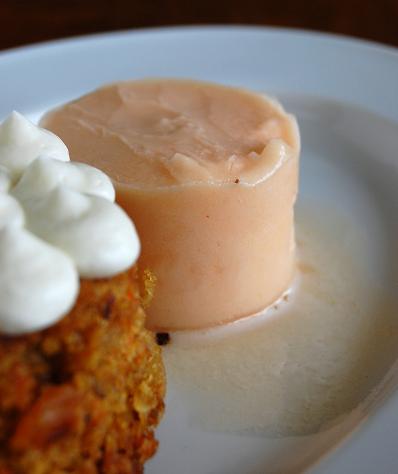 Honey Creme Fraiche Cream Cheese Frosting
12 ounces cream cheese, room temperature
8 ounces creme fraiche(if you can't find use greek yogurt, such as Fage)
3 TBSP honey
2 1/2 cups powdered sugar(you may use more depending on your sweet tooth)
Cream together cream cheese and creme fraiche. Mix together for about 3 minutes. Add honey and mix until incorporated. Add powdered sugar a 1/2 cup at a time until you reach desired sweetness level.
Peach-Apricot Sorbet
3 cups frozen sliced peaches
1 cup frozen sliced apricots
2/3 cup granulated sugar
1/2 cup corn syrup
1 TBSP fresh lemon juice
Defrost peaches and apricots(preferably in fridge over night).
Combine all ingredients in a food processor and process until thick and smooth.
Freeze peach mixture in ice cream maker according to manufacturer instructions.
Sorbet should be thickened in about 25 minutes; Scoop sorbet into a freezer-safe container and freeze for a few hours.