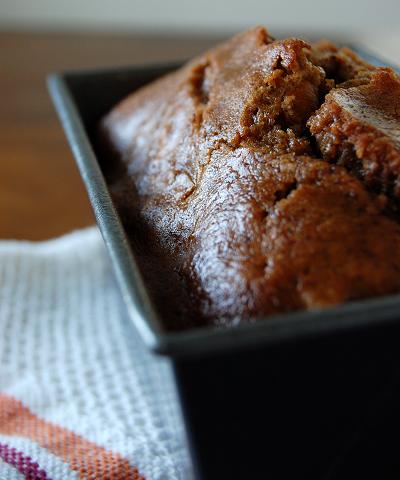 I'm quite sure by now there is a big red flag next to my name at the post office. For over the months I have received many a package from some pretty far away places. From Singapore to New Zealand and today, Brazil. Not to mention the mail and packages I get regularly from Canada. With all this International packaging coming my way, we can all bet I am on some list…..and not a good list. 🙂 Food bloggers are amazing people, so very kind. I mean even the dish towel this loaf is sitting on came from a food blogger as a gift! I truly don't deserve such nice things from such nice people.
While walking through the store the other day I ran across date sugar. $12 date sugar. And the consumer in me just had to have it. Why? Because I didn't have it. And had never tasted it. No wonder my husband cringes at our grocery bills. 😛 I wasn't really sure what I would do with this. So when pouring over cookbooks one weekend I saw a recipe for a date and walnut loaf. I didn't have any dates but hey! I had date sugar. A quick substitution of dried cherries for dates and a little date sugar produced a very dense and yummy quick bread. Though, not all that quick when you have to sit around and wait for the ingredients to bath in boiling water. But much quicker than yeast bread.
I'm glad I bought the date sugar. It certainly adds a new dimension of flavor to the bread. Next I am thinking some sort of molasses and date sugar something…just not sure what that something will be.
Again, I want to thank every food blogger and reader out there who has been generous enough to send me a pick me up from your end of the world. Thanks to Patricia for sending me a fabulous house warming gift..I actually got misty-eyed and my husband made fun of me for it. 🙂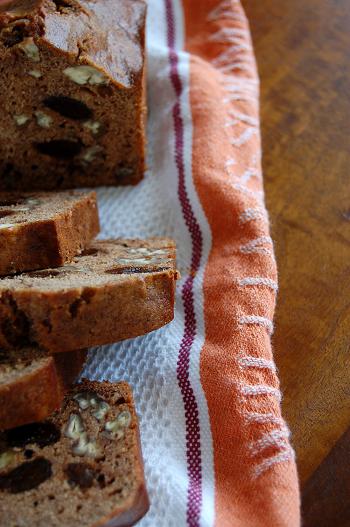 Date Sugar Dried Cherry and Walnut Loaf
1 cup dried cherries
¾ cup roughly chopped walnuts
½ tsp baking soda
½ tsp salt
¾ + 1/8 cup boiling water
3 TBSP unsalted butter
½ cup granulated sugar
½ cup date sugar(use brown if you do not have date)
1 tsp vanilla extract
1 ½ cups cake flour
2 eggs
Preheat oven to 350F.
Lightly grease a loaf pan, approximately 8 ½ x 4 ½  x 2 inches with butter.
Mix the cherries, walnuts baking soda, and salt in a medium-sized bowl. Then stir in the boiling water and the butter. Let sit for 20 minutes.
Sift the sugar and flour together into a small  bowl. Lightly whisk the vanilla and eggs in a large mixing bowl. Stir in the flour and sugar into the egg mixture in 3 additions. Fold in the cherry and nut mixture, making sure the ingredients are well combined. The final mixture will be thick.
Pour the batter into the greased loaf pan and bake for about 1 hour. Check with a knife or wooden skewer after about 50 minutes. Don't worry if a little piece of the cherries and some moisture stick to the tester. It's better to take it out early then risk overcooking the loaf.
Take out of the oven and let stand for 10 minutes before removing from pan.
Source: Adapted from The Ace Bakery Cookbook by Linda Haynes, 2003