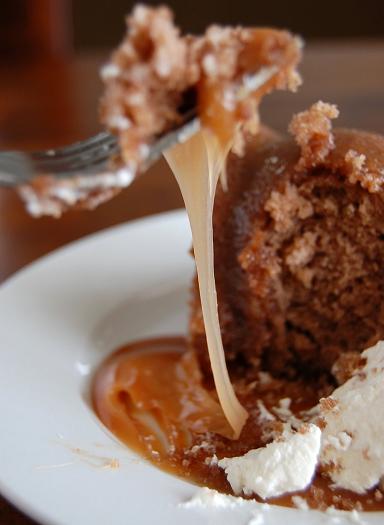 My husband teases that I should have a whole other website called "Ask Peabody", for I get many an email each day asking me a variety of baking and cooking questions.
Some are quick and easy. Like, can I make this cake into a cupcake and how long should I bake them for if I can.
Some are tricky. Like, we ate at the restaurant and had this great Sea Bass with a yellow sauce. What do you think was in the sauce? Ummm, yeah, I'm going to need a little more than that.
I try and help a lot of people figure out "family" recipes that they only know the ingredients to but not the actual measurements. Sometimes I am helpful, sometimes not. 🙂
Sometimes people ask me about recipes on my blog. The really hard ones are when they ask me to remember recipes from 2 ½ years ago. My brain simply doesn't work that well. So I have to go back and desperately try to remember what I did. I mean I have the recipe but they ask me to remember what the texture was and what not. Sometimes I just can't.
If I think I can help, I try. If I know it wont be possible, I tell them so. Sometimes people don't take that well. I just want to remind people I do this for free…so if I can't help, please don't take it out on me that I can not recreate the meal you had with your husband 16 years ago at a restaurant that no longer exists.
One woman, Michelle, whom I hope this is helping asked me a long while ago if I could help recreate a Bailey's Irish Cream Caramel that they had bought but no longer had. Through a series of emails, I think/hope I have come somewhat close to what she was looking for. If not, it is still good. 🙂
Sorry this took forever Michelle, life has been a blur as of late.
I also made a Chocolate Bailey's Pound Cake to go with it.
Hope this is what you were looking for.
If you have a question, feel free to "Ask Peabody", just remember, I can only do so much. 🙂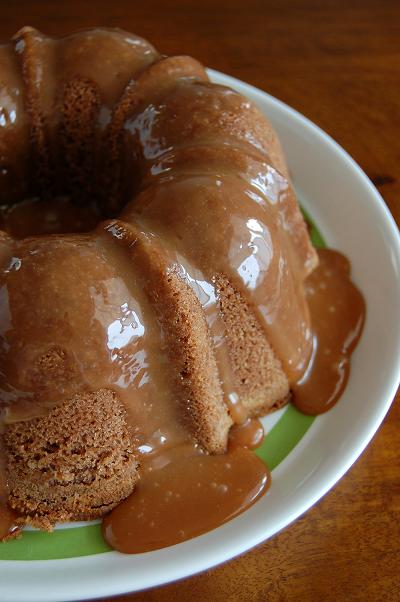 Chocolate Bailey's Pound Cake
½ cup unsalted butter
1 cup shortening
3 cups sugar
5 eggs
4 heaping tsp cocoa powder
1 tsp baking powder
3 cups sifted cake flour
½ tsp salt
1 cup milk
3 TBSP Bailey's Irish Cream
1 tsp vanilla
Preheat oven to 325F. Cream the butter, shortening, and sugar well. Beat in the eggs. Sift the dry ingredients together. Beat the flour mixture, 1 part at a time, into the butter mixture, alternating with the milk, until just blended. Add the vanilla and Irish Cream and mix. Pour into a greased 8-inch tube pan lined with waxed paper(I skipped that part). Bake for 1 ½ hour.
Serves 16-20
Adapted from Mrs. Wilkes' Boardinghouse Cookbook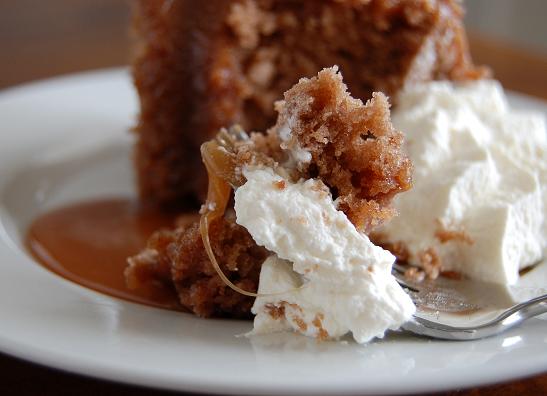 Bailey's Caramel Topping
2 cups sugar
½ cup water
1 ½ TBSP light corn syrup
1/2 cup heavy cream plus 1 TBSP
1/8 cup Bailey's Irish Cream plus 1 TBSP
2 TBSP unsalted butter, at room temperature
To make the topping:
Put the sugar, water and corn syrup in a medium heavy bottomed saucepan, stir just to combine the ingredients and then put the pan over medium-high heat. Heat, without stirring , until the caramel turns deep amber, 5-10 minutes. Combine Bailey's(1/8 cup) and Cream together. Take the pan off of the heat and, standing back from the saucepan add the cream mixture and butter. When the spatters are less vehement, stir to calm down the caramel and dissolve any lumps. Add in the 1 TBSP of Bailey's and whisk until incorporated.
Adapted from Baking From My Home to Yours by Dorie Greenspan
Top cake with caramel and some whipped cream(perhaps spiked with Bailey's).