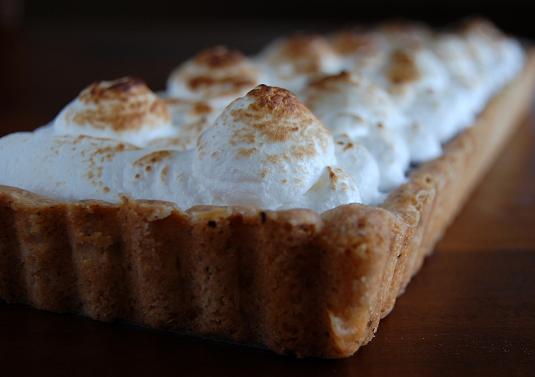 Going around the blog world last week, I saw a variety of treats dedicated to that of Valentine's Day. Gorgeous creations, mostly heart shaped with a touching story attached of tales of love and dedication. That got me thinking about my most memorable Valentine's Day.
I will be the first to admit that it is not a favorite holiday of mine. In fact, I spent most of my single years boycotting it and celebrating Arizona Statehood Day instead…which happens to fall on February 14th. For although I love all Valentine decorations, I am not a fan of what poor men have to put up with. First they have to find a card that encompasses all that he feels about us and if he doesn't, the woman feels disappointed. The woman…she just has to get a card. The man is suppose to buy you roses, chocolates and diamonds. Usually feeling pressure to put the diamonds in either the roses or the chocolate.  The woman gives him a coupon book for a free massage and other "activities" that you probably already do with your loved one. Then he has to take you out to eat and pay for that. Yeah, that seems fair.
Enough of my rant. When I went to college my mother had a tad bit of empty nest syndrome and so whenever she could she would send a care package. The best care packages she sent were for Valentine's Day. For she would go and buy 14 items and then individually wrap each them. I would open a numbered gift everyday up until Valentine's Day. Cute, eh? One of my packages was a bag of Valentine Peanut M&M's.
One night(that would be V-day), when  drinking was amazingly NOT involved, a fellow dorm mate decided to dare me to stick two of those peanut M&M's up my nose. I of course, declined. Then they offered $10 to do it as long as they could take a Polariod of it.
Ten Bucks?
Now we are talking.
So up I stuffed the Peanut M&M's into my nose, no problem. Even asked them to take two Polaroid pictures so that I could have one also. They gave me my $10 and I was happy. Happy that was until I had to remove them. Which remove they did not want to do. So stupid me thought the best way to try and remove them was to blow my nose as hard as I could.
THUD.
That was the sound of me hitting the ground from passing out.
When I awoke, my poor Japanese exchange student of a roommate was standing over me. The M&M's were out. For my roommate had gone and dug them out, to this day I don't know how, and it is best that I do not know. But in true polite fashion my roommate saved them for me "just in case you want eat."
Looking back, not so worth the ten bucks. I promptly took the extra Polaroid and wrote on it, "Lifestyles of the Poor and Obscure" and sent it to my parents. I sent it in hopes that they would send money so that their daughter would stop having to stuff candy up her nose to earn money.
It worked.
Hope you had a lovely day with your loved ones.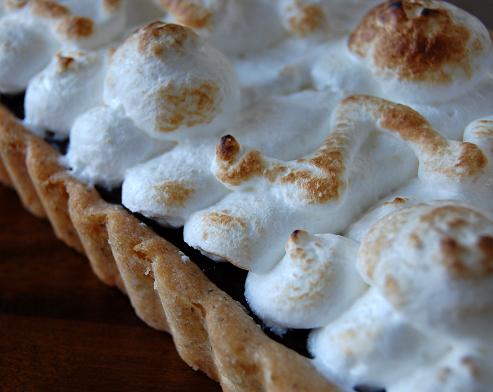 Chocolate-Hazelnut Meringue Tart
Crust:
1/3 cup ground hazelnuts(hazelnut flour)
½ cup unsalted butter, at room temperature
½ cup powdered sugar
1 TBSP Frangelico
¼ tsp salt
¾ cup all-purpose flour
Ganache:
1 cup heavy whipping cream
1 TBSP unsalted butter
¼ tsp salt
1 tsp Frangelico
1 tsp vanilla extract
7 ounces semi-sweet chocolate, finely chopped
Meringue:
4 large egg whites, at room temperature
¾ cup sugar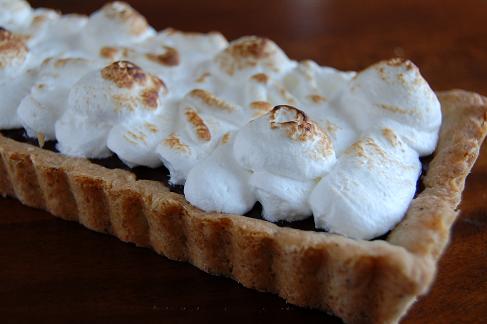 To make the crust:
Preheat oven to 350F.
Butter one large rectangular tart pan or four 4 3/8-inch tart pans.
Using a mixer fitted with a paddle attachment, cream the butter and sugar in a large bowl at medium-high speed until fluffy, about 3 minutes. Mix in the Frangelico and salt. Gradually add the flour and ground hazelnuts and combine on low speed until incorporated. Form the dough into a ball, wrap in plastic wrap and refrigerate for 30 minutes.
Remove the dough from the refrigerator and press into prepared pan/s, making sure the dough comes to the top edge of the pan/s. Bake 15 minutes. Remove from oven and cool for 30 minutes.
To make the ganache:
In a heavy bottomed saucepan, combine the cream, butter, salt, Frangelico and vanilla extract. Bring to a gentle boil over medium heat. Remove pan from heat. Put chopped chocolate in a large bowl and pour the hot cream over it. Let stand for 5 minutes, then whisk until smooth. Spoon ganache into tart. Refrigerate tarts at least 30  minutes.
To make the meringue:
Set a large, perfectly clean metal bowl over  a pot of simmering water. Pour in the egg whites and sugar. Heat the egg whites and sugar while whisking constantly until the sugar melts and there are no visible grains in the meringue. Remove the meringue from over the simmering water and whip it with a  mixer fitted with a whisk attachment on low speed for 5 minutes, increase the speed to high and beat 5 minutes longer, until the meringue is stiff and shiny.
Position rack in the center of the oven and preheat the broiler. Pile or pipe meringue onto the tart, making sure to seal each tart by spreading/piping the meringue to the edge of the pan.
Broil tart/s until the meringue turns golden brown. You may also just use a kitchen torch..which is what I did.
Tart/s should be served the day they are assembled.
Source: Adapted from The Pastry Queen by Rebecca Rather with Alison Oresman, 2004