When I was still in high school my maternal grandfather died. My grandmother, a diabetic was left alone, and did not take the best care of herself. After much discussion, it was decided that she would come and live with us. Those were probably the toughest years for my parents. The only time in my life that I ever heard them argue and my grandmother was the source of that. My grandmother hated to go anywhere but always complained if you left her…which we did because we weren't letting life pass us by, even if she was. One of the few places she would go with us was to Chinese food.
Every Sunday, our family would go to Chinese food. The same restaurant and the same time. Older folks like to have routine. The more we went, the more and more the owners grew to love us. What they loved the most about us was the fact that we were taking care of my grandmother. Oh how they loved my grandmother. They doted on her like no other person did and she ate it up. After about a year, at the end of our meal they brought out a plate of lychee(or litchi) nuts. There were four of us, there were four lychee nuts. We had never seen them or even heard of them up to this point. But I would learn to hate them more than any fruit there ever was…even the fruit I am allergic to. You see when we all took a bite of the lychee nuts, I was the only one who thought they tasted okay. When they came over and said, "how do you like?" instead of being honest my parents of course said they were wonderful.
So the next time we went, more lychee nuts. But this time my parents told me that I was in charge of eating them all. Ugh. So down the four lychee nuts would go. But then, things got much worse. They started bringing more, and more and more. Until one day(I know because I counted…if you ate as many as me you would too) they brought out 18. I ate 4 in protest and asked for a box to take home. My father finally broke down and told them, it's not that he didn't like the lychee nuts(LIAR) but that he just loved the almond cookies that they gave out. The result. A grocery bag full of individually wrapped almond cookies. All in all, about 300.  My parents moved more north and so we stopped going to that restaurant. We went back about a year after that and they were gone. I still tell my parents it was there fault they went out of business. 😛 I'm such a pain.
Today marks the start of the Lunar New Year. My year. The year of the Rat. I expect great things to come of this year and will except nothing less. 🙂 To hounor the New Year I wanted to make something that said Chinese to me. Since I mostly eat "Americanized" Chinese food, I wont even pretend to make something authentic. I wasn't in the mood to make fortune cookies and Lord knows I will NEVER eat a lychee nut again in my lifetime…so I went with my dad's favorite, almond cookies. These are less than authentic too. Still the same concept just a little more me.
I'll be ringing in the New Year by going to my favorite Chinese place. The place we go to pretty much every Saturday afternoon for lunch. They know us. They love us. And more importantly…they don't give us any lychee nuts!!!
Gung Hay Fat Choy!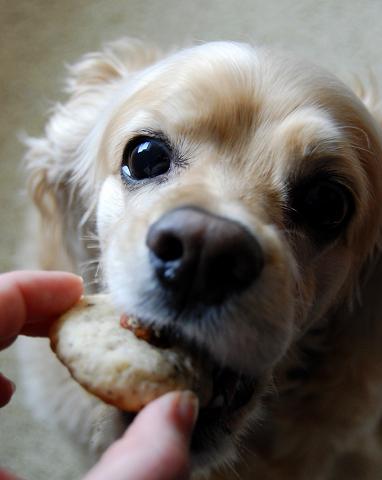 Sesame Almond Cookies
1 cup all-purpose flour
1 cup ground almonds(almond meal)
1/4 teaspoon baking powder
dash salt
1/2 cup butter, softened
3/4 cup granulated sugar
1/2 tsp sesame oil
1 large egg white
1/2 teaspoon almond extract
36 whole honey sesame almonds(use blanched if you can't get the honey sesame)
PREPARATION:
Stir together flour, ground almonds, baking powder, and salt; set aside.
In a mixing bowl cream butter, oil and sugar at medium speed of electric hand held mixer. Beat in egg white and almond extract.
Stir flour and ground almond mixture into the creamed mixture.
Cover with plastic wrap; chill for about 2 hours.
Shape dough into small balls, about 3/4-inch. Place balls 2 inches apart; flatten slightly with the bottom of a glass. Press an almond into the center of each cookie. Bake at 350° for about 12 minutes, or until set but not browned.
Makes about 2 1/2 dozen almond cookies.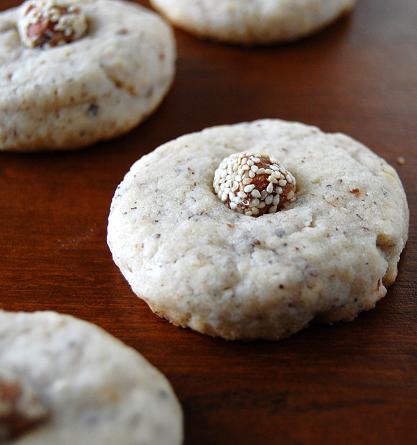 Source: Adapted from About.com