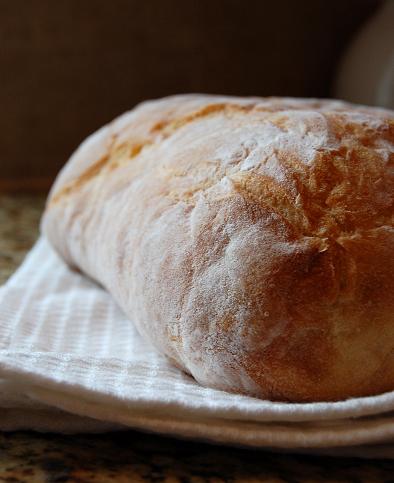 That's right, a girl…well more like a woman. A food loving, hockey loving, bacon loving woman! And I'm not talking about me.
A while back now Kristen of Dine and Dish came up with an idea for veteran food bloggers to "adopt" a fellow food blogger who has been food blogging for less than a year. Who did I luck out getting? Rene of Pages, Pucks and Pantry. That's right, a hockey fan. And come to find out we have a lot more common than we knew. From our love of bacon to The Girls' Next Door. She owns more cookbooks than me(so jealous). Both our mother's are cancer survivors. And we like our Stouffer's Macaroni and Cheese to be crispy on top.
Rene is off to a great start with her blog. She updates it often. In various forms. She has what she calls Small Bites which tell little tidbits about things from what chefs are visiting the San Francisco area(she lives in San Jose) to toilet shaped ice cream bowls(can you imagine) to what coffee drinks Starbucks are currently offering. She has recipes, I plan on making the Twinkie Tiramisu…white trashish…yes I am quite sure…but it's probably pretty tasty! She highlights the wide variety of cookbooks she owns(and she owns a lot). And like any good fan the topic of hockey sneaks in.
I think it is great that her blog has a focus. So often many blogs do not. I think a well focused blog helps make for a successful blog. And that is one of my tips to new food bloggers:
1. Figure out what you are trying to say. I have people ask me all the time if all I do is eat bread and sweets…um no. That is just the main direction of my blog because that is what I seem to know the most about and therefore can help more people that way. We eat plenty of real food people. 🙂 Having a focus to your blog is a good thing.
2. Don't go around to other people's sites and ask them to read your blog. Don't email them and ask them to be on their blog roll. It's a tad desperate and not the way to go about it. Desperate women don't get men and desperate food bloggers don't get readers. Stick with doing what you love and the people will come. BUT it will take awhile. I blogged for well over a year before I had more than two people leaving comments. If you want other people to read you blog leave a comment on theirs. You have to leave your URL when you post a comment on most blogs so it is already there. More likely than not if you leave a comment to that blogger they will, just out of curiosity go and see yours.
3. If you want to improve the traffic on your blog enter blogging events. There are lots of them out there for you to chose from(say the Time to Make the Doughnuts Event that Tartelette and I are doing!)
4. Photos. Those are good. I will be honest and tell you that if you don't have photos and you are not a blood relative(and even if you are) the chances of me reading your blog is slim to none. We are visual creatures. I started with a $100(on sale) camera(Nikon Coolpix 4600). It was a point and shoot and I did just fine with it…even won a few DMBLGIT awards with it. So don't use the excuse that you don't have a good camera. And if you don't take that great of pictures…keep at it, you will. It, just like everything else, takes time.
5. Actually blog. There are so many bloggers who get all excited, run out and start a blog, and then nothing. I know because I was one of them. I really did not get serious into blogging until a year into it. Then it became addictive.
For even more great tips see Kristen's blog.

I decided to make something to honour my newly adopted blogger. But what? I had originally tried to do something using her favorite team, the San Jose Sharks, but I don't buy shark and their colors are teal and black. There is no teal food and if there is there shouldn't be. So I went with bacon. Rene has blogged a few times about the almighty bacon. So I thought a bacon packed sandwich seemed like a good idea. Since a bacon sandwich is not really a recipe I went with making bread to use to make the sandwich with. I chose the classic Ciabatta bread. It works great if you are making panni's and that's what I was doing.
If you have never made Ciabatta bread, be warned, the dough is a sticky one and DO NOT add more flour to fix this…just go with the stickiness. If you want to recreate my lunch today it was 6 pieces of baked bacon(I love this…all the fat of frying but none of the mess), Dijon mustard, two slice of sharp cheddar cheese and two slice of Ciabatta bread. Slap some butter on the outside of it and throw on the Panni Press…and there you go.
So head on over and see Pages, Pucks and Pantry. The food blogging community is so supportive…show a little support to Rene.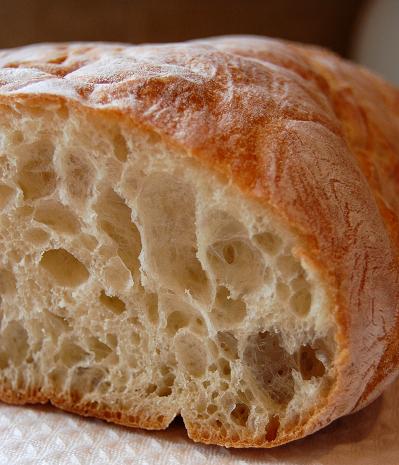 Ciabatta Bread
Ingredients:
For sponge
1/8 teaspoon active dry yeast
2 tablespoons warm water (105°¢â¬115° F.)
1/3 cup room-temperature water
1 cup bread flour
For bread
1/2 teaspoon active dry yeast
2 tablespoons warm milk (105°¢â¬115° F.)
2/3 cup room-temperature water
1 tablespoon olive oil
2 cups bread flour
1 1/2 teaspoons salt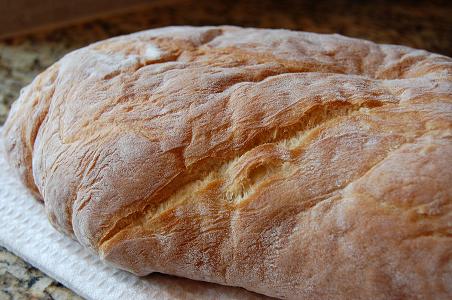 Make sponge:
In a small bowl stir together yeast and warm water and let stand 5 minutes, or until creamy. In a bowl stir together yeast mixture, room-temperature water, and flour and stir 4 minutes. Cover bowl with plastic wrap. Let sponge stand at cool room temperature at least 12 hours and up to 1 day.
Make bread:
In a small bowl stir together yeast and milk and let stand 5 minutes, or until creamy.
In bowl of a standing electric mixer fitted with dough hook blend together milk mixture, sponge, water, oil, and flour at low speed until flour is just moistened and beat dough at medium speed 3 minutes. Add salt and beat 4 minutes more. Scrape dough into an oiled bowl and cover with plastic wrap. Let dough rise at room temperature until doubled in bulk, about 1 1/2 hours. (Dough will be sticky and full of air bubbles.)
Have ready a rimless baking sheet and 2 well-floured 12- by 6-inch sheets parchment paper.
Turn dough out onto a well-floured work surface and cut in half. Transfer each half to a parchment sheet and form into an irregular oval about 9 inches long. Dimple loaves with floured fingers and dust tops with flour. Cover loaves with a dampened kitchen towel. Let loaves rise at room temperature until almost doubled in bulk, 1 1/2 to 2 hours.
At least 45 minutes before baking ciabatta, put a baking stone or 4 to 6 unglazed "quarry" tiles (see note, above) arranged close together on oven rack in lowest position in oven and preheat oven to 425° F.
Transfer 1 loaf on its parchment to baking sheet with a long side of loaf parallel to far edge of baking sheet.
Line up far edge of baking sheet with far edge of stone or tiles, and tilt baking sheet to slide loaf with parchment onto back half of stone or tiles. Transfer remaining loaf to front half of stone or tiles in a similar manner. Bake ciabatta loaves 20 minutes, or until pale golden. With a large spatula transfer loaves to a rack to cool.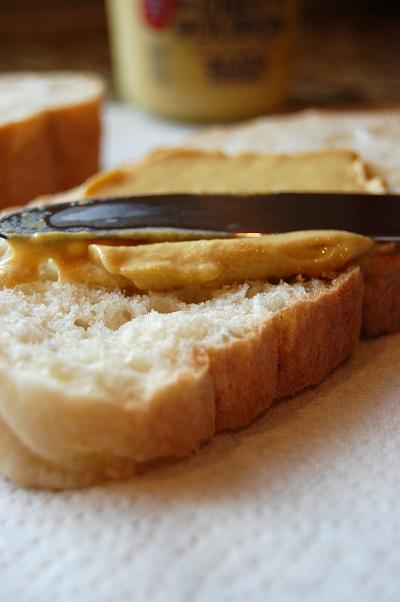 Spurce: Gourmet Magazine, March 1998