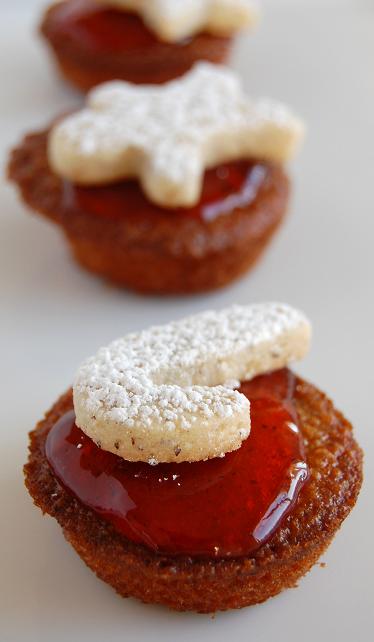 Funny thing about traditions, you sometimes forget they are your own. And then when you hear what someone else is doing or making you think, how weird.
But really, is it weird? Probably not.
Is the likelihood of what your doing weird?…. probably.
I'm sure I have many a tradition that might raise an eyebrow or two, but I still do them regardless, because it is after all, tradition. In fact the only holiday tradition I didn't keep from my childhood was one my mother made us do. Now keep in mind part of this tradition was my mother's need for all things to be perfect and the other I think was to get back at us for waking her up all night. You see, I can't sleep the night before Christmas…still can't, even though I know everything I am getting. And it was WAY worse as a kid. Starting usually around 3:30am, I would sneak into my parents room and say "did he come yet?" and they would say "no, go back to bed." The he of course was Santa. About every half hour I would creep in and as the same question and would get the same answer until about 6:30am…and then the answer changed to "go and see." Like a nerd I would creep downstairs, I think part of me was still afraid that I might run into Santa and he would subtract a toy from my stash. Couldn't have that. 😛 Of course, I would see that he had indeed come, race back up the stairs and scream "he came, he came." To this day, if I am spending Christmas with my parents I wake them up(more like around 8am now) and say, "he came, he came!" and they know they have to get up.
We always got to open our stockings without anyone being around. And then the torture would happen. No one was allowed to open ANY gifts until we all got our hair done, and for me that meant my mother curling my hair. Ugh. It to me always looked stupid to be in our pj's with our hair all gussied up. Our photos today represent the real us, crappy hair and all…and it is some crappy hair. Once that was done my mother would make hot chocolate and we would have that, with a peppermint stick in it and we would get to pick out two Christmas cookies to eat while we opened gifts. It gave you something to do while you had to wait your turn to rip open your gift.
Which brings me to my point. It is so amazing to me, the variety of Christmas cookies that people feel are traditional. I know we have a few that would fall in the non-traditional category. One cookie that we never had growing up but a lot of my friends had as their "traditional" Christmas cookie was that of the Linzer cookie. I just loved them so, not even so much the taste as a kid, but the neat little cut out in the middle.
So I offer up my take on a Christmas tradition…a Linzer cupcake. It is a hazelnut brown butter cupcake, with raspberry jam and a reverse of the cut out, with a linzer cookie cut out on top.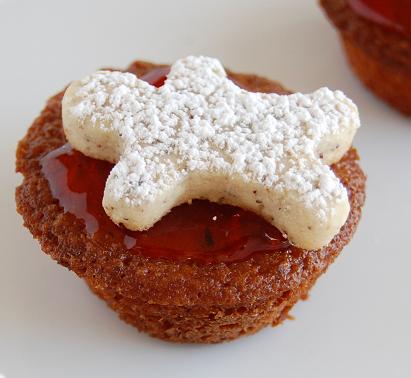 Linzer Cupcakes
2 cups seedless raspberry jam
1 recipe Browned Butter Nut Cupcakes(recipe follows)
48 mini linzer or shortbread cookies(recipe follows)
½ cup powder sugar, for dusting
Brown Buttered Nut Cupcake
1 ¾ cup unsalted butter
1 cup hazelnut flour
3 1/3 cups powder sugar
1 cup plus 1 TBSP all-purpose flour
12 egg whites
2 TBSP raspberry honey(if don't have use regular honey)
Preheat oven to 375F. Line 48 mini-cupcake tins with baking papers or grease and flour them(that is what I did).
In a large saucepan, melt the butter over medium-high heat. When the butter begins to brown and gives off a nutty aroma, 7-10 minutes, transfer the brown butter to a heatproof bowl to stop the cooking.
Mix hazelnut flour, powder sugar and flour together in a bowl. Set aside.
In the bowl of an electric mixer, beat the egg whites until frothy. Add the flour mixture and whisk until combined. Whisk in the brown butter and the honey. Refrigerate at least 1 hour.
Fill each baking cup ¾ full. Bake about 18 minutes until golden brown.
Source: Adapted from Cupcakes Year Round by Sara Neumeier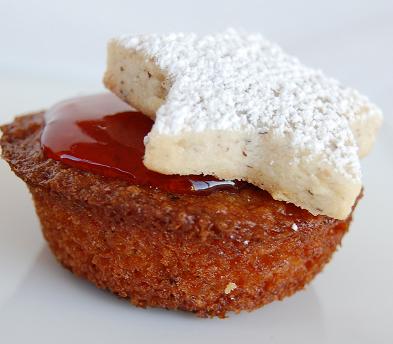 Linzer Cookie Dough
12 oz unsalted butter, softened
1 3/4 cups powdered sugar
1 egg
2 cups flour
1 cup cornstarch
2 cups hazelnut flour
1. Cream the butter with the sugar until light. Add in the egg and mix well.
2. Mix together the flour and cornstarch. Add this to the creamed mixture and blend. Mix in the  hazelnut flour thoroughly.
3. Form the dough into a bowl and wrap in plastic. Chill for about 4 hours.
4. Roll out the dough to 1/4 inch thickness. Cut with a mini cookie cutter(mini ones are widely available). Place cookie on a grease baking sheet.
5. Chill the cookies for 10 minutes and preheat oven to 325F. Bake cookies for about 10 minutes or until lightly browned. Cool on a rack.
Sprinkle with powdered sugar.
To Assemble:
Place jam in a double boiler and heat for about 4 minutes, until it is a liquid. Spread thin layer of jam over the top of each cupcake.
Place one cookie, sugar side up, on top of each cupcake.