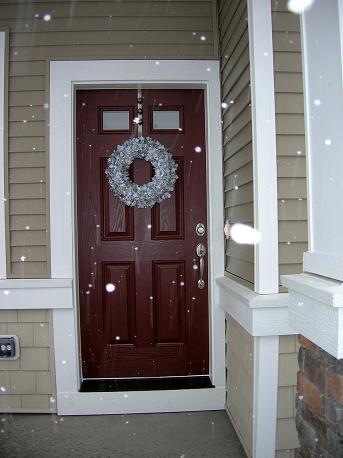 Are you ready to party? I hope so…and for your sake I hope you are wearing clothing with an expandable waist because there is sooo much food that we are all going to burst like pinatas! Not that I am complaining. 🙂
Let me say that this party could not have come at a better time, I had kind of a downer week(enough with that though) and receiving dish after dish and so many well wishes made my week not only bearable but wonderful. I was so touched at how everyone really thought about what they were bringing. I loved the variety and am amazed that with 70 something of us squeezing into 1700 sq ft(no one call the Fire Marshall :P) that not one repeat dish was done…not even close. We have appetizers, salads, soups, main dishes, side dishes, bread, and of course sweets!
What was also fantastic was all of the lurkers coming out of the woodwork to come to the party…so a big welcome to all of you!
My home is really starting to feel like a home now. We got our window treatments up yesterday and so I don't have to worry about if my neighbors see me scratch my butt(my husbands words, not mine).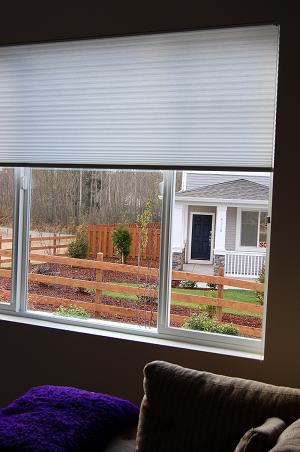 All the Christmas decor is strung about, we have a lovely eclectic collection of snowmen, gingerbread men, reindeer and snowflakes…no it doesn't go together but I love it all the same.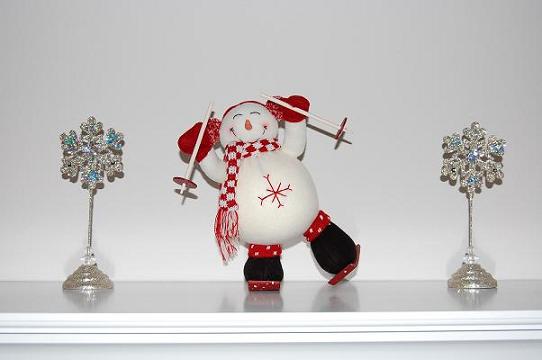 The dog has finally settled down though her life is spent perching on the stairs so she can be ready to go up or down at any given moment depending on which one of us has a snack.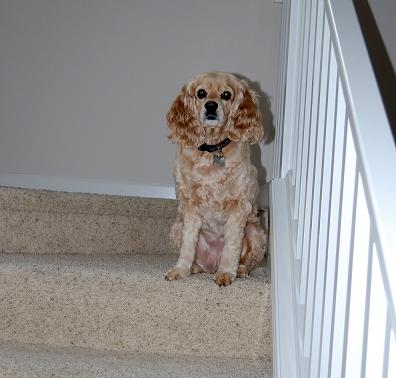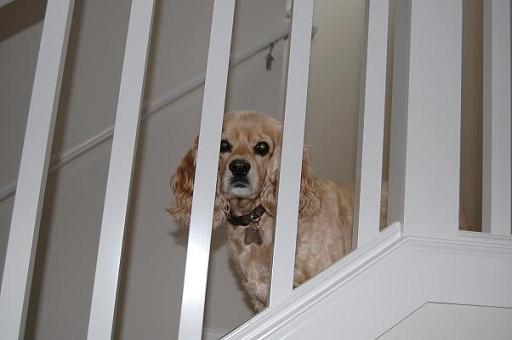 Of course we do have little pieces of blue tape everywhere where they are going to come and fix all our little flaws that one discovers when they move into new construction. So please, pay no attention to that! 🙂
Well enough with my babbling lets get on to what everyone came for…..THE FOOD!!!!
Who is the first guest knocking on my door? Why it is Meeta of What's For Lunch, Honey? Meeta arrives with an amazing looking salad, chopped full of goodies like pumpkin, mushrooms and yummy Spanish Serrano ham! Appropriately enough it is called a Roasted Pumpkin and Mushroom Salad. Head on over to her site if you want to make this salad at your home.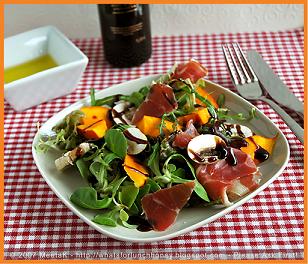 Next to arrive was KJ, from Cooking the Books. Knowing my love of all things Irish Cream, she adapted a recipe from Nigella Lawson(she has a whole Nigella project your should check out) and made an Irish Cream Tiramisu. It looks divine and I can't wait to try it.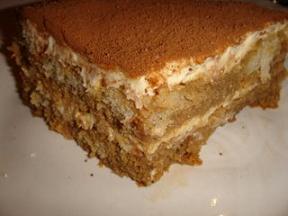 Next is my beloved friend Lisa(La Mia Cucina). She loves to confuse my readers by calling me Gracie…but the nickname is well deserved. For those of you wondering why she calls me that it is because I am always injuring myself doing everyday things. But enough about that. Lisa has made for us this oozing, cheesy, goodness that is Baked Spaghetti. The day this was sent to me I actually made if for dinner…though must admit I had to run out for mushroom soup as there was none in the house. Thanks so much Lis, it was yummy!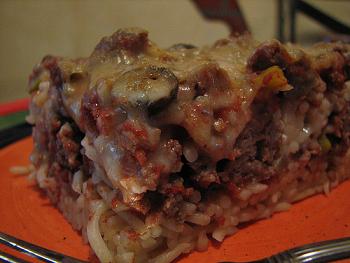 Our next guest is a frequent reader and commenter(thanks so much) of my blog, Liz of Veggie Girl, arrives with S'mores Muffins…..hello! I always love when someone takes a favorite dessert of mine(I mean, who doesn't love S'mores?) and makes them into another tasty treat. Hopefully, she has made enough for everyone to get one.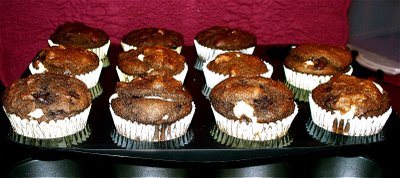 Not knowing my love of prawns(since I rarely do savory on here), Anh made these gorgeous Coconut Prawns with Mango and Papaya Salsa. To see this great dish as well as all the other beautiful photography head on over to Food Lovers Journey. I will have to set some aside for myself to make sure I get some. 🙂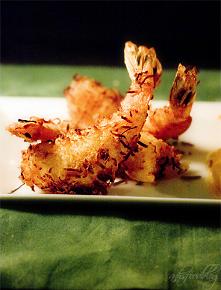 Now, I know what you are thinking….beetroot? Yes, beetroot, it is actually used in a lot of baked goods. And how can you resist trying it in a brownie. I bet if no one told you, you wouldn't have even guessed. Nora of Life's Smƒ¶rgƒ¥sbord challenges you to expand your taste palate and try her Dark Chocolate Beetroot Brownies…I know I will be giving them a try.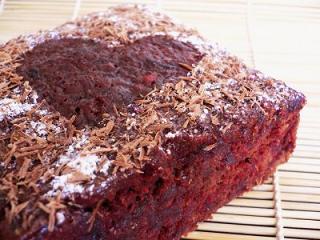 How can anyone resist pizza? And not just any pizza, but Pizza filled with milanesas a la napolitana, holy cow! It sounds and looks so gooey and good. The wonderful Marce of Pip in the City was kind enough to bring that for everyone.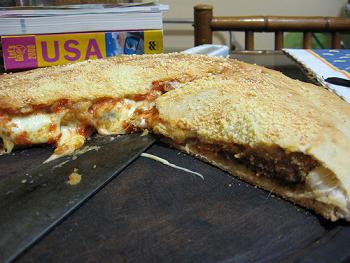 Bringing us back to the world of sugar(and what a wonderful world it is) is Gretchen of Canela & Comino. She brings these delicious, bite size(no plates required) Banana Chocolate Shortcakes. I will try not to shove you out of the way as I run to get these!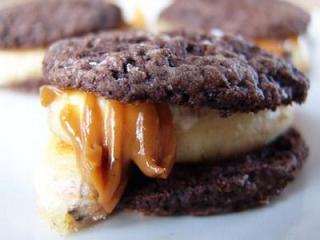 Theresa, a local Seattle gal(and someone I have met IRL) was gracious enough to step up and participate. She made us a cake that I have been dying to make, Billowing Strawberry Poppy Seed Layer Cake, from on of my favorite local chefs, Kathy Casey. Seeing it now, makes me need to make even more. A beautiful job Theresa!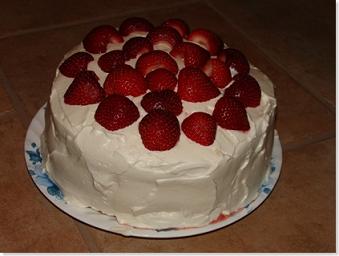 Our next party guest is someone who I have a huge blog crush on. When I started reading her blog I was in shock that she had so few people commenting…everyone should be reading her blog. Great recipes and beautiful photos. And speaking of great recipes, Jen(of Use Real Butter) brings us this gorgeous looking Baklava. It surely is a glorious treat.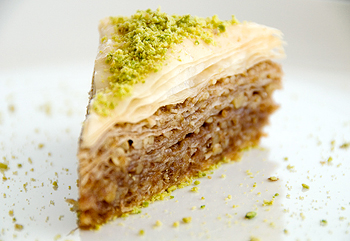 Elle(Feeding My Enthusiasms) , a fellow lover of all things Fall and gracious quince giver, made for us this  beautiful Pear-Cranberry Crisp. It looks like a most comforting dessert that I can not wait to dig into!
Anne, aka the Foodie Froggy(of a Foodie Froggy in Paris) brings us this stunning looking Traditional sweet Alsatian Kougelhopf. What I espeically love about it is that it symbolizes friendship! How sweet.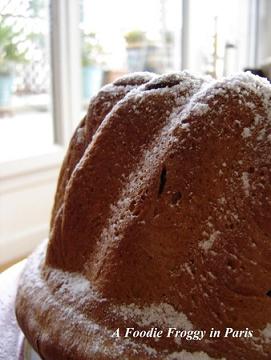 Someone who was already kind enough to send me a housewarming treat, delights me again by making this amazing looking French cassoulet. Veronica, of Veronica's Test Kitchen always impresses me with her talents and this is no exception.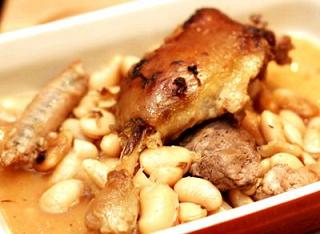 When I first read the post for these and it said, "use all-butter puff pastry if you can get it," I knew I would be loving these Sun-Dried Tomato, Parmesan & Basil Whirls. Filled with all things good, these great party appetizers are brought to us by Nicisme of Cherraopeno.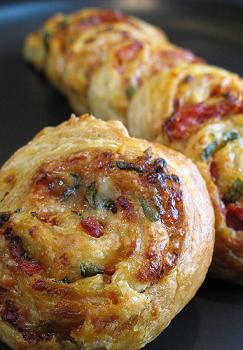 Bee an Jai of Jugalbandi makes a treat that is accommodating to our most pickiest eaters. It is gluten free, nut free and vegan! A tempting dish with the flavors of Mexico, Arroz Rojo brings a great international flare to the party.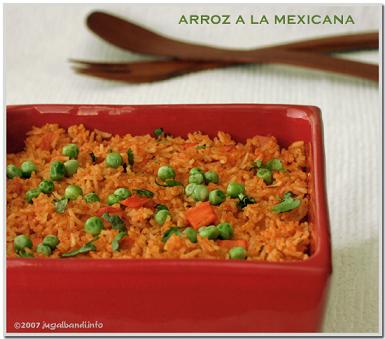 Another use of puff pastry(oh how I love me some puff pastry) comes these delicious looking Crispy Cheese Twists. Cheese, garlic and puff pastry…oh my! Thanks to Abby of Confabulation in the Kitchen for bringing these tasty treats.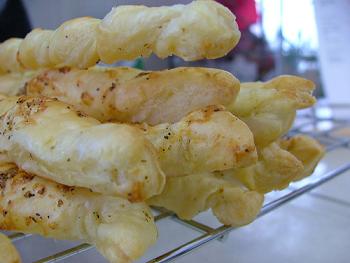 Coming to us from good ol' Wisconsin is Nemmie of Cast Sugar. She makes what she calls a Racine Kringle that is described as pastry made of layers of dough and butter glazed with brown sugar and cinnamon, a filling of pecans or fruits, and sugar icing…are you kidding me? How GREAT is that!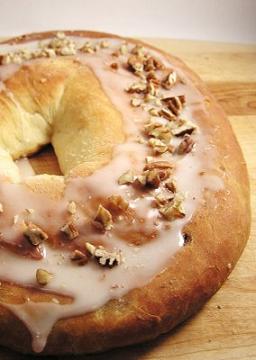 Laurie of Quirky Cupcake decided to bring the ultimate in comfort, Macaroni and Cheese. With stick of butter and a pound of cheese can you really go wrong…and this is oh so right. Thanks for bringing this savory dish to balance out our sweets.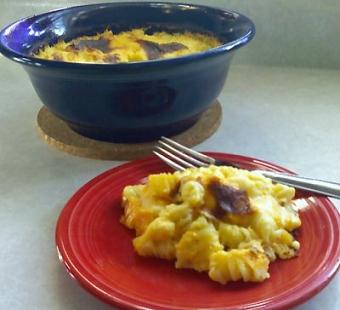 One of my regular reads, Kristen of Dine and Dish got a little confused in making our party treat. Seems she got me and Helen(Tartelette) confused…well not us, but something Helen made on her blog. She decided to make a Banana Cream Pudding with Pie Crust Cookie Garnish inspired by my deconstructed Coconut Cream Pie(too bad it was Helen's). Regardless of who it was inspired by it looks over the top amazing!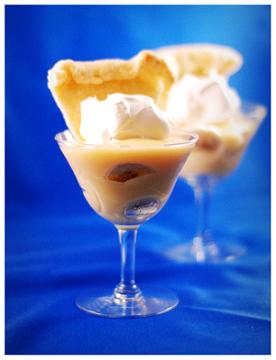 A blogger who's site always brings a smile to my face, Brilynn of Jumbo Empanadas, makes for us a scrumptious looking Applesauce Spice Bar. It's no surprise that these bars come from none other than Dorie Greenspan, who is Brilynn's foodie crush…and why not, Dorie is one heck of a baker…and so is Brilynn.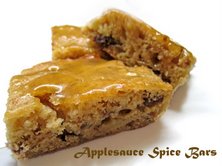 Iisha of The Fabulous Life of "I [Dot] J" brings us an appetizer after my own heart…bacon and cream cheese…come to Peabody. These yummy bites of goodness, or Baked Potato Bites as she calls them. Call them whatever you want…they look good.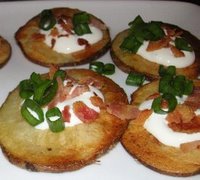 Helen of Tartelette, who I often call my less evil twin(because we love all things mini and everytime we make a Daring Bakers challenge we tend to do almost the same thing!), made these adorable looking Spiced Pumpkin Mascarpone Cupcakes. Helen knows my love of all things pumpkin, and then makes them even better by adding Mascarpone cheese to the frosting. Can you say new pants size? I can, but I don't care!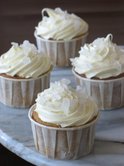 Every party needs chocolate…or at least every party I host does! So I was happy to see Patricia of Technicolor Kitchen make these sinful looking Chocolate Pots de Creme. Not only are these chocolate, she broke out the good chocolate for the occasion! I feel loved.
Kelley(Kelley the Culinarian) who is oven-less, still wanted to come to the party. This Taco Dip was made awhile back but I wont hold that against her…who am I to turn down dip!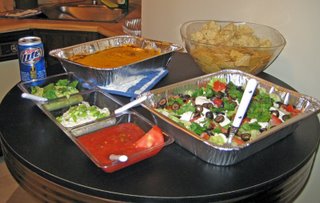 I was delighted to see that my beloved friend Tanna(My Kitchen in Half Cups) broke out the yeast to make this beautiful Olive and Thyme Bread…shaped in a lovely and festive ring(or wreath…it is that time of year after all!). You best get some before there is none left!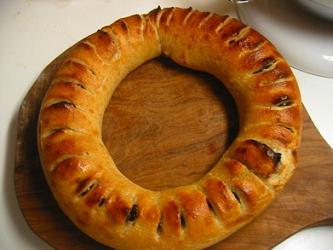 Camila of Culinary Tests brings along this yummy looking Mom's Carrot Cake with Chocolate Frosting. I am intrigued to try it since I have only every had cream cheese frosting with carrot cake. Can't wait to try it.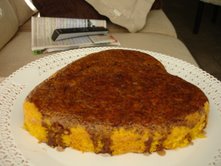 Kaylyn(Kalyn's Kitchen) made us this hearty looking soup, Lentil Soup with Italian Sausage and Red Peppers. Which I am sure you will be flocking to since it will be in the mid to low 30's tonight.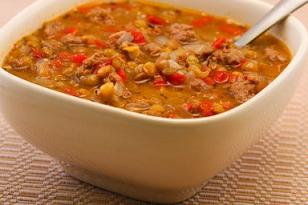 Deborah of Taste and Tell tempts us all with Gooey Caramel Butter Bars. Caramel and butter are darn close to my favorite things in life so I was super happy to see these show up.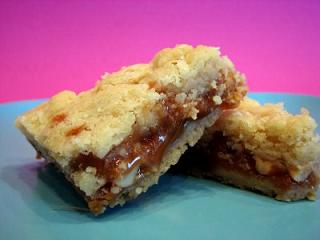 My favorite doctor to be, Claire of Cooking is Medicine, took time out of here busy schedule to make her mom's Poppy Seed Chicken…oh how I just love a family recipe. Thanks Claire for taking time to come.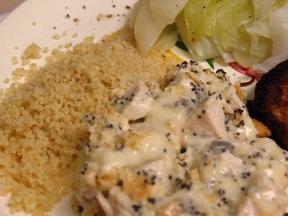 Susan from Food Blogga had me drooling the minute she walked into the door with her Sweet Potato Gnocchi with Maple Cinnamon Sage Brown Butter(say that three times fast!). Talk about comforting!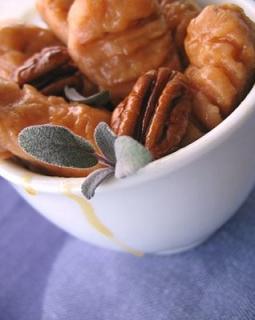 Since I opened my Housewarming Party up to any of my readers a few of them don't have blogs, but gladly passed on recipes! On such person was Colleen in Cape Town South Africa. She offered up two dishes. She told me to pick one, but really how could I choose!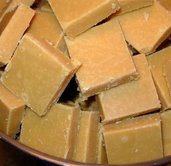 COLLEEN¢â¬â"¢S MICRO FUDGE
INGREDIENTS
 
1 Can Condensed Milk
375g Icing (Confectioner¢â¬â"¢s) Sugar (sifted twice)
175g Unsalted Butter ¢â¬â€œ cut into blocks
10ml Vanilla Extract
10ml Lemon Juice
A big pinch of good quality Sea Salt flakes
A pinch of dried chilli flakes (this is optional)
METHOD
 
Line a baking sheet with tin foil and brush with some softened butter
Put the cold butter into a large micro proof glass dish or jug
Pour over the condensed milk
Sift over icing sugar. DO NOT STIR OR MIX!!
Micro on Hi for 2 ½ minutes
Remove from microwave oven and stir well with a wooden spoon
Return to oven and micro on Hi for 10 minutes. Watch very carefully and if it threatens to boil over then just open the door briefly ¢â¬â€œ don¢â¬â"¢t stir. I find that if I do it this way it bubbles up and then keeps falling in on itself and doesn¢â¬â"¢t boil over¢â¬â€œ I usually don¢â¬â"¢t have to stir it at all after the initial whisking!
Remove from oven, stand on a folded towel to stabilize, knock it down a bit with the wooden spoon then stir in the flavors (I mix them together beforehand) the salt (rub the flakes between your fingers before sprinkling evenly into the fudge mixture) and the chilli if using ¢â¬â€œ if the chilli bits are too big chop them finely
Beat well until the fudge starts to thicken (only takes about 2 or 3 minutes of beating)
Pour into the prepared dish and allow to cool down
Cut into squares before completely set.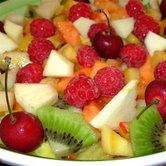 TROPICAL FRUIT SALAD WITH VANILLA GINGER SYRUP
& WALNUT MASCARPONE CREAM                
Ingredients for the Salad:
1 Medium Sized Ripe Papaya ¢â¬â€œ deseeded and peeled and cut into smallish cubes
! Small Ripe Pineapple ¢â¬â€œ peeled and cored and cut into cubes
2 Almost Ripe Bananas ¢â¬â€œ peeled and sliced thinly
2 Kiwi Fruit ¢â¬â€œ peeled and quartered then thinly sliced
1 Star fruit ¢â¬â€œ washed and then thinly sliced
1 Sharon Fruit ¢â¬â€œ ripe ¢â¬â€œ scoop out the inside and add to the salad
1 Granny Smith Apple ¢â¬â€œ washed then quartered and cored and thinly sliced
2 Nectarines ¢â¬â€œ washed and cut from the pit then cut into cubes
2 Dessert Peaches ¢â¬â€œ peeled, cut from pit then cut into cubes
1 Naartjie (Clementine) ¢â¬â€œ peeled, deseeded then divided and cut into cubes
1 Granadilla ¢â¬â€œ halved and flesh scooped out into salad
1 Lemon or Lime ¢â¬â€œ Juice only
A few Ripe Red Cherries
A few Raspberries or Blue Berries or whatever in season
Toss all the fruit cubes together in a large attractive bowl, squeeze over the lemon or lime juice then add the cherries and raspberries to the top of the salad
the vanilla & ginger Syrup
1 Cup Hot Water
½ Cup Sugar
½ Vanilla Pod split open
About 3cm Fresh Root Ginger ¢â¬â€œ scraped with a spoon then pounded a bit
Boil all together over a low heat until all sugar dissolved and the syrup thickens ¢â¬â€œ about 5 minutes. Strain the syrup through a sieve
Pour the hot syrup over the tossed salad and allow to cool
 
Mascarpone Walnut Cream
Mascarpone Cheese at room temperature
50g Walnuts
50g Sugar
Dry roast the walnuts until lightly brown
Roughly chop up the walnuts then put into a food processor and process until the walnuts form a dryish paste.
Scoop walnuts into softened mascarpone cream and mix together well with a little bit of sugar to sweeten to taste. Serve a dollop on top of each serving of fruit salad.
*****************************************************************************************************************************************
Our next dish comes from someone I know on a food chat board for newlyweds(though I hardly am one anymore :P). Elly of Elly Says Opa! makes the Greek treat of Avgolemono (egg-lemon rice) Soup. If you look carefully, she even took a picture of the soup sitting on top of a hockey puck…how cute is that!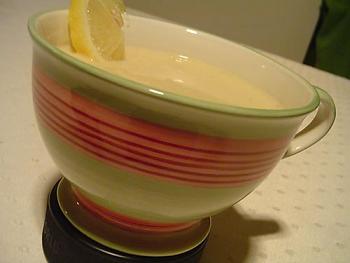 I can never pass up a deviled egg when I see them out on a plate. Sher of What Did You Eat took deviled eggs to the next level bringing these inviting looking Pesto Deviled Eggs….what a clever idea. Yum.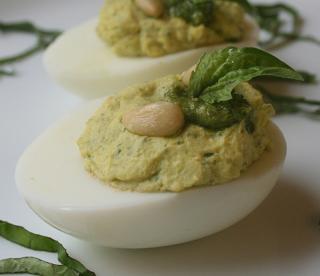 Freshly moved herself, Sara of I Like to Cook, made us this savory Tomato Braised Chicken. Along with the beautiful chicken she left me a housewarming poem and a quote was too true….."People are living longer than ever before, a phenomenon undoubtedly made necessary by the 30-year mortgage." ~Doug Larson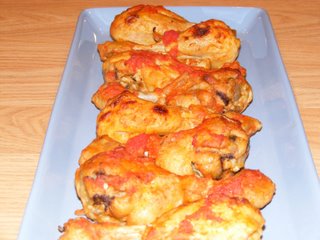 Mary(Shazam in the Kitchen) I learned has a cooking quirk just like me. I ruin kitchen scales and she sets ovens on fire…what a pair we make. 🙂 But before her oven burst into flames she did manage to make us these great cookies, Billy Goats, a recipe by none other than her grandmother….oh I love, love, love the family recipes!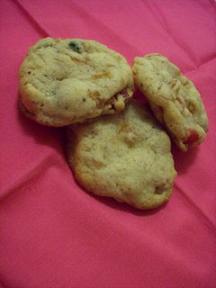 What do you get when you take peanut butter cookie dough, potato chips, chocolate chips and all other sorts of goodness? Grand Prize-Winning Chocolate-Topped Peanut-Toffee Bars thats what. And lucky for us, Helene of La Cuisine d'Helene has brought them to the party! Can't wait to try them.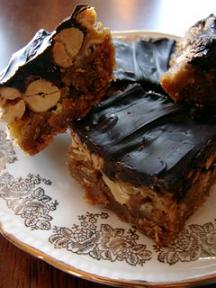 If you are a long time reader you know I am a lover of all things cheesecake…heck I even hosted a HHDD dedicated to cheesecake. So I had hoped that someone would be bringing cheesecake. My wish was granted…big time as Chris of Mele Cotte made us this stunning Mascarpone Cheesecake with Almond Crust.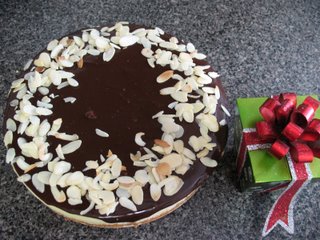 When we are done filling ourselves with all the sugar and carbs, Alanna(A Veggie Venture) brought this vibrant and beautiful Red and Green Warm Spinach Salad. Full of wonderful things like walnuts, pomegranate seeds and mint…it is sure to be a crowd pleaser.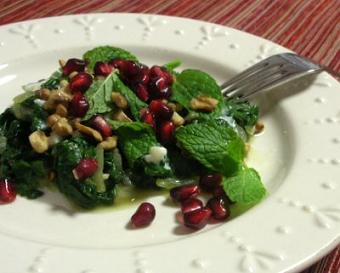 Sneaking in some more healthy food(lol…anything with broccoli is healthy to me :P…forget that it is wrapped in buttery puff pastry) is Quellia of All Things Edible. Her Chicken and Broccoli Puffs are more than edible…they are fantastic.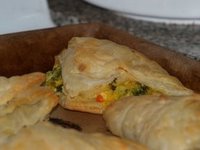 Inne of Vanille & Chocolat made us this absolutely gorgeous Sweet Potato Flan…look at the plating! She told me not to look at how much butter was in it…but hey, to me there is never too much butter!!!
Julie(A Mingling of Tastes) shares her latest obsession, truffles, by making us these luscious looking Pistachio-Black Currant Truffles. Doesn't that flavor combination sound amazing!!!! Thanks  for bringing chocolate to the party!

Fellow Seattle area gal, Lynn, of Cookie Baker Lynn, deviates from her title and makes not cookies but these heavenly looking Pumpkin-Cinnamon Streusel rolls. Inspired by the pumpkin brioche I made, Lynn takes it one step further making these carb-filled bundles of joy.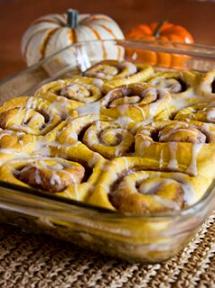 What's a party around this time of year without a ham? Annemarie of Ambrosia and Nectar seemed to agree with that statement and brought this lovley and large(good thing there are a lot of us) Coca Cola Ham( a Nigella's Ham in Coca Cola to be exact).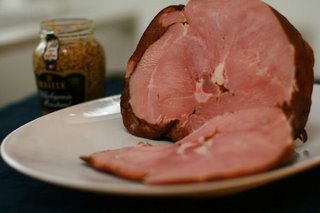 When I saw these arrive I was jumping up and down, considering the fact that I think bacon deserves it's own food group.  So when Michelle of Culinography walked in with these Bacon & Cream Cheese Crescents you can imagine my excitement.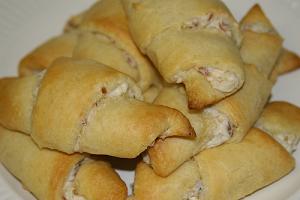 Vibrant and bursting with color were these Guava Gelee Candy. Gigi of Gigi Cakes made these as thank you gifts for everyone coming…which is great so I don't have to do it….thanks Gigi…your candy looks delish!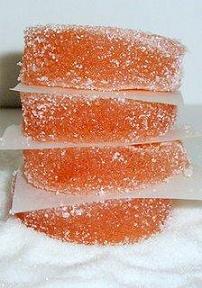 I recognized these the minute I saw them. Siri(Siri's Corner) made one of my all time favorite Christmas cookies, Mexican Wedding Cookies(though where I am from they are called Russian Tea Cakes). Great cookies that melt in your mouth. So glad they found their way here.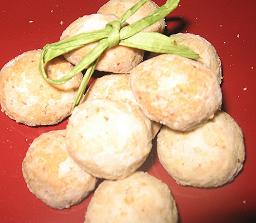 I was excited to see this next dish because it comes from one of my favorite cookbooks, The Pastry Queen, and I have always wanted to make it. Jamie of Good Eats 'n Sweet Treats made this homey Chicken Pot Pie…it just screams comfort!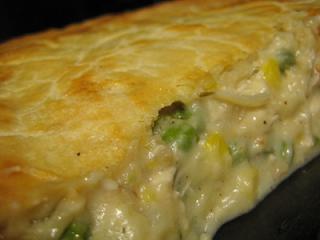 Throwing caution to the wind, Baking Blonde, for the first time she baked with yeast! And then to make it even better she used her freshly baked bread to make Mini Grilled Cheese. Which I love so much I actually served mini grilled cheeses at my wedding cocktail hour. They were the first to go there and most likely will be the first to go here.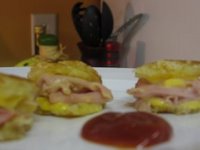 A super popular(for a reason) appetizer makes it's way on to the table, Bruschetta courtesy of Enza of Open then Oven and Take a Look. She apologized for not having time to make something more elaborate…I think no apology is necessary with these tasty treats.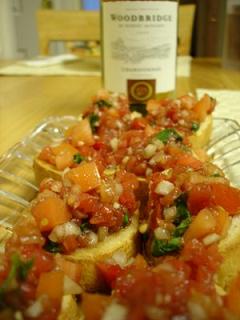 For those of you watching your weight(and I don't mean watching it increase…like mine 🙂 ) Danielle(Dinner with Danielle) offers up these less than diet looking Mini Meat Loaf Muffins.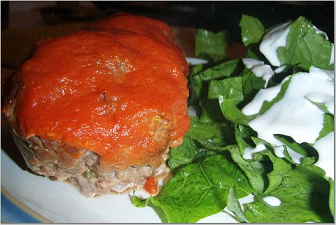 My fellow hockey lover(and sometimes hater when our teams are sucking…which they are right now…sigh 🙁 ), Ivonne of Cream Puffs in Venice brought one of my all time favorite side dishes, which she calls Bakedy Beans, I call them tasty(I am already to eat these with the ham!). But even more special then her dish was her 10 reasons why I have made Bakedy Beans for Peabody…it was very cute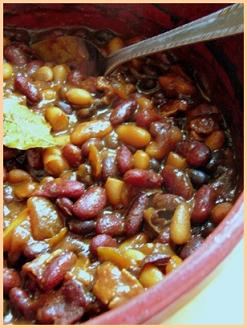 Zazzy(Zazamataz) almost didn't come to the party because she was intimidated because she is not a chef….I assured her that didn't matter, as most food bloggers are not! And besides, when you show up with pumpkin anything, I am letting you in my house! So when Pumpkin Cookies with Raisins and Pecans showed up I quickly opened the door.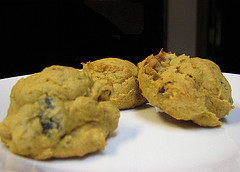 Bring a family favorite(and I can see why) is Judy of Judy's Gross Eats. Chocolate and mint brought together in these great looking Chocolate-Mint Layer Cookies. Definitely good eats.
Theresa of The Food Hunter's Guide to Cuisine who hails from my former residence, Phoenix, made a batch of warming soup to warm us up. Her Tortellini Soup/Stew seems to be filled with all sorts of goodies like tortellini(duh), mushrooms, Italian sausage and bell peppers to name a few.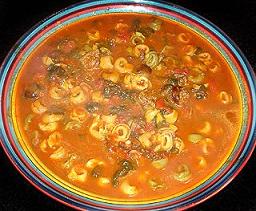 Giving the Daring Bakers Potato Bread another go, Cheryl from Gruel Omelet whipped up this cheesy goodness she is calling Italian Potato Focaccia with Peppers and Cheese. Way to recycle a DB challenge into something even better!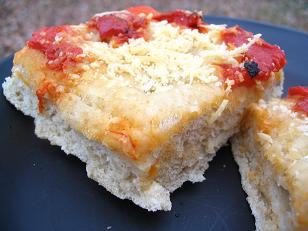 Artichokes, sweet Italian sausage, ricotta cheese and fresh basil are just a few of the ingredients stuffed into these scrumptious looking Artichoke and Sausage Stuffed Shells. Who brought this great looking dish? Why Tara of Smells Like Home.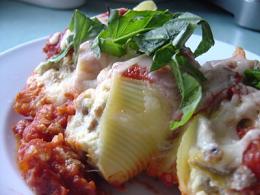 Now I have to say that this dish made me get a little misty eyed…well not the dish itself but the story that went along with it, if you have the time head on over to Little Foodies to see it. Speaking of Little Foodies, Amanda and her boys made us some Storybook Cookies…and they are so adorable.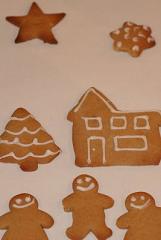 Putting a twist on classic coconut cake,  Madam Chow brought this luscious layered Coconut Cake with Lilikoi Curd. Now in case you are wondering like I was, what is Lilikoi is, it is passion fruit…passion fruit in coconut cake….YUM!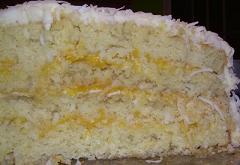 Kevin of Closet Cooking recently discovered the wonderful world of dates…and the many varieties they come in. His latest date discovery were Medjool dates in which he stuffed with cream cheese to give us a tasty appetizer of Dates Stuffed with Cream Cheese.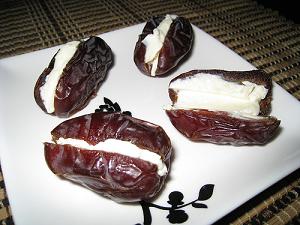 Another fellow Seattle area gal Mohini(Mango Power Girl)adds a special Pacific Northwest twist to her Nigella Lawson recipe by adding marionberries to the already lovely sounding No Churn Pomegranate Ice Cream. What's great is that the marionberry syrup comes from a local farm, so you know it has to be good.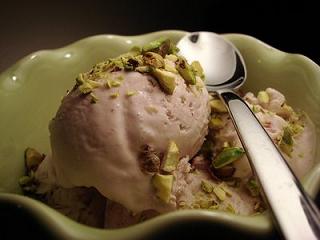 Adding a tropical twist(to help warm us up) to a French classic, Michelle of Life in the Pink Kitchen offers up these ĉۡclairs filled with Honey Cream, topped with Mango and Kiwi. These should definitely help keep the cold out.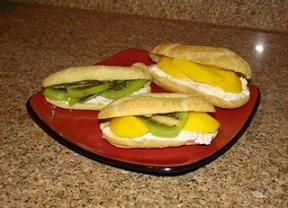 Melody of Fruit Tart was very thoughtful about what she was bringing to the party. Being that her blog has tarts in the name, a tart it was…but what kind? Knowing  my love of Jif and both my husband and I's love of peanut butter and chocolate she made us this sinful Chocolate Peanut Butter Tart.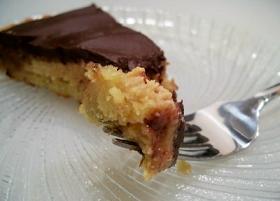 A Domestic Goddess in Training, Jules brought something we can both eat and decorate with as well. Christmas Decoration Biscuits would probably be more in my mouth then on my tree, but it is nice to know it is an option. Thanks for bringing these.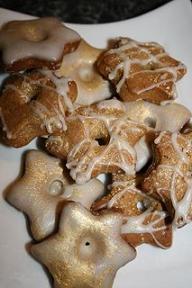 "Doh! I was going to bring this to Peabody's House Warming Party. But since I was so disorganized, I missed the submission deadline yesterday. Bummer. Hope you have a fabulous party Peabody!" is what Illngc of Feed Me! I'm Hungry wrote. But when I saw her gorgeous Blondies I told her to get dressed and hurry up over…and bring those blondies!
Fellow Flames fan, Mary the Bread Chick(The Sour Dough) gets an excuse for being late, for she is in Moscow(not where she normally is) and so she is just a couple steps behind…she blames the vodka. 🙂 Since she is well aware of my love of sweets, she made special for me Peabody's Over the Top Housewarming Potluck Seven Layer Bars…and they do look over the top!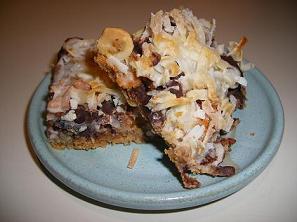 Another one of my non-blogging owning readers was nice enough to give us a appetizer recipe that sounds like a crowd pleaser…Tortellini Skewers! Thanks Carole for the recipe.
Tortellini Skewers
1 package (16 ounce) refrigerated tortellini
1/4 cup extra virgin olive oil
2 Tablespoons fresh lemon juice
2 cloves garlic, finely chopped
2 Tablespoons fresh parsley, finely chopped
1 Tablespoon fresh basil, finely chopped
2 teaspoons fresh tarragon, finely chopped
1/4 teaspoon crushed red pepper, or to taste
1/4 teaspoon salt, or to taste
1/4 teaspoon freshly ground black pepper, or to taste
24 1-inch cubes red bell pepper
24 small black seedless olives (drained, rinsed and patted dry)
24 1-inch cubes mozzarella cheese
24 small cherry tomatoes
24 3 – 4 inch wooden skewers
Prepare tortellini according to package directions. Drain and set aside.
In a medium bowl combine olive oil, lemon juice, garlic, parsley, basil, tarragon, red pepper, salt and pepper. Whisk to blend. Add tortellini, bell pepper, olives, cheese and tomatoes. Toss to blend. Cover bowl and refrigerate to marinate for 3 – 6 hours. Remove from refrigerator, drain and discard liquid.
String a tortellini, a cube of bell pepper, a olive and a cube of cheese on a skewer. Secure a tomato over the point of the skewer. Repeat with the remaining skewers.
Arrange skewers on a serving platter.
Serve.
Makes 24 skewers.
 ****************************************************************************************************************************************
Sihan of Fundamentally-Flawed decided to make Banana Cake because "it just reminds her of  her childhood, warm and lovely just like the way your new home is"…isn't that the sweetest thing. And speaking of sweet back to her yummy looking Banana Mini Crown Cakes, small enough to stick into your purse or pocket to take home if you don't have room in your tummy.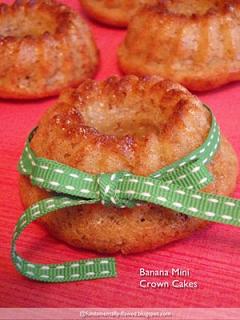 Seeing the snow covering the ground and my home, Paula of Half Baked decided it would be best to make a comforting and warming dish…and she did just that. Paula brings this lovely Risotto with Peas.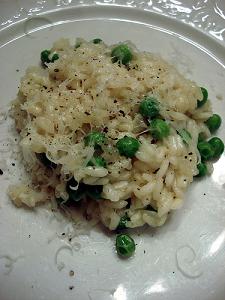 You can't offer maple syrup to a Canadian and expect them to say no. So I was delighted to see that Dolores(Chronicles in Culinary Curiosity) had brought these Maple Syrup Tartlets not only for the maple crazed Canadians but for everyone else as well.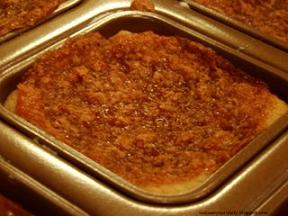 And then that leaves me. What did I bring to my own House Warming Party you ask? An experiment of sorts and something I am calling Chocolate Peppermint Stick Marshmallow Fantasy Cake(you should see the inside of it!). You know it had to be sugar…I wasn't even going to pretend to make something savory. I'll be posting the recipe in a couple of days for those interested in it.