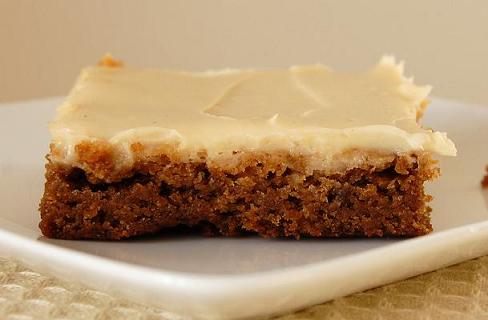 I was just sooo not in the mood to take pictures the other day. The lighting was horrible no matter where I was, as the sky was super Seattle gray. I wasn't actually even going to put these up, but the truth of the matter is that they are far to tasty for me not to share the recipe with you.
As many of you know, I often bake for referees on nights that I score keep on. Makes them happy to work with and IF they happened to end up refereeing my game, then perhaps they will look the other way when I elbow some guy. 😛 I kid…sort of. So my poor refs have pretty much been neglected lately. What I have been making in the kitchen were not all that portable friendly and they had been missing out. One of my "regulars" let me know it too and let me know that he would enjoy something with gingerbread the next time he saw me….then he told me when the next time he would see me would be. 🙂
So off I went find something with gingerbread. I wanted something simple for as much as I would like to be done getting the house together, there always seems to be something. Tomorrow I am off for a rake and a recycling trash can for our pop cans. These bars I found on the McCormick spices website. Their recipe called for using their spices, but I was a rebel and did not. A couple things about the bars: 1. I will add a little more ginger next time for a tad more kick, though the ref thought they had enough kick. 2. When I made the cream cheese mixture I did it in the bowl with the gingerbread batter, without cleaning it, so that the gingerbread flavor would come through a little in the frosting…I'm glad I did. These are quick and easy and most definitely keeps.
P.S. Don't forget I am hosting a virtual Housewarming Party on Saturday, December 8th. For more information about it go here.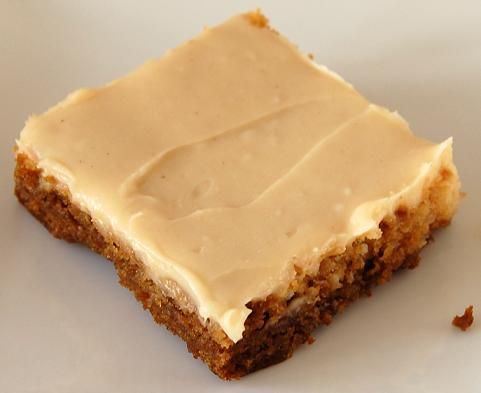 Gingerbread Bars with Cream Cheese Frosting
1 1/4 cups flour
1 tablespoon ground Ginger
1 teaspoon ground Cinnamon
1/4 teaspoon baking soda
1/4 teaspoon salt
3/4 cup  (1 1/2 sticks)  butter, softened
1 1/4 cups sugar, divided
1 egg
1/3 cup molasses
3 tablespoons water
1 package  (8 ounces)  cream cheese, softened
2 teaspoons  Vanilla Extract
1.  Preheat oven to 350°F.  Line 13×9-inch baking pan with foil.  Spray foil with no stick cooking spray.  Mix flour, ginger, cinnamon, baking soda and salt; set aside.
2.  Beat butter and 3/4 cup of the sugar in large bowl with electric mixer until light and fluffy.  Beat in egg until well blended.  Gradually beat in flour mixture until well mixed.  Stir in molasses and water just until blended. Spread evenly in prepared pan.
3.  Beat cream cheese in large bowl with electric mixer until smooth.  Beat in remaining 1/2 cup sugar and vanilla extract until smooth.  Reserve 1/2 cup of the icing; refrigerate remaining icing.  Spoon dollops (about 1 teaspoon each) of the reserved icing over batter in pan.  With knife or spatula, swirl icing through batter to marbleize.
4.  Bake 30 minutes or until toothpick inserted in center comes out clean.  Cool in pan 15 minutes.  Lift out of pan using foil.  Cool completely on wire rack.  Invert and peel off foil.  Spread refrigerated icing over bars.  Cut into bars.  Store in refrigerator.
Source: McCormick.com