This Dried Fruit Bread came about by needing to use up the dried fruits in my pantry before I moved. Made for one tasty bread.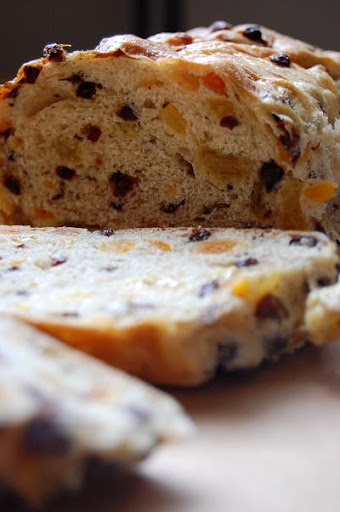 I have no desire to move anything over from my refrigerator and I want to move as little as possible from the pantry.
My poor husband has eaten his fair share of "unique" meals in the last few weeks, especially this last one.
I get many a question along the lines of "does this normally have water chestnuts in it?"
No enchiladas don't normally have water chestnuts, but it gives it a nice crunch, don't ya think?
I'm kidding by the way. 😛
I had a very stressful day yesterday…and so I needed to bake!
Everything is pretty much packed up except one 8 by 8 pan and two cookie sheets.
My mixers (yes, I have three) are still out though.
So I looked through my cupboard to see what I could use up.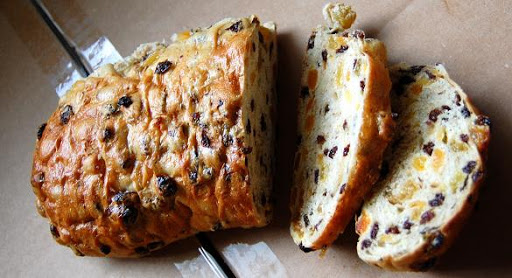 And I had a ton of dried fruit but none of them were a full bag.
I also had a little bread flour to use up.
Okay, dried fruit bread it is.
In this recipe I used 2 cups of bread flour and 2 cups of all-purpose…that is only because of what I had.
Feel free to use either all bread or all-purpose if you would like.
You can also use pretty much any type of dried fruit you would like (just make sure to soak them in liquid or else they will suck the moisture out of your bread).
This is just a free form bread so you can play around with the shapes as you would like.
It's hard to believe that this is the last thing I will have baked in my apartment kitchen.
While it has served me well it will probably go into shock when the new tenants move in….I know the oven will.
Who knows, maybe the oven will appreciate it's time off.
Though I am sure it will miss all the baked goods it helped create.
Oh and yes the pictures are taken on packing boxes, that is all I had to work with.
P.S. It's a great day to buy my cookbook Holy Sweet!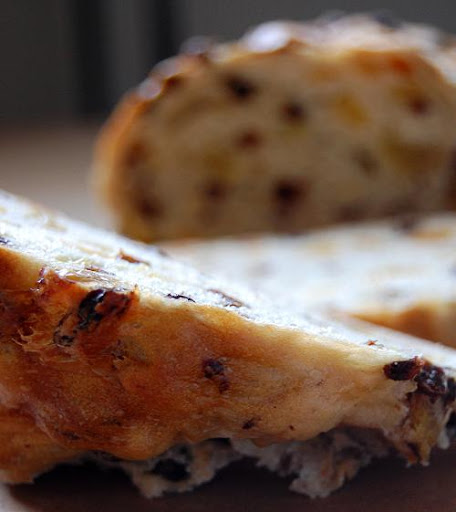 Want More Bread Recipes?
Orange Blossom Chocolate Challah Bread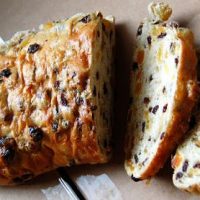 Dried Fruit Bread
Ingredients
1 package active dry yeast
¼  cup warm water, about 105 to 110 degrees
1/3 cup unsalted butter
¾  cup whole milk
1/3 cup granulated sugar
1 teaspoon salt
2 large eggs, beaten
2 cups all-purpose flour
2 cups bread flour
¼  cup golden raisins
¼ cup dark raisins
¼ cup chopped dried apricots
¼ cup dried currants
melted butter
Instructions
In a large mixing bowl fitted with a paddle attachment, dissolve the yeast in ¼ cup warm water.
Melt the 1/3 cup butter in a small saucepan.
Add the milk and heat until warm, about 110°.
Combine milk mixture with yeast mixture, the sugar, salt, eggs, and 1 cup all-purpose flour and 1 cup bread flour.
Soak dried fruit pieces in either hot water or liquor for about 10 minutes.
If you do not do this, the dried fruit will suck the moisture out of your bread, and you don't want that!
Beat on low speed of mixer until blended and smooth. Cover and let rise for about 45 minutes in a warm place.
Stir in the raisins, apricots and currants. Beat in remaining flour, about 1/3 to ½ cup at a time.
Place dough hook on mixer(or do by hand) until the dough is smooth and elastic.
Divide in half and shape each half into a 12x8-inch oval loaf. Brush each loaf with melted butter.
Place in a large greased baking sheet and let rise for 40 minutes.
Breads should be almost doubled.
Bake in a preheated 350° oven for 25 to 30 minutes.
Cool on rack.