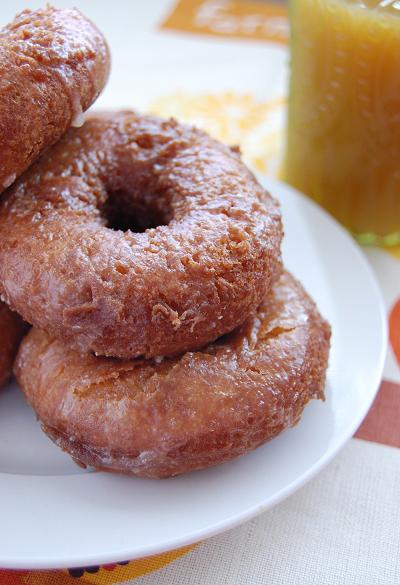 Thanks everyone for the well wishes! I am very excited about the home. Can't wait to get settled in and get baking in that kitchen.
My dog says thanks for all the compliments too. And to the person who said their dog would have eaten the eggs…my dog is a lover not a fighter(or chewer). However, dress up in a UPS costume and she will bark your head off.
Since the house has pretty much consumed our lives, we have not gotten to go and do some of our more Fall things, though we are going to the pumpkin patch…I refuse to buy mine at the store! So needless to say I did not make it out to a cider mill for fresh cider donuts. What is a girl to do? Drag out the fryer before she has to pack it up and make some of her own. Luckily, my upscale market carries fresh cider from the local mills and so it was just as good as if I were there(almost). 
I had a small mishap when I was boiling down the cider…I forgot about it until the smoke alarm went off….opps(I was busy packing). Let me just say what a bitch it is to get burnt cider off of a saucepan bottom! Holy cow. But when I bothered to pay attention they turned out beautifully!
There really is nothing better than a fresh, warm, spicy cider donut dripping with glaze!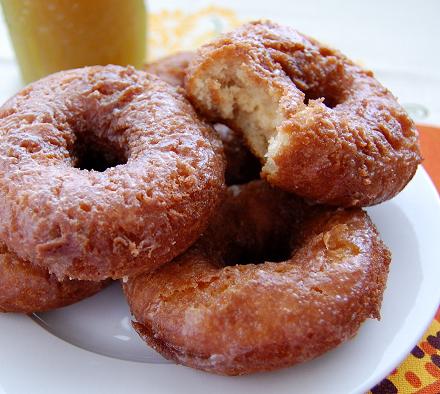 Vermont Apple Cider Doughnuts
rec.food.recipes/Julia Collette/2001
1 cup apple cider
1 cup sugar
1/4 cup solid vegetable shortening
2 large eggs
1/2 cup buttermilk
3 1/2 cup all-purpose flour
2 tsp. baking powder
1 tsp.baking soda
1/2 tsp. cinnamon
1/2 tsp. salt
1/4 tsp. nutmeg
vegetable oil or shortening -for frying
GLAZE
2 cup confectioners' sugar
1/4 cup apple cider
For glaze, mix confectioners' sugar and cider.
Dip doughnuts while warm;
serve warm.(I didn't dip, I just drizzled the glaze over them)
Boil apple cider in small saucepan until it is reduced to 1/4 cup, 8 to 10 minutes; cool.
Beat sugar with shortening until smooth. Add eggs and mix well, then add buttermilk and reduced cider.
Stir together flour, baking powder, baking soda, cinnamon, salt and nutmeg in another bowl. Add to liquid ingredients; mix just enough to combine. Transfer dough to lightly floured board and pat to 1/2-inch thickness. Cut with 2 1/2- to 3-inch doughnut cutter; reserve doughnut holes and reroll and cut scraps.
Add enough oil or shortening to fill a deep pan 3 inches; heat to 375'F. Fry several doughnuts at a time, turning once or twice, until browned and cooked through, about 4 minutes. Remove to paper towels with slotted spoon.
Source: The Recipe Link.com