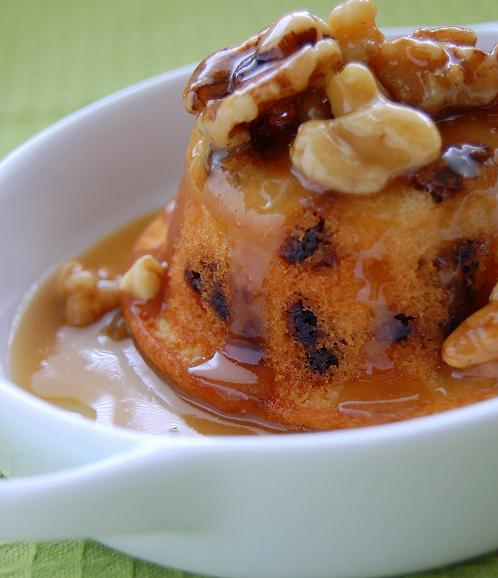 "Yeah. Well, you know me. Give me a full ballerina skirt and a hint of saloon and I'm on board." Nigel in the Devil Wears Prada(the movie).
This is pretty much how I feel about toffee sauce…give me brown sugar, butter and cream and I'm on board. I have often even wondered if I would eat cardboard as long as there was toffee sauce thrown on it? My guess would be yes. 😛
Saturday morning around 10 am I was laying on the couch half asleep. I was bundled up in a blanket with the dog crushing my legs(like she usually does) listening to the comforting voice of Ron MacLean(Hockey Night in Canada host). Yes, Hockey Night in Canada was on at 9 am on the West Coast on Saturday(it sucked because I am not a morning person). You see the NHL decided they would start the season in London, England. The Ducks and the Kings played each other on Saturday and Sunday this last weekend. Which meant no sleeping in for me. Though the NHL season has "officially" started with those two games, the real fun begins today, the "real" opening of the NHL season, or as I like to call it, my happy time. So while I watched the game on Saturday I just kept thinking, comfort/England, comfort/England…and what did I get? Sticky toffee pudding.
Sticky toffee pudding seems to have many different versions of the "pudding" part. One thing that is constant is a toffee sauce and dates in the pudding. Other than that you can find many a variety. This comes from a relative who lives in Perth, Scotland. I messed around with it a bit, so not sure how authentic it is anymore, but tasty all the same. Normally, I would have used pecans(as that is what it calls for) but I didn't seem to have any, which is highly unusual. But I suspect you could use just about any type of nut and you'd be fine.
So here is the start of the NHL hockey season. Here is to my Flames, who if the pre-season is any indication, will have me swearing and crying all season. Here is to my Danny who is a skilled player on a team known for being goons….good luck Danny! Here is to the happiest time of the year. The time when I can hope that my team will make it to the Stanly Cup playoffs. The time when reality hasn't set in. 🙂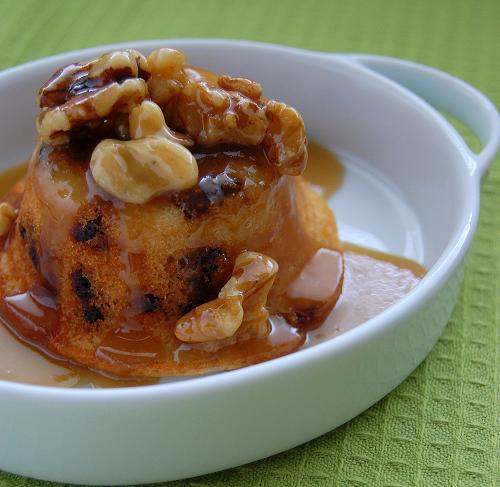 Sticky Toffee Pudding
For the pudding:
8 ounces unsalted butter, cut into 1 ounce pieces
1 cup sugar
3 eggs
1 ½ cups all-purpose flour
1 tsp vanilla
1 ½ tsp baking powder
½ cup water
½ cup milk
1 ½ cups dates, pitted and chopped
Preheat oven to 350F.
Grease and flour a muffin tin(full size muffins, no minis)
In a food processor, blend together butter and sugar, adding the butter one ounce at a time. Add the eggs, one at a time, scraping the sides down after each egg. Add the remaining ingredients, except dates, and blend until smooth. Add dates and pulse to combine.
Using a ice cream scoop, scoop batter into muffin tin(s). Mine holds 12 and could have probably made 14. You can also use pudding cups or ramekins if you would like.
Bake for about 30 minutes. If you are using the larger pudding cup you might have to go as long as 45  minutes. Remove from oven and let cool for about 10 minutes before removing them from the muffin tins. Continue cooling on a rack.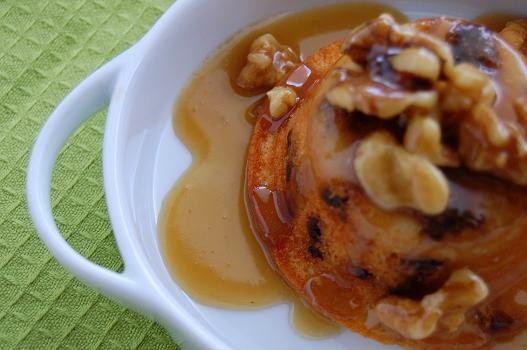 Toffee Sauce:
2 cups brown sugar, tightly packed
2 ounces unsalted butter
1 ¼ cups heavy cream
½ cup nuts(preferably pecans but all I had was walnuts)
Bring cream, brown sugar and butter to a boil. Reduce to a simmer and stir occasionally for about 5 minutes. Stir in the nuts and pour over puddings.