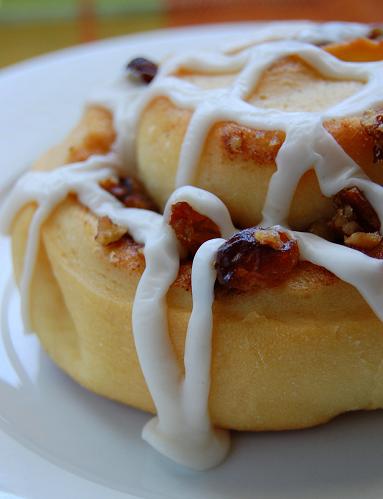 Men. Sometimes they just aren't thinking. Case in point, the Daring Bakers challenge. This time around Marce from Pip in the City chose have us make cinnamon rolls. My husband was very excited about this. His is a pretty picky guy, but he loves him some cinnamon rolls. We were given the freedom to use different spices but nothing was said about nuts and fruit. Well, we like both nuts and raisins in our rolls. So when I made them I made all raisin and nut ones, except for one. I went to bed and when I woke up the ONE plain cinnamon roll was gone. I asked my husband if he ate it(of course he did unless we had some cinnamon roll thief) and he said yes. I asked him WHY he ate the plain one when I made raisin pecan ones. His answer was they all looked the same. Grrrr.
So needless to say, I am the rebel Daring Baker this month and did not follow the rules…at least not in my photos. This was an excellent recipe and the dough is truly outstanding….and I hardly say that about a Daring Baker challenge. I encourage everyone to try it even if you have a cinnamon roll that you like to eat. I thought I had one I loved, but it got replaced by this recipe now. I  chose to use half shortening and half butter and I think that really helped with the texture. As much as I usually don't like shortening, it really works nicely here.
Check out all the other Daring Bakers buns 😛 by visiting the DB blogroll.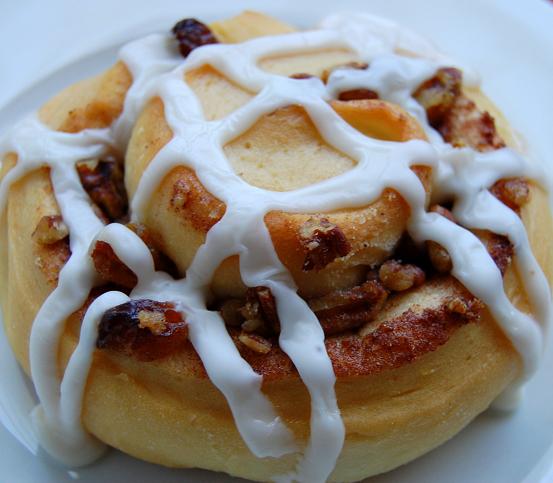 Cinnamon Buns
Ingredients:
6 1/2 tablespoons (3.25 ounces) granulated sugar
1 teaspoon salt
5 1/2 tablespoons (2.75 ounces) shortening or unsalted butter(I used 3 TBSP shortening and 2 1/2 TBSP butter)
1 large egg, slightly beaten
1 teaspoon grated lemon zest
3 1/2 cups (16 ounces) unbleached bread
2 teaspoons instant yeast*
1 1/8 to 1 1/4 cups whole milk, at room temperature
1/2 cup cinnamon sugar (6 1/2 tablespoons granulated sugar plus 1 1/2 teaspoons ground cinnamon, or any other spices you want to use, cardamom, ginger, allspice, etc.)
White fondant glaze(recipe follows)
Instant yeast contains about 25% more living cells per spoonful than active dry yeast, regardless of the brand. Instant yeast is also called rapid-rise or fast-rising.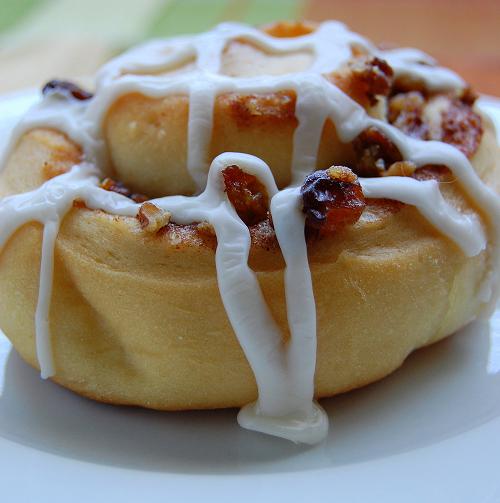 Cream together the sugar, salt, and shortening or butter on medium-high speed in an electric mixer with a paddle attachment (or use a large metal spoon and mixing bowl and do it by hand); if you are using powdered milk, cream the milk with the sugar, and add the water with the flour and yeast. Whip in the egg and lemon extract/zest until smooth. Then add the flour, yeast, and milk. Mix on low speed (or stir by hand) until the dough forms a ball. Switch to the dough hook and increase the speed to medium, mixing for approximately 10 minutes (or knead by hand for 12 to 15 minutes), or until the dough is silky and supple, tacky but not sticky. You may have to add a little flour or water while mixing to achieve this texture. Lightly oil a large bowl and transfer the dough to the bowl, rolling it around to coat it with oil. Cover the bowl with plastic wrap.
Ferment at room temperature for approximately 2 hours, or until the dough doubles in size.
Mist the counter with spray oil and transfer the dough to the counter.
(A) Roll out the dough with a rolling pin, lightly dusting the top with flour to keep it from sticking to the pin. Roll it into a rectangle about 2/3 inch thick and 14 inches wide by 12 inches long for larger buns, or 18 inches wide by 9 inches long for smaller buns. Don´t roll out the dough too thin, or the finished buns will be tough and chewy rather than soft and plump. (B)Sprinkle the cinnamon sugar over the surface of the dough and (C) roll the dough up into a cigar-shaped log, creating a cinnamon-sugar spiral as you roll. With the seam side down, cut the dough into 8 to 12 pieces each about 1 3/4 inches thick for larger buns, or 12 to 16 pieces each 1 1/4 inch thick for smaller buns.)
Line 1 or more sheet pans with baking parchment. Place the buns approximately 1/2 inch apart so that they aren´t touching but are close to one another.
Proof at room temperature for 75 to 90 minutes, or until the pieces have grown into one another and have nearly doubled in size. You may also retard the shaped buns in the refrigerator for up to 2 days, pulling the pans out of the refrigerator 3 to 4 hours before baking to allow the dough to proof.
Preheat the oven to 350°F (175°C) with the oven rack in the middle shelf.
Bake the cinnamon buns for 20 to 30 minutes or the sticky buns 30 to 40 minutes, or until golden brown. If you are baking sticky buns, remember that they are really upside down (regular cinnamon buns are baked right side up), so the heat has to penetrate through the pan and into the glaze to caramelize it. The tops will become the bottoms, so they may appear dark and done, but the real key is whether the underside is fully baked. It takes practice to know just when to pull the buns out of the oven.
Cool the buns in the pan for about 10 minutes and then streak white fondant glaze across the tops, while the buns are warm but not too hot. Remove the buns from the pans and place them on a cooling rack. Wait for at least 20 minutes before serving.
White fondant glaze:
Cinnamon buns are usually topped with a thick white glaze called fondant. There are many ways to make fondant glaze, but here is a delicious and simple version, enlivened by the addition of citrus flavor, either lemon or orange. You can also substitute vanilla extract or rum extract, or simply make the glaze without any flavorings.
Sift 4 cups of powdered sugar into a bowl. Add 1 teaspoon of lemon or orange extract and 6 tablespoons to 1/2 cup of warm milk, briskly whisking until all the sugar is dissolved. Add the milk slowly and only as much as is needed to make a thick, smooth paste.
When the buns have cooled but are still warm, streak the glaze over them by dipping the tines of a fork or a whisk into the glaze and waving the fork or whisk over the tops. Or, form the streaks by dipping your fingers in the glaze and letting it drip off as you wave them over the tops of the buns. (Remember to wear latex gloves.)
Source: Adapted from The Break Baker´s Apprentice by Peter Reinhart