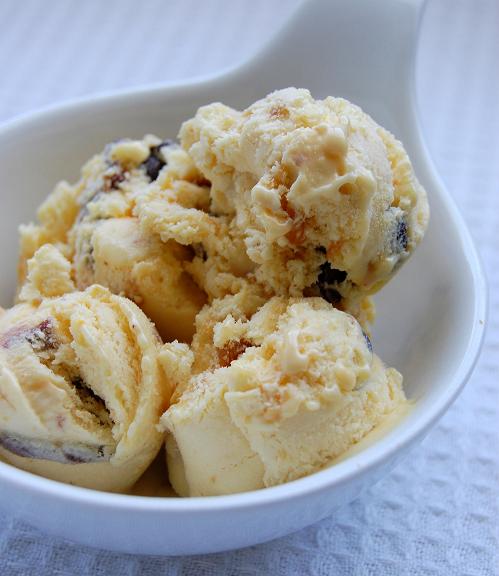 "Warm? No. This is a setting for London broil." – Adrian Cronauer(Robin Williams) from Good Morning Vietnam.
That about sums up our weather here right now in the beautiful, yet craptastically hot Pacific Northwest. It was so hot that even the dog had to sit with me in our "pool," otherwise known as the bathtub. I didn't plan on her coming in, she just jumped right on in there. There is nothing better than being miserably hot while having the lovely aroma of wet dog. 😛 Since I am obviously not turning on the oven this week, I did what almost everyone in the blogging community seems to be doing, I went frozen.
Change for some is impossible, for others they just take it as it comes. I like to think that I am the later of the statement. I am doing my best to to embrace the Philadelphia Flyers(I have memorized the current roster and went back through archives to read up on the teams history). Though they are not my "team", that would be the Calgary Flames(GO Flames)…they are the team, as most of you know, of my beloved Danny Briere. So to honour my hockey player I made ice cream representing his new team….Briere's Flyers Frozen Custard. An orange base custard that is mixed with chocolate chips, caramel swirl and chocolate fudge swirl. I must say, Danny would be proud. I only made a small batch and boy am I sad about that. I think I ate half of the orange base just as it was churning in the ice cream maker. Definitely a keeper! I think next time I am going to make the orange base and throw in some smoked salt caramels from our local chocolatier, Fran of Fran's Chocolates. Just 2 ½ more months till hockey starts up again…GO Flyers.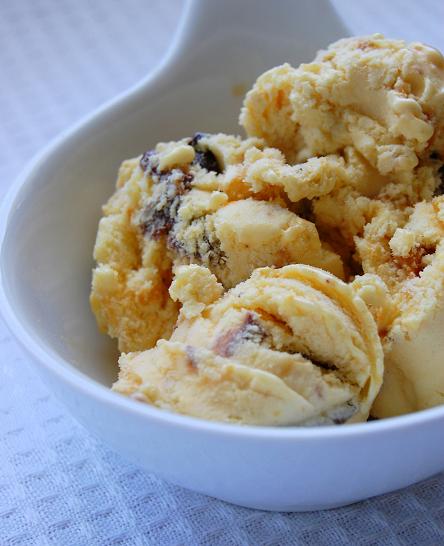 Briere's Flyers Frozen Custard
Orange custard base
1 ½ cups orange juice
zest of one orange
¾  cups superfine sugar
1 ½ cups heavy whipping cream
3 large egg yolks
Heat the orange juice, ½ cup sugar and orange zest in a saucepan over medium high heat. When hot, stir to dissolve the sugar. Bring to a boil and allow to boil for 15 minutes to form a slightly thickened syrup.
Cool the syrup in an ice-water bath to 45F, about 15 minutes. Place in a container and store in refrigerator until needed.
Heat heavy cream in a saucepan over medium high heat. Bring to a boil.
While the cream is heating, place the egg yolks and 1/4 cup sugar in the bowl of an electric mixer fitted with a paddle or whisk attachment. Beat the eggs on high for 2 to 2 ½ minutes. Scrape down  the sides of the bowl, then beat on high until slightly thickened and lemon-colored, 2  ½ -3 minutes.
Pour boiling cream SLOWLY into the beaten egg while the whisk is on low. Once all cream is in whisk on medium for 30 seconds. Return mixture to saucepan and heat over medium high heat, stirring constantly. Turn down heat if it starts to boil. Bring temperature to 185F, about 1 minutes. Remove from the heat and transfer to a stainless steel bowl. Cool in an ice-water bath to a temperature of 45F, about 15 minutes. Store in air tight container and let sit in refrigerator for an hour.
When mixture is cold, combine with the orange syrup mixture and then freeze in an ice cream freezer, following the manufacturers instructions.
While orange custard ice cream is freezing, prepare the sauces.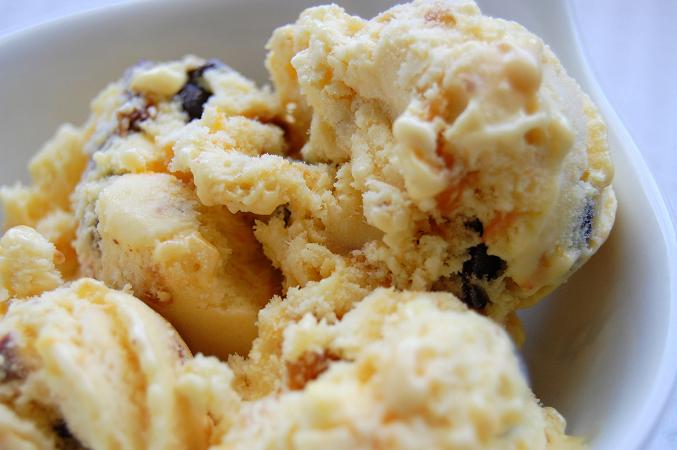 Caramel Sauce(from Baking From My Home to Yours by Dorie Greenspan)
2 cups sugar
½ cup water
1 ½ TBSP light corn syrup
2/3 cup heavy cream
2 TBSP unsalted butter, at room temperature
Put the sugar, water and corn syrup in a medium heavy bottomed saucepan, stir just to combine the ingredients and then put the pan over medium-high heat. Heat, without stirring , until the caramel turns deep amber., 5-10 minutes. Lower the heat a bit and, standing back from the saucepan add the cream and butter. When the spatters are less vehement, stir to calm down the caramel and dissolve any lumps. Set aside till needed.
Chocolate Sauce
2 ounces semi-sweet chocolate, broken into ½ inch pieces
¼ cup heavy cream
Place chocolate in a bowl. Heat cream in a saucepan over medium high heat. Bring to a boil. Pour the boiling cream over the chocolate and allow to stand for 5 minutes. Stir with a whisk until smooth. Set aside till needed.
Finish making the ice cream:
Transfer the semi frozen orange custard ice cream to a plastic container. Immediately fold in ½ cup chocolate chips. Add the caramel sauce, using a large rubber spatula to give the mixture two folds. Add the chocolate sauce, once again using a large rubber spatula, and give the mixture 5 to 6 folds. Securely cove the container and place in the freezer for several hours before serving. Serve within 3 days.
Adapted from: Desserts To Die For by Marcel Desaulniers