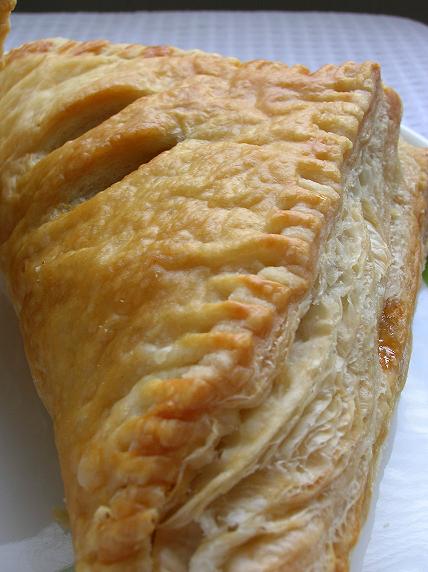 The calender has turned over a new year but that is not the big turnover in my life.
Hockey.
Yes, that is right, you thought you had escaped hockey talk now that Summer was here, but no. My favorite player became an unrestricted free agent. What does that mean? That means he gets to pick whatever team he wants to go to that offers him the best deal…starting July 1st. I knew he would not remain a Buffalo Sabre and had actually braced myself that he would be a rumored Montreal Canadian(Ivonne and I were not in favor of this)…rumored so much that I signed up to take the second session of conversational French this Summer. Over half of the broadcast for Montreal are of course in French. And well, after having 10 years of Spanish in school, my French is down right horrible and not recognizable as the French language. Yes, everything was all set in my mind…and then I read TSN.com. My beloved player, Daniel Briere, is now a Philadelphia Flyer. Ugh. What? This was so not where I was thinking he was going. Their uniforms are orange. I look like a giant pumpkin in orange. Ugh. I have to wear orange. Worse, orange and black…I will look like Halloween threw up on me.
The good news for him is that he will make 52 million dollars over the course of 8 years(seriously, my favorite player and all, but no one deserves to make that much money…no one), oh and they can't trade him(or any movement for that matter). Good news is, once I buy the Halloween vomit jersey, I know it will be good for at least 8 years. Now if only someone would come along and offer me 52 million to run my blog for the next 8 years! 😛
Go Flyers!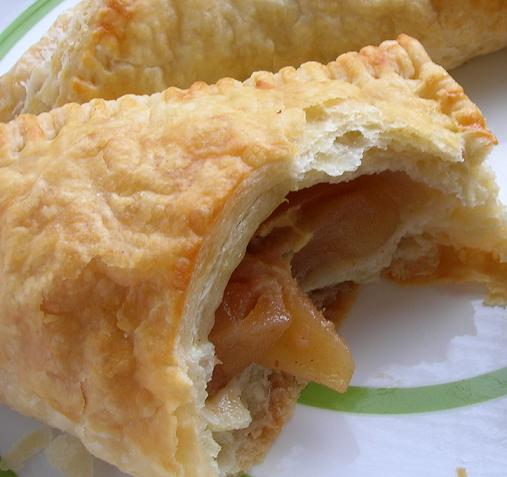 Flaky Apple Turnovers

Recipe adapted from Baking Illustrated (2004) by the editors of Cook's Illustrated magazine.
1 recipe Quick Puff Pastry (below)
4 large Granny Smith apples (about 2 pounds)
2 cups sugar, divided use
3 teaspoons lemon juice from 1 lemon
1/2 teaspoon salt
2 teaspoons ground cinnamon
1. Roll dough into 20-by-15-inch rectangle, about 1/8-inch thick. Line 2 baking sheets with parchment paper. Trim and cut the dough into 12 5-inch squares and place 6 on each sheet. Place both sheets in refrigerator until ready to use.
2. Peel apples and grate them. Combine with 11/2 cups of the sugar and the lemon juice and salt in a bowl.
3. Working quickly with one sheet at a time, place dough on a work surface, put 2 tablespoons filling (squeezed of any excess liquid) in the center, then moisten two adjoining edges with finger dipped in apple liquid. Fold top portion of dough over the bottom, making sure to overlap the bottom portion by 1/8 inch. Crimp edges with a fork. With wide metal spatula, transfer turnover to baking sheet. Repeat with remaining pieces of dough. Chill the filled turnovers 30 minutes, or cover with plastic and refrigerate up to 24 hours.
4. Preheat oven to 375 degrees. Adjust oven racks to upper- and lower-middle positions. In a small bowl, combine remaining 1/2 cup sugar with cinnamon.
5. Brush or mist turnovers lightly with water, then sprinkle with cinnamon sugar. Bake until golden brown, 30 to 25 minutes, rotating sheets from front to back and top to bottom about halfway through baking time. With a wide metal spatula, transfer turnovers to a wire rack to cool. Serve warm or at room temperature.
Makes 12 turnovers.
Quick Puff Pastry
Recipe from Baking Illustrated (2004) by the editors of Cook's Illustrated magazine.
3 cups (15 ounces) unbleached all-purpose flour
1 1/2 tablespoons sugar
1 1/2 teaspoons salt
1 1/2 cups (3 sticks) cold unsalted butter, cut into 1/4-inch pieces
9 tablespoons ice water
2 teaspoons juice from 1 lemon
1. Place flour, sugar and salt in a food processor and pulse to combine. Add a quarter of the butter pieces and process until the butter is in dime-size pieces, four 1-second pulses. Add remaining butter and process to coat the cubes with flour, two 1-second pulses. Transfer mixture to a medium bowl.
2. Combine ice water and lemon juice in a small bowl. Add half of the liquid to the butter mixture and toss until just combined. Keep adding liquid, 1 tablespoon at a time, until the dough will clump together in your hand. Turn the dough out onto a work surface. The dough will be quite dry and shaggy at this point. Working quickly so butter in the dough does not melt, brace the heel of your hand against the work surface and drag small portions of dough forward in short, brisk strokes to fraisage the dough. Gather dough together, then repeat the fraisage. Press dough into an 8-by-4-inch rectangle, wrap in plastic and refrigerate 1 hour.
3. Place dough on lightly floured piece of parchment paper and roll into 15-by-10-inch rectangle. Then fold dough lengthwise into thirds. Starting from narrowest end, loosely roll up the dough. Press rolled dough into a 6-by-5-inch rectangle. If dough is sticky, rechill it. Repeat this entire step, starting with rolling out dough into a large rectangle. Wrap dough and chill 1 hour, or until ready to use. Well-wrapped pastry will keep 2 days in the refrigerator or 1 month in the freezer.
Makes enough for 12 turnovers.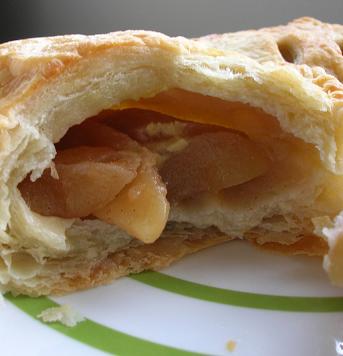 Recipe Source from: http://www.journalnow.com/servlet/Satellite?pagename=WSJ%2FHTMLPage%2FWSJ_HTMLPage&c=HTMLPage&cid=1128767485710