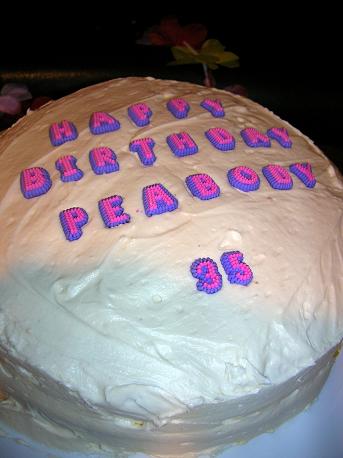 Ah, yes. It is that time of year again, my birthday. Being one who has gone to pastry school leaves friends far too intimidated to make me a cake(I¢â¬â"¢ll eat anything people). But this year, one brave friend, was wonderful and stepped up to the challenge¢â¬¦.and did an amazing job I might add. Now I have to laugh because she did do trial runs(2 actually), so it made me feel extra special because she tried so hard. She made me a wonderful key lime cake(you know how I love me the key lime) and for a filling she made the lemon-lime curd from my tarts and then covered it with buttercream! YUM. YUM. YUM. Not only did I get it at my birthday party(Saturday) but I snagged pieces for my actual birthday(today…Monday if you are reading this late)….so that I can eat it for breakfast 😛 !
Bye for now, I am off to celebrate my mom being in large amounts of pain for 36 hours 🙂 (love you Mom).
P.S. For those who celebrate it, I hope you had a lovely Canada Day.