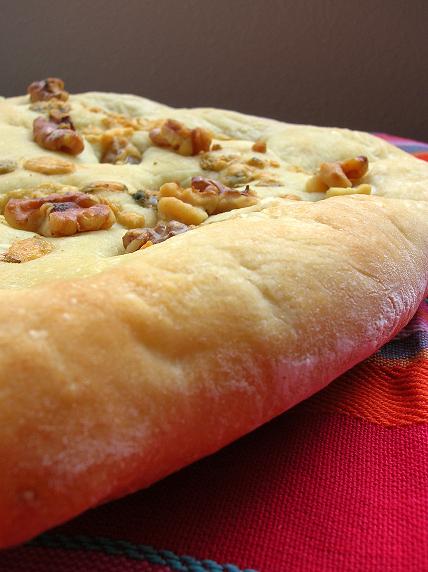 Shocking yes I know! But this is two recipes now with no sugar in them. Not to worry I will be throwing some uber-sugar ladened fattening treat your way sometime soon.
A cool day emerged out of a string of miserably warm ones and so the yeast was calling my name. Call me the yeast whisperer if you will 🙂 My husband is always craving pizza of some form. I can make him a pizza using an English muffin and processed cheese and he would be happy(yes, amazingly I still married him). I decided on fococcia bread because it makes a large batch(at least my recipe does) and that way I can make him a pizza version and a version for me. The version I chose for me was blue cheese and walnut. This is a well used recipe around here because you can throw just about anything on top of it and it is good. If I had pears I would have diced some up and thrown those on their too.
Instead of putting onions on top, I sauted them up and snuck them into the dough, so that hubby would eat them. 😛 You could certainly add some to the top if you like but I felt that the amount in the dough gave just enough onion flavor for me.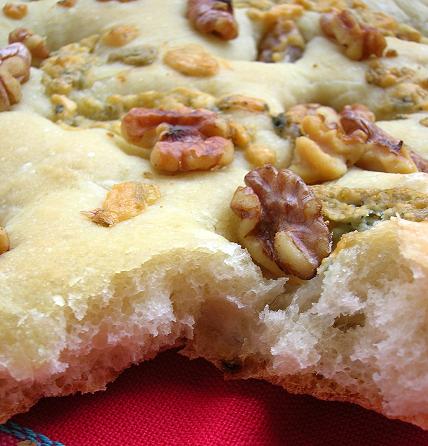 Blue Cheese and Walnut Fococcia Bread
2 ½ tsp dry yeast
¼ cup warm water
2 ¼ cups water, room temperature
4 TBSP olive oil
1 TBSP salt
7 ½ cups all purpose flour
¼ cup onions, minced
½ cup blue cheese, crumbled
½ cup walnuts, chopped
Combine the yeast and the warm water with a whisk until it looks creamy. Let it rest for about 10 minutes while the yeast blooms.
While yeast is resting, heat 2 TBSP of the olive oil in a saute pan and saute the onions until lightly brown, being careful not to burn.
In a large bowl, combine the yeast mixture with the room temperature water with a whisk. Add in the remaining olive oil, salt and flour. Mix to form a soft dough. You can do this by hand or in the mixer. If using the mixer be careful not to over mix the dough. Mix cooked onions into the dough making sure that they are distributed evenly.
Form dough into a large ball and place into a large, lightly oiled bowl. Cover with plastic wrap and lte rise until it doubled in size about and 1 ½ to 2 hours.
Cut dough into two pieces, or three if you want smaller rounds. You can roll the dough into either a rectangle shape or a round. I like the rectangle shape better because of how they fit on my pans. Place the circles or rectangles onto a pan that has been lined with parchment paper. Cover with a clean kitchen towel and leave for 30-45 minutes.
Preheat oven to 400F.
Once the dough has sat, take your finger tips and make dimples in the dough. Brush with some olive oil if you like. Sprinkle walnuts and blue cheese onto dougg. Bake bread in oven for about 25-30 minutes or until the edges are golden brown. It's best to start watching around the 20 minute mark. Cool and serve.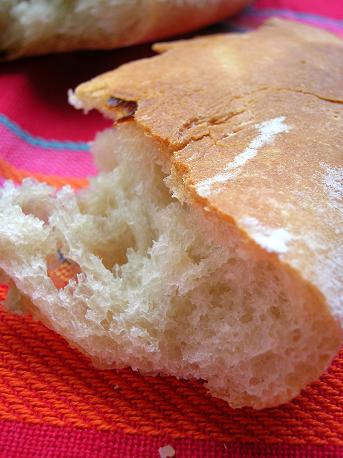 If you are interested in making the pizza version that I make for my husband. Brush olive oil on top. Followed by a thin layer of pizza sauce. Add some Parmesan cheese and some chopped basil and bake for the same amount of time as the blue cheese and walnut version.