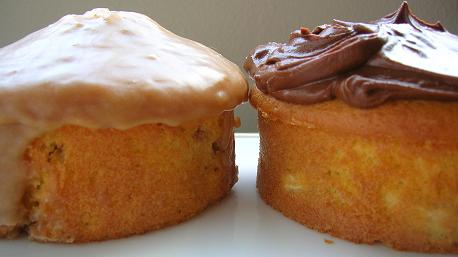 I know, I know…I already posted about Livestrong Day, but it's my blog and I can do what I want…so there! 🙂
When we were in a bit of stress I tried to make life a little better for my hubby. He loves yellow cake with chocolate frosting. Unfortunately, he likes box cake and frosting from a can(vomit). I do, on his birthday make him cake from a box but I just can not do the frosting. Which he is now fine with because he likes mine better(thank God). But he wasn't getting box cake this time. So I baked two types of cake, one he would eat and one I would want to eat. I made an apple cinnamon with caramel frosting for me and a banana chocolate frosting one for him. One recipe two ways. Then I noticed…hey, it's yellow. I could do another Livestrong post, so I will.
Again, I can not point out how great I think this event is. Not only is my mother a cancer survivor, so are my 2 aunts, my mother-in-law and many of my mom's friends. Sadly my mom's best friend died a little over a year ago from stage 4 breast cancer. 🙁 I'm sure you know someone too!
I made these cakes using 4 ½ inch diameter cake pans, making two of each kind. I could have made four varieties if I wanted, but lets remember here people, I am lazy. And speaking of lazy, let me just go off on a hockey tangent here and say that my Sabres were lazy, lazy, lazy on Thursday and lost the game. If they don't pull it together this Saturday night there will be much swearing going on at the house of Pea!!!!!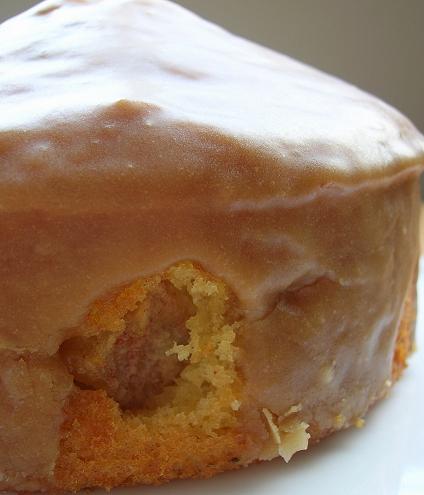 Yellow Cake
2 cups all-purpose flour, stirred before measuring
1 tablespoon baking powder
1 teaspoon salt
1/2 cup butter, softened
1 1/4 cups sugar
2 eggs
3/4 cup milk
1 teaspoon vanilla
PREPARATION:
Mix flour, baking powder, and salt; set aside. Cream sugar and butter in a large mixing bowl, beating until light and fluffy. Beat in eggs, one at a time, beating well after each addition. Add half of the flour mixture then half of the milk.
Add vanilla. Mix until blended; add remaining flour and milk and beat until smooth. Fill 4 greased and floured layer cake pans(4 1/2 inch diameter) with the batter. Bake at 375° for 25 to 35 minutes, or until cake springs back when lightly touched near center.
Frost as desired.
Source: About.com Souther US Cuisine section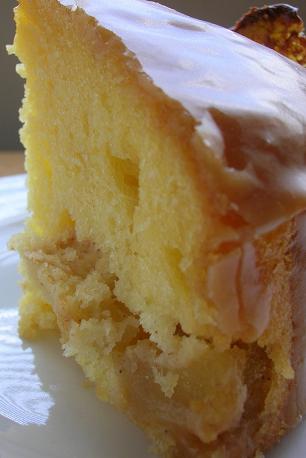 For the caramel apple version:
1 pink lady or any more tart apple, peeled and chopped
1 tsp cinnamon
1 TBSP sugar
squeeze of lemon juice
Mix the above ingredients together in a bowl. Seperate the yellow cake batter into to medium bowls. Pour the apple ingredients into one of the bowls and mix. Pour batter into 2 of the mini cake pans and bake as yellow cake recipe directs. When cool frost with caramel frosting.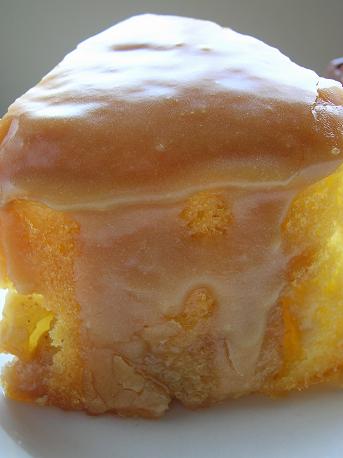 Caramel Frosting
3 cups (light) brown sugar, firmly packed
1 cup plus 2 tablespoons half and half
1/2 stick (4 tablespoons) butter
1 teaspoon vanilla extract
1. Mix sugar and half and half in a heavy saucepan and cook, stirring over low heat until syrup reaches the soft-ball stage, 235 degrees on a candy thermometer. If lacking a thermometer, check doneness by dropping a tiny bit of syrup into a cup of cold water. When the syrup can be gathered up in fingers and will almost hold its shape, it has reached the soft-ball stage.
2. Remove pan from heat. Stir in butter, then let syrup cool. Add vanilla and beat until frosting reaches spreading consistency. A little cream (or half-and-half) may be added is mixture is too thick.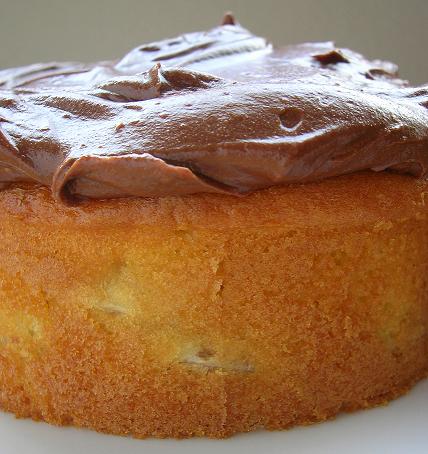 1 large banana, sliced
Take the remaining half of the batter and fold in the sliced bananas. Pour into the remaining two cake pans and bake as recipe indicates. When cake is completely cooled, frost with chocolate frosting.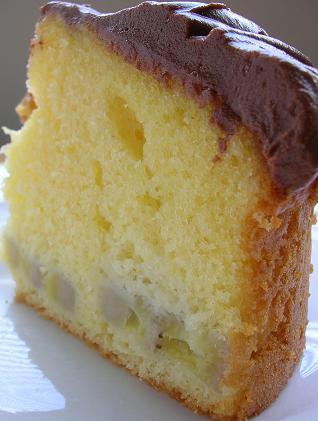 Fudgy Chocolate Frosting
3 ounces unsweetended chocolate, coarsely chopped
3 ounces bittersweet chocolate, coarsely chopped
1 cup unsalted butter
2 cups powdered sugar
1 TBSP vanilla extract
1. Put both chocolates in a stainless steel bowl and place bowl over a pot of barely simmering water. Heat, stirring frequently, until the chocoalte is completely melted. Remove the bowl from the pot and set the chocolate aside to cool.
2. In the bowl of an electric mixer, using the paddle attachment, beat the butter on medium until creamy, about 30 seconds. Gradually add the powdered sugar and beat at high speed untl light and creamy, about 2 minutes. Beat in the vanilla. Add the cooled chocolate at low speed, mixing until blended and scraping down the sides of the bowl as necessary. Increase the speed to high and beat until slightly aerated, about 1 minute.
Source:  Adapted from The Cake Book by Tish Boyle